Cricut Maker Little Zipper Bow Pouch
Using the Cricut Maker to create the Little Zipper Bow Pouch – without the bow!
This post contains affiliate links.  This is not a sponsored post.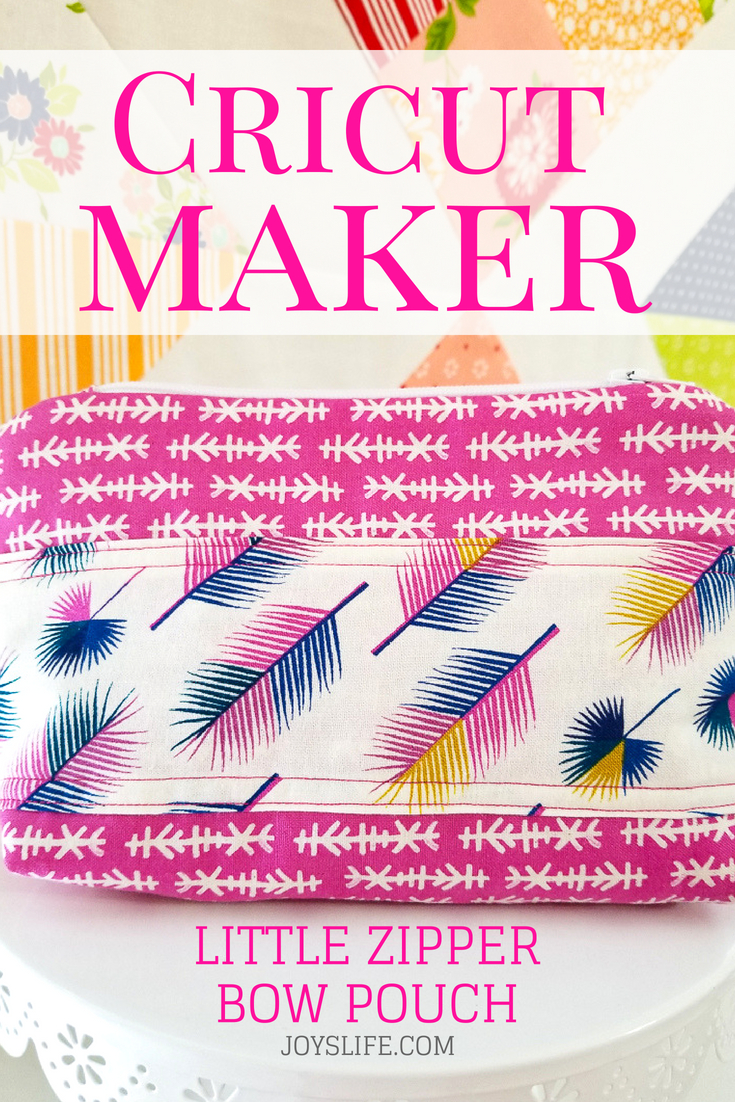 I love to make useful things, that's what drew me to try the Little Zipper Bow Pouch with my Cricut Maker.  I keep finding myself in need of bags to hold cords for my various die cut, embroidery, or sewing machines.  It seems like every time I make one, I need another one for something else.  Does that happen to you too?  It's cool that the Cricut Maker can help you make things that are so needed.  I love that!
BUT…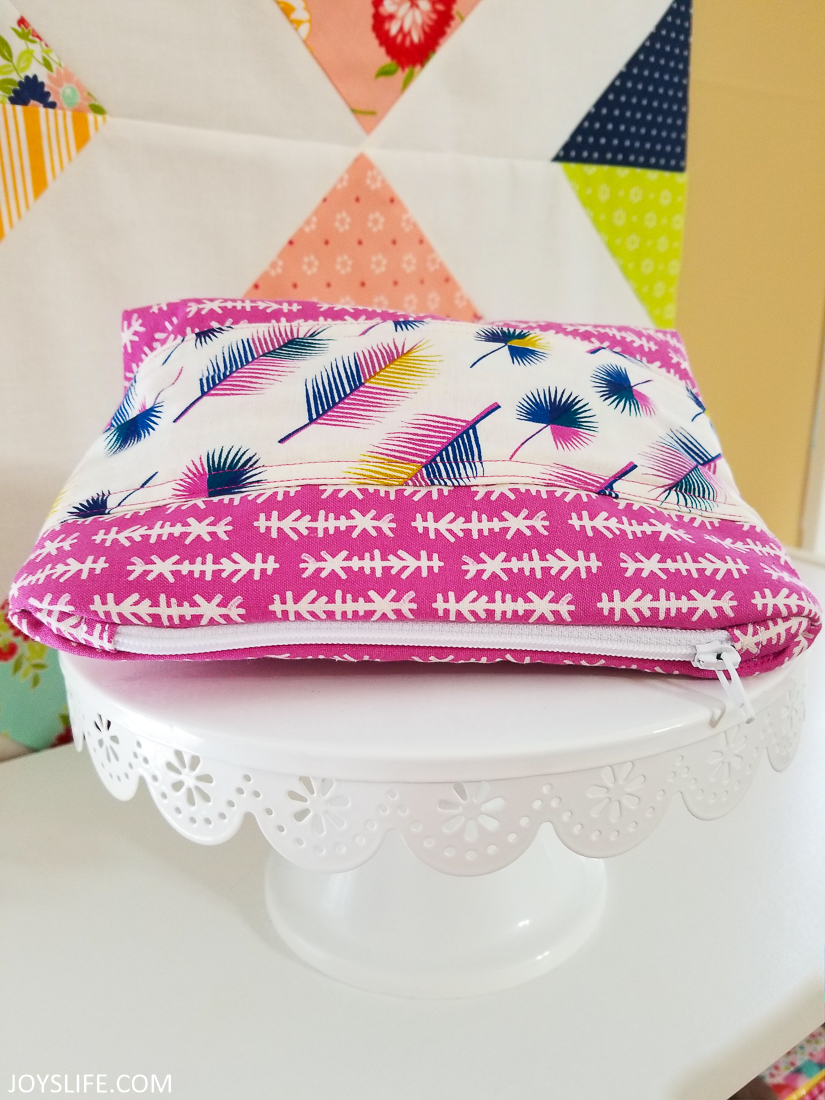 The worst thing about this project … is that I took tons of detailed photos of the creation process and I was eager to share them all along with my notes… and…the dog ate my homework.  Literally.  This guy chewed up my SD card with all of my photos on it, and he never even apologized.
So, all I had left was the bag that I made.  Which I can show you … and tell you … I'm still loving my Cricut Maker!  I'm not an experienced sewer…sewist…sew person, which means that I always benefit from some instruction and trial and error.  I feel like I get that with the Cricut Maker, because I don't have to do the cutting and the sewing.  I mean, I will still screw up, but it at least helps me lessen the various ways.
Interested in the Cricut Maker?  Here's a real, non-sponsored, review I wrote about it.
One of the things I remember is that the instructions … I think … lacked enough material when it came to the lining.  Now, I made this a bunch of months ago, so they might have updated the instructions since then.  Just be sure to check when you're making yours.
Interested in this fabric?  The feather fabric is "Lagoon Unbeleafable in Grape" by Rashida Coleman-Hale for Cotton + Steel Fabrics.  The pink/arrow style fabric is "Lagoon Orchid Mini Chimes" also by Rashida Coleman-Hale for Cotton + Steel Fabrics.
Some sort of lining instruction snafu is why the interior of my bag is made from two different materials.  Or…maybe that was just my screw up.  Well, we'll never know since the evidence was eaten and my notes disappeared during a rare craft room cleanup.
Sometimes I Screw Up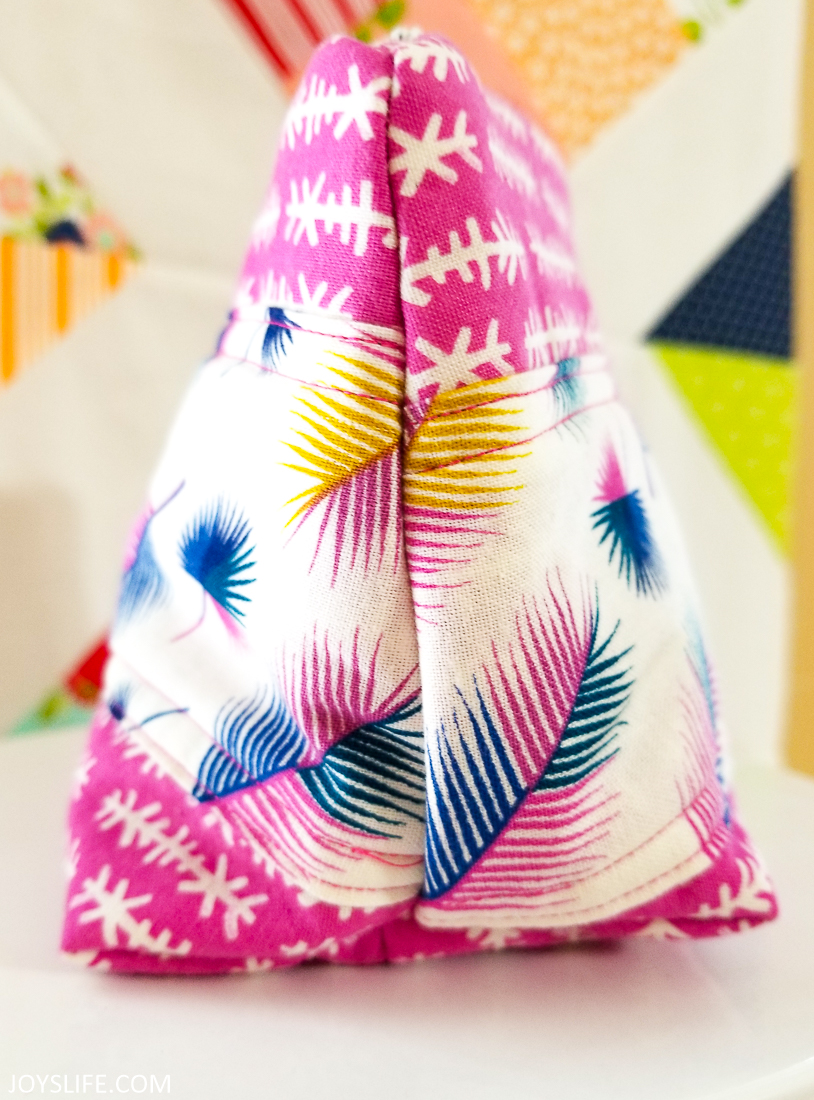 Luckily, this bag is forgiving enough that you can even have sides that don't match, like this one, and it still functions just fine.  I don't mind showing my mistakes, because they're part of the learning process, right?  Also, they're hilarious and they show my extreme lack of patience.  If you're impatient like me, don't give up on sewing!  Just learn to laugh at and incorporate your mistakes.  The other day I was cleaning out our hall linen closet and I found a blanket that I made my oldest son when he was a toddler.  There were so many mistakes in it and they were SO OBVIOUS!  You know what?  He didn't care.  He loved that blanket.  Both of my sons used it at different times, played with their cars on it (it was a winding road motif) and still thought of it fondly.  So, who cares if something you make isn't perfect?  I'll tell you who…people who are jerks…and probably just you (but you're not a jerk).  Ignore the people who are jerks and you stop judging yourself so harshly.  Love what you create.
Here are some other Cricut Maker posts!
Try the Little Zipper Bow Pouch!  As with all of the projects, thoroughly read the instructions!!  I suggest you lay out all of your fabric and make sure that you have what you need before you get started.  Fabric costs a lot more than paper, so this needs a little more planning.  I speak from screw up experience, so do as I say, not as I do!  LOL!
Happy Crafting friends!
P.S. I just signed up for the Standard Cricut Access Membership Plan.  I thought it was a pretty good deal.  I'm just doing the monthly billing because I don't know if it's something that I'll continue to use or not.  Do you have it?  What do you think?