Cricut Maker Machine Review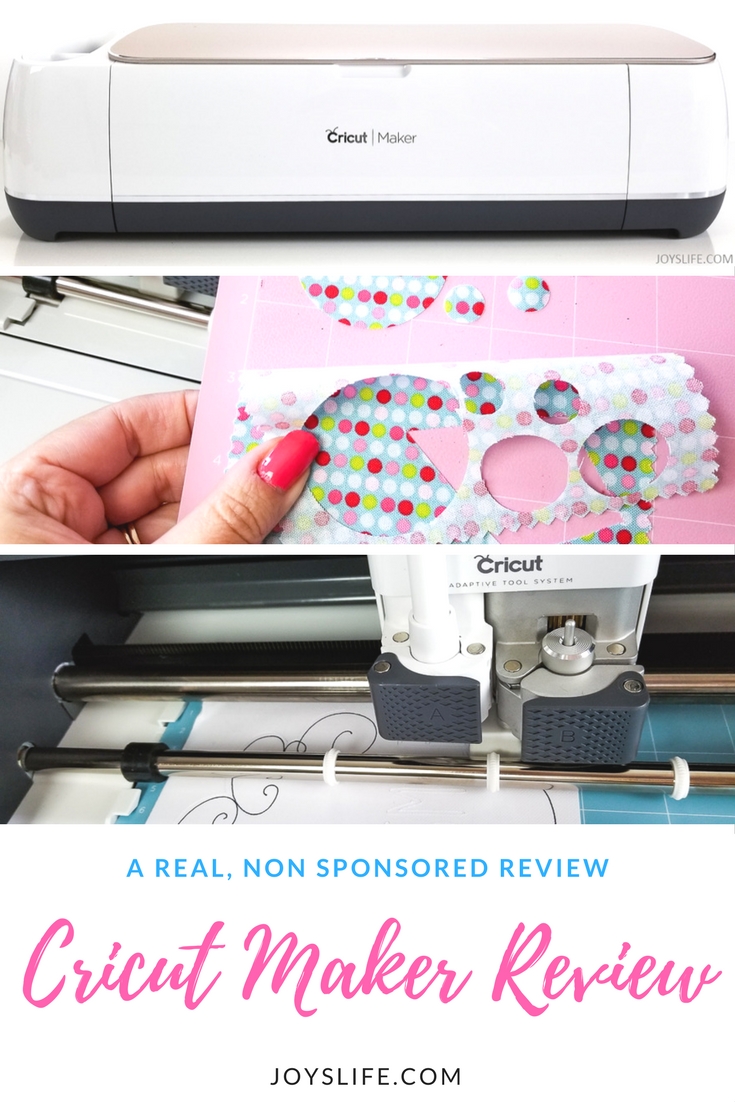 This Cricut Maker Machine Review is NOT a sponsored post.  I bought and paid for this machine myself.  Here's "Why I Don't Accept Free (or Discounted) Cricut or Silhouette or Brother Die Cut Machines".  I do buy nearly everything from Amazon though!

The Cricut Maker is the most recent machine release from Cricut.  It was released in August 2017 and I bought it through Amazon the day it appeared there, hoping that Cricut had finally put out a new machine that was worth getting excited about.
Where Cricut Went Wrong Previously
I had been a Cricut fan for a really long time (many years and over 400 posts) and I was excited about and purchased every new machine that came out.  In 2014, with the release of the Cricut Explore (review), that all changed.   My biggest complaint was the software.  When Cricut released the Cricut Explore and new Cloud based software, they did so using Adobe Flash, which was a shockingly bad choice since that technology was on it's way out, having already been announced as being deprecated.  My other issue was that their software was required even to use cartridges that had already been purchased, which previously worked simply by being inserted into the plugged in machine.  So, overnight you went from a fairly independent experience to needing Internet access and a computer for the newest machine to operate.  The machines that followed the Cricut Explore were the Cricut Explore Air and Cricut Explore Air 2.  Although they continued to be good cutters, their clunky software, Internet dependency, and uninspired machine upgrades were disappointing in comparison to other machines on the market, and over time I was no longer a fan.
So, What Changed?
It's odd when I say what has changed, because part of it sounds stupid.  Two things changed: fact and perception.
In fact, Cricut has put out a new and innovative machine.  This machine's coolest feature is the rotary cutter.  Both the Brother ScanNCut and the DesignNCut as well as all of Silhouette's machines (like the Silhouette Cameo 3), can cut fabric, but only the Cricut Maker has a rotary cutter.  The Maker will also have an extra-deep knife blade, which is more like a craft knife, than just a deep cut blade.  Cricut has also changed their software, which was the biggest complaint that I previously had.  They got rid of the outdated Flash, but their Design Space software still requires a high-speed Internet connection.  They do have an offline feature for the iOS Design Space app, but I haven't tried that.
A shift in perception and the way the electronic world now operates means that acceptance of Cloud based storage, rather than having Cricut cartridges, is just the way of things.  A required Internet connection is also something that has become a commonplace requirement, so it's sort of a moot point to complain about it.  That doesn't mean that it's not irritating, or that it's something that is accessible for everyone, it's not.  Be advised that if you do not have a reliable, high speed, Internet connection, you should not buy this machine.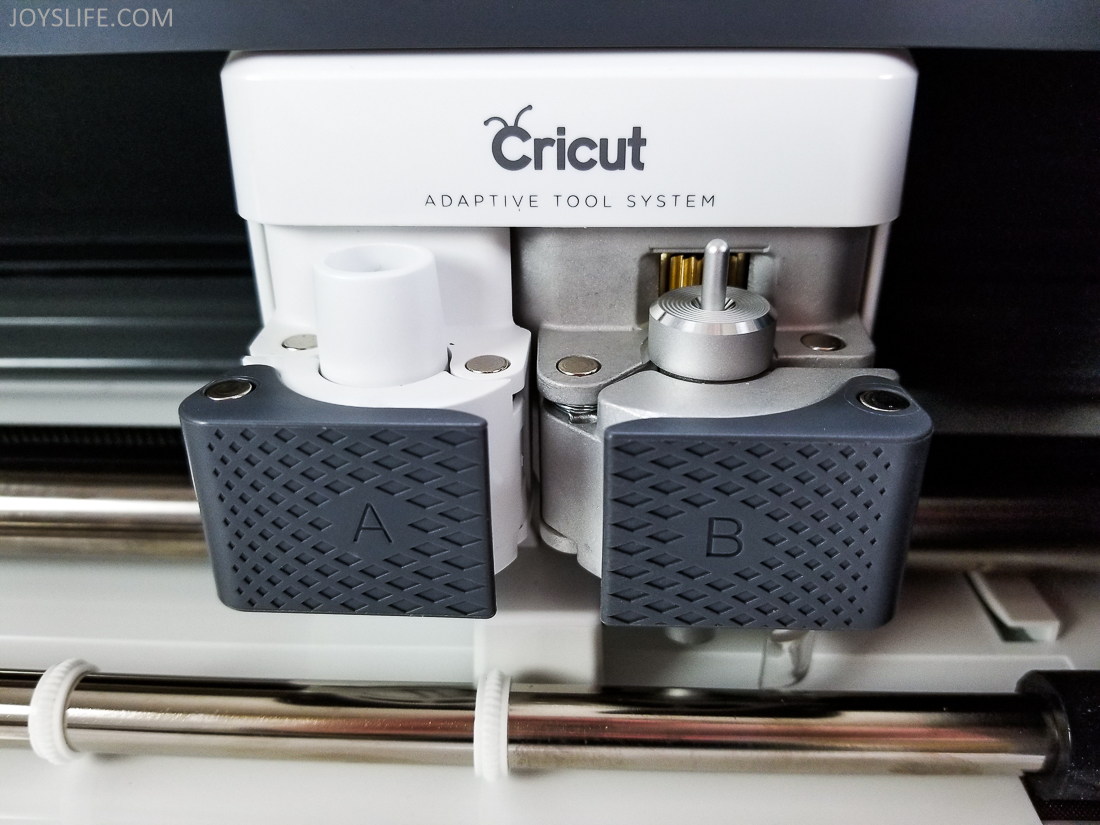 Where do the Cartridges go in the Cricut Maker?
If you've got a lot of Cricut cartridges, then you probably already have a Cricut.  If it's one of the Cricut's that allow you to upload cartridges to the Internet, you're going to want to go ahead and do that now, because there is nowhere for cartridges to fit into the Cricut Maker.  If this is your first Cricut, DO NOT BUY ANY PHYSICAL CARTRIDGES, it's all going digital.  Within Design Space you can buy individual cut, print, fabric patterns or full cartridge contents.  If you're trying to go more minimal in your life, this is a benefit.
If you have cartridges and an old machine, you're going to need to borrow a friends machine to upload your cartridges OR wait for Cricut to release an adapter, which is not yet available.  Cricut says there will be an adapter, but there's not a release date announced.  It's one more cost to consider too.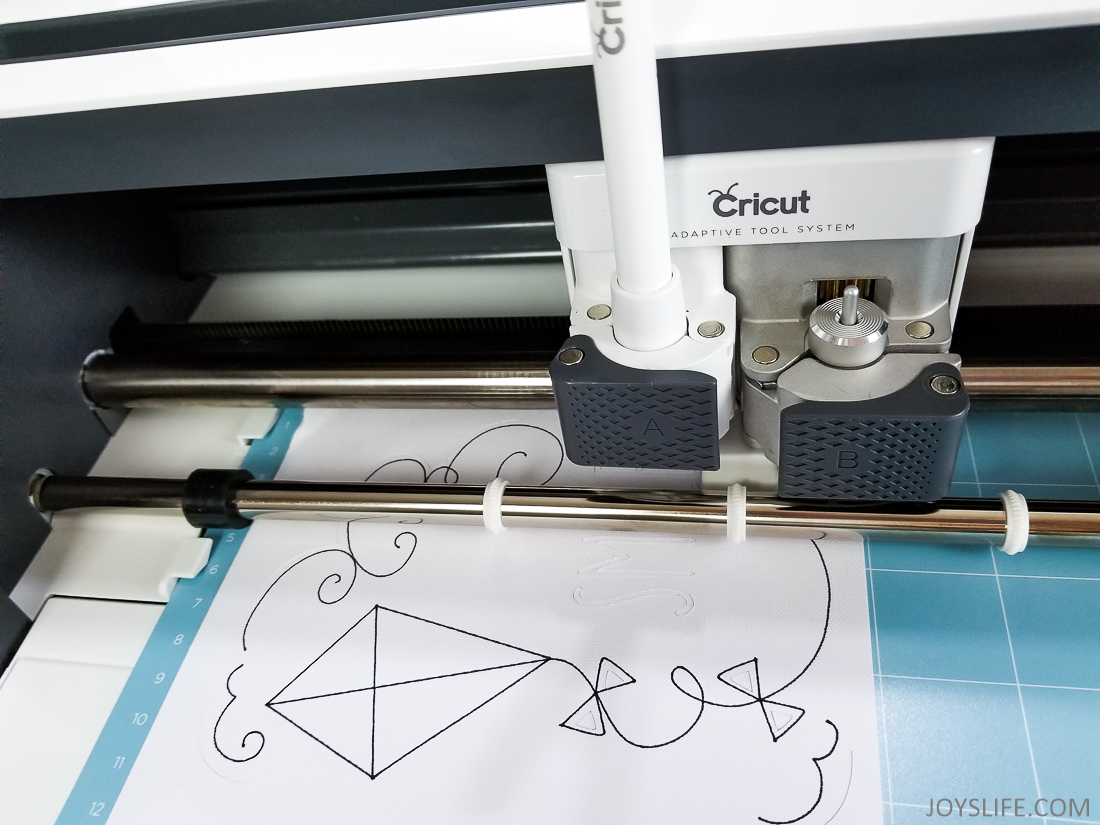 What can the Cricut Maker machine do?
The Cricut Maker can do anything the previous machines can do, plus cut thicker materials and cut fabric without having to use a backing (like Steam a Seam or Heat'n Bond), spray starch or Terial Magic.  You can draw with it using Cricut pens, cut paper, vinyl (here are some vinyl ideas) and fabric, using the rotary blade.  Once the knife blade comes out, you'll be able to cut thin balsa wood as well as other materials.  It can also score using a scoring stylus.
In the picture above you can see the suggested first project using the Cricut Maker.  The supplies for this come with the Cricut Maker machine.  It's pretty cool to see both the pen and blade working together to help complete the project.  That's a function that's been available since the first Cricut Explore, but I still think it's cool.  Silhouette included a similar function in their newest machine, the Silhouette Cameo 3 last year, but Cricut's had this function for years.
Want to see what comes in the Cricut Maker box?  Check out this unboxing post!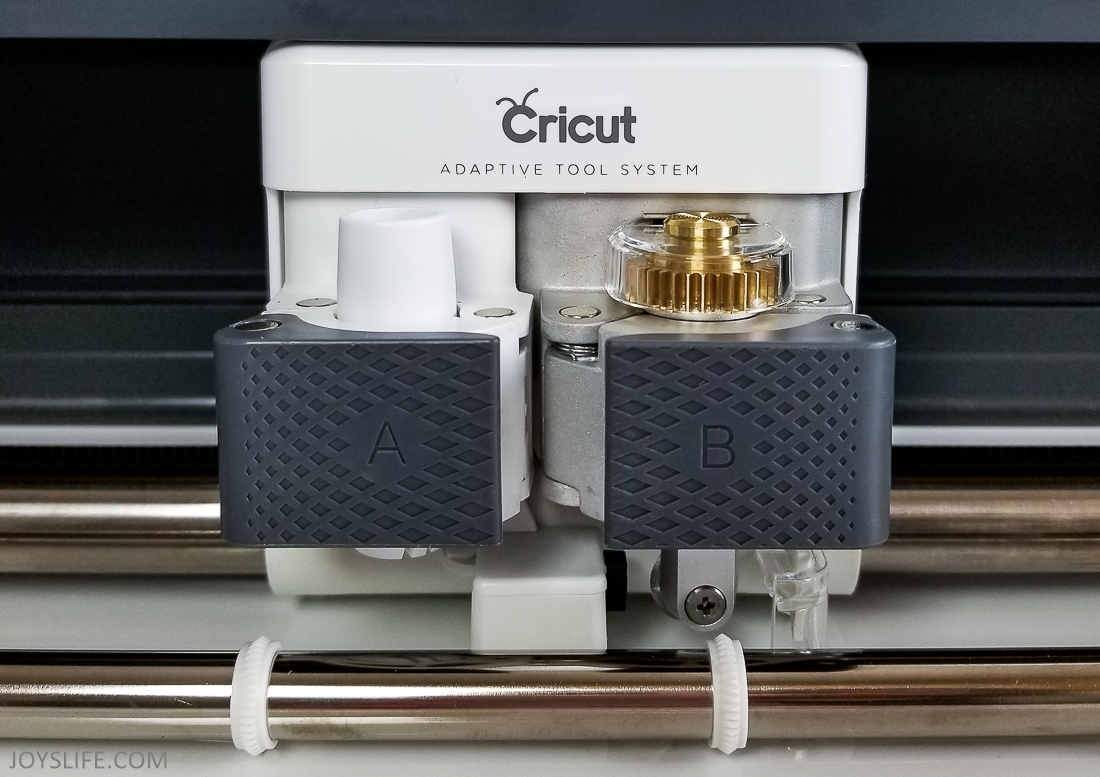 Cutting Fabric with the Cricut Maker
Above I talked about this dual ability carriage, what I didn't say was that I never make use of this function in either this machine or the Silhouette Cameo 3.  I think all that is about to change though because I just bought the Cricut Washable Fabric pen.  I'm going to try some of the fabric patterns that Cricut has and that pen can draw sewing lines!  Now THERE'S A GREAT REASON (to me) to have the dual carriage.  That's just so cool!  Well, it became infinitely cooler to me anyway.
The Cricut Maker's rotary cutter steals the show.  That rotary blade, in comparison to regular rotary cutters that I use (like when I made these pillowcases), is small, but it is mighty.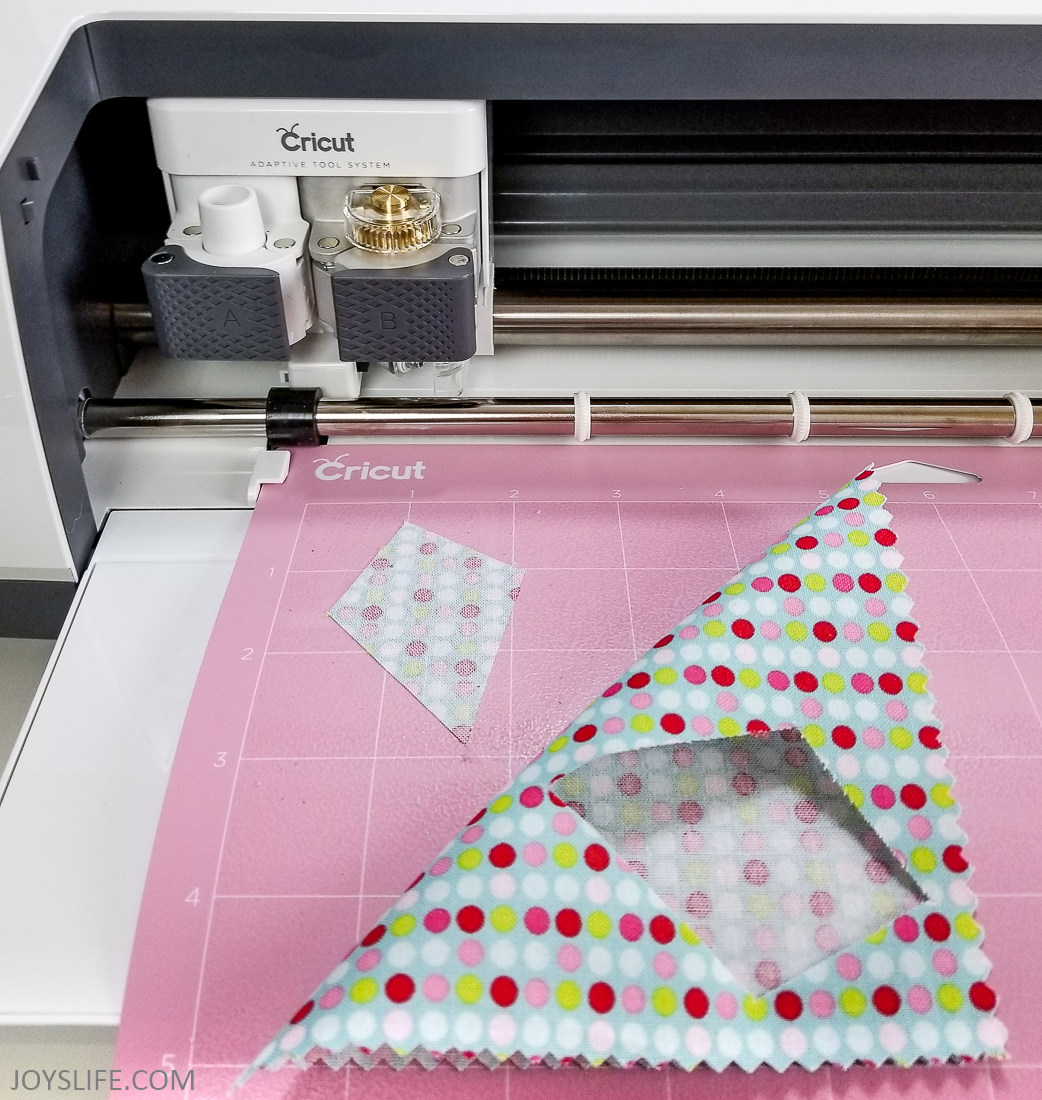 I tend not to believe hype or a perfected first project demo, because anyone can make something sound good and no one propagates a demo that stinks.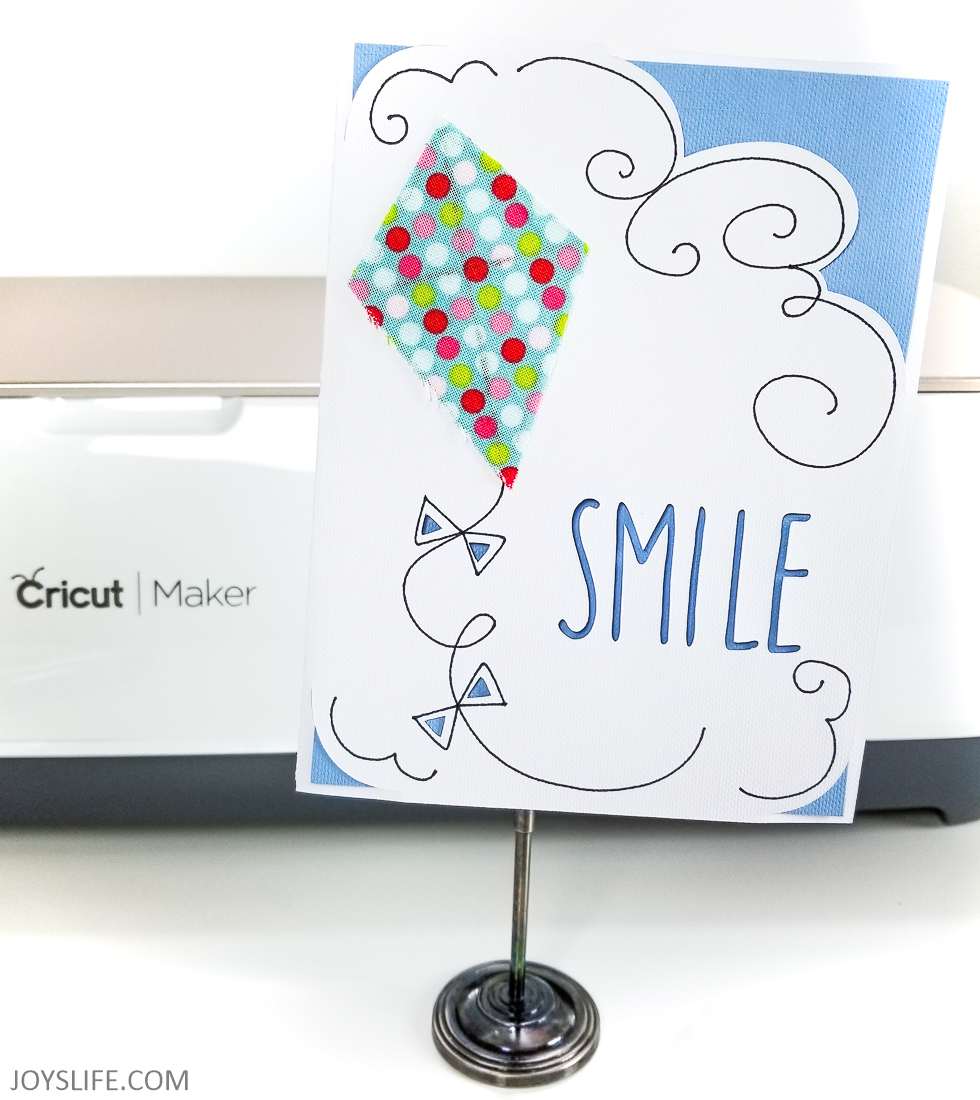 Even though this project is cool, it wasn't enough to impress me.  For example, even a straight blade can cut a straight line.
Still, I was in love with this finished card.  It was a cool way to show the abilities of the machine, but I needed to put it through it's paces better than this.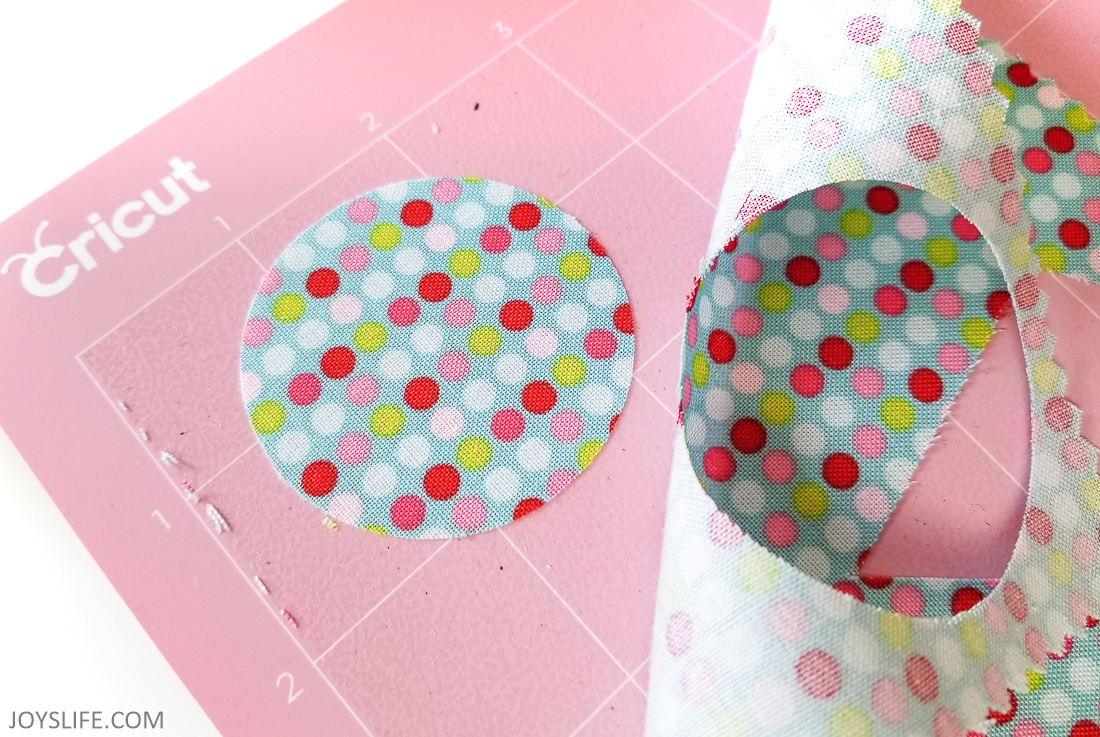 Cutting Circles with the Cricut Maker's Rotary Blade
What blew me away was that the combination of the rotary blade and this fabric mat means that you don't have to add a backing to your fabric, which is unusual when cutting fabric with a die cut machine.  And… the rotary cutting blade on the Cricut Maker is fantastic at cutting a circle, which isn't easy.
A circle has traditionally been a good measure for how accurately a die cut machine can cut, so I used the rotary cutting blade and the leftover fabric from the kite card to cut a 2 inch circle.  It did a great job with that, but it's a pretty large size, so I went smaller.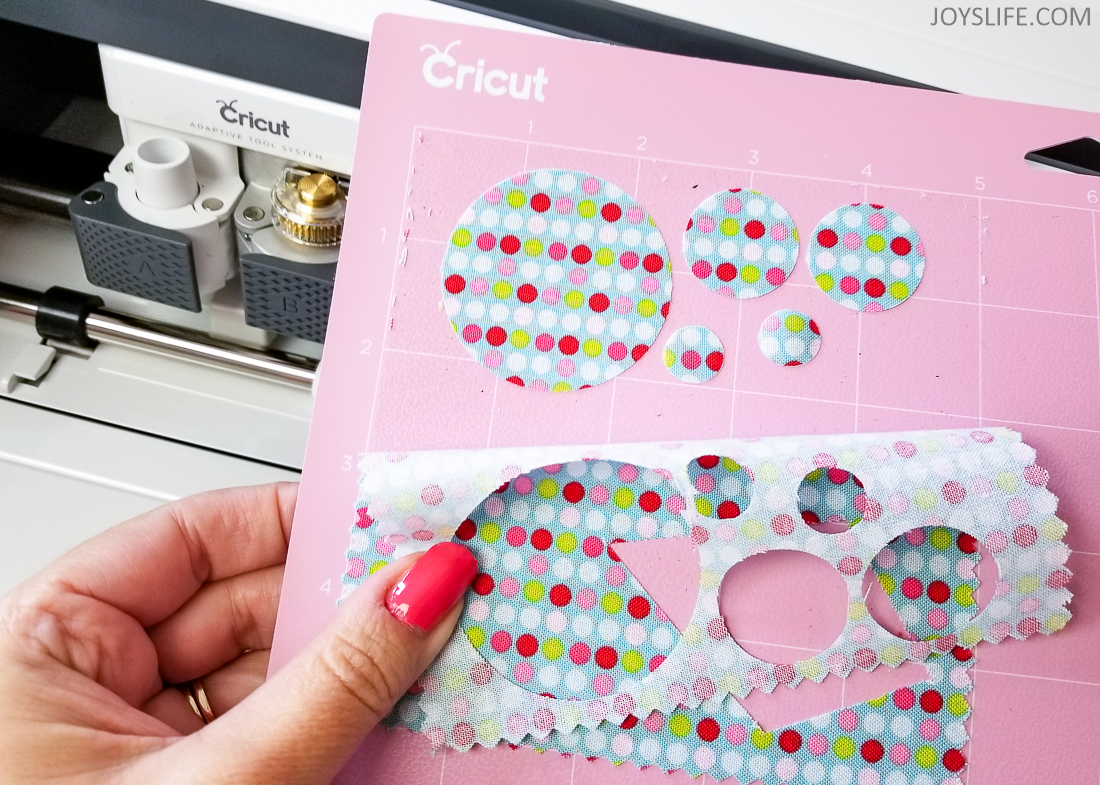 2″, 1″, 1/2″ Circles
I was pretty impressed that I could lay the cut fabric back down on the mat so many times and still have it make good cuts, especially so close to the previous cuts.  To further test the kind of cuts that the Cricut Maker's rotary cutter can make, I cut even smaller circles.  I tried 1 inch circles and when that worked, I cut half inch circles.  Those turned out great too!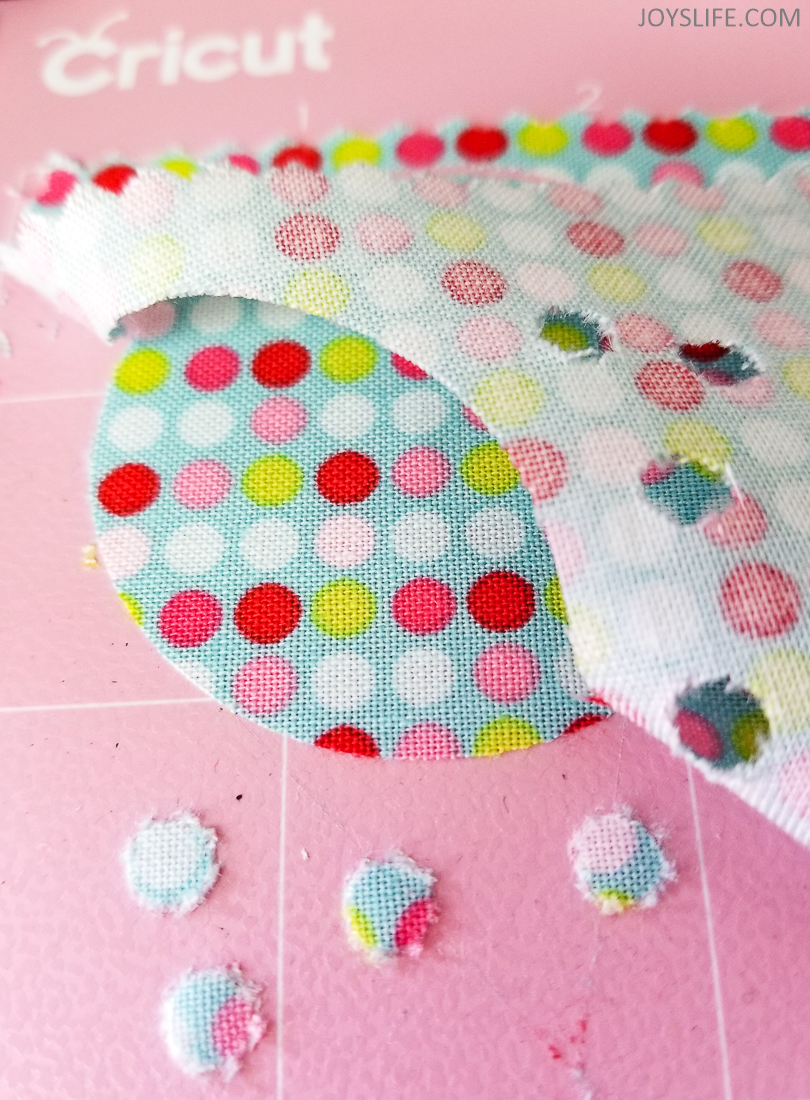 Most Amazing .2″  (that's 1/5″) Circles
I laid the fabric back down over the previous cuts and cut these .2 inch circles.  The came out perfectly!  They're just a little fuzzy around the edges, but they cut!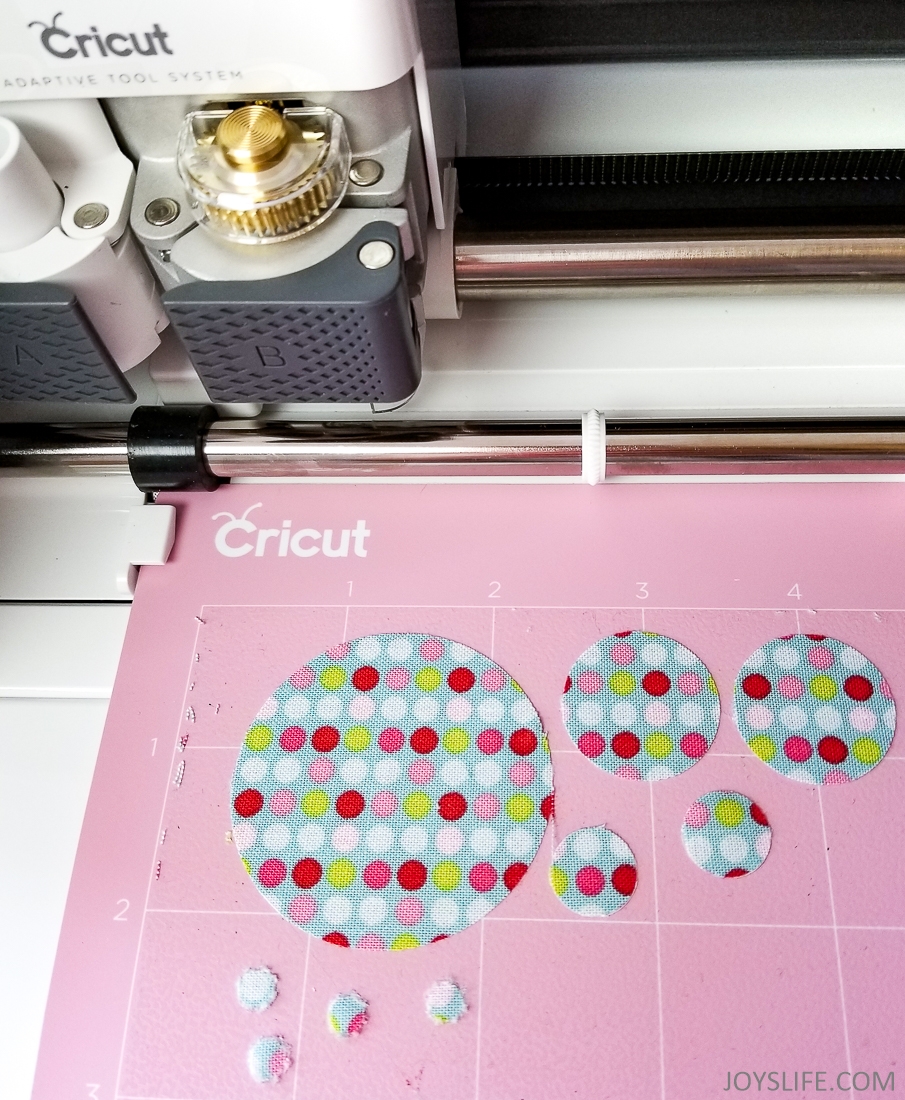 It's true that the edges are fraying, but if you're cutting out shapes for applique, then the edges aren't really a worry.  When you're not cutting circles, you can be more careful about not cutting on the bias.  Also, it's probably not very often that you want to cut .2″ fabric items, because they are super tiny.  I could see using them for eyes or something like that, but they are REALLY SMALL.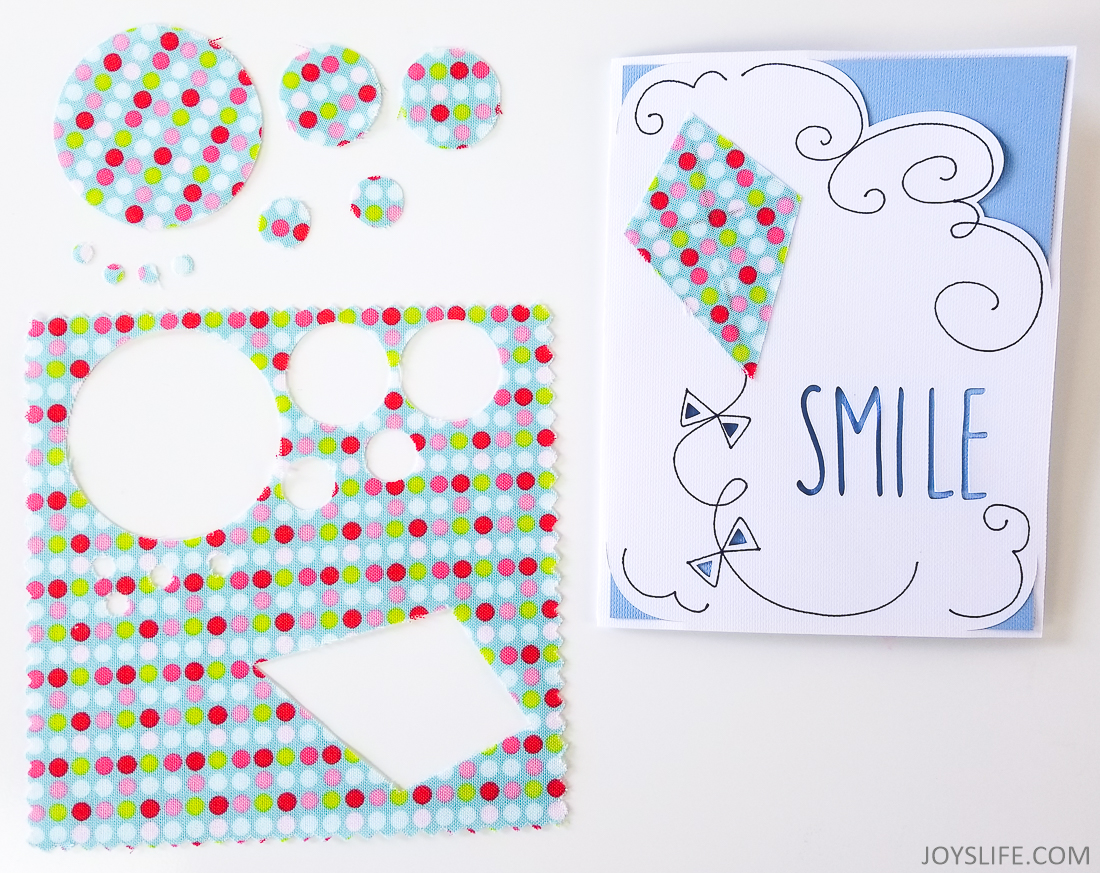 It's pretty awesome how clean the cuts are, don't you think?  It's a little hard to see those tiny circles because of the polka dot print, but they're there.
Cutting Craft Felt with the Cricut Maker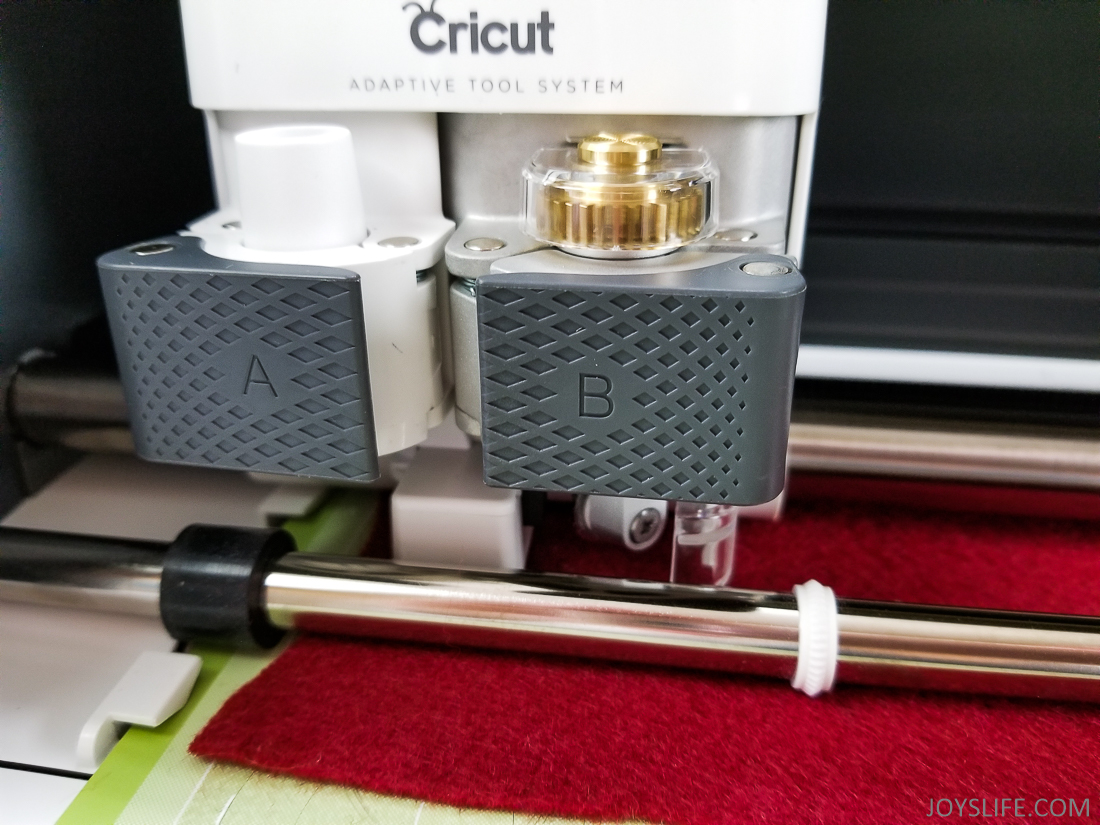 I had a bunch of craft felt on hand and I tried cutting it with the rotary blade.  It cut perfectly!  I realized that I grabbed the standard grip Cricut mat, but it still turned out great.
Ta da!  Not bad, huh?  It came off of the Cricut mat well too, but if I'd used the fabric mat it would have released even easier.  By the way, the fabric mats come in the standard 12×12, but there's also a 12×24.  If you think you're interested in getting this machine go ahead and get a big mat because several of the fabric/sewing projects that come with your free two weeks of Cricut Access call for the 12×24 mat.  I had to buy one ASAP because I wanted to make several of those projects.
Can You Use the Rotary Blade on the Cricut Explore or Cricut Explore Air 2?
If you're wondering if you can use the Cricut Maker's rotary blade on a previous Cricut machine the answer is no.  The Cricut Maker alone is made to work with the rotary blade.
Cricut Maker's Cool Features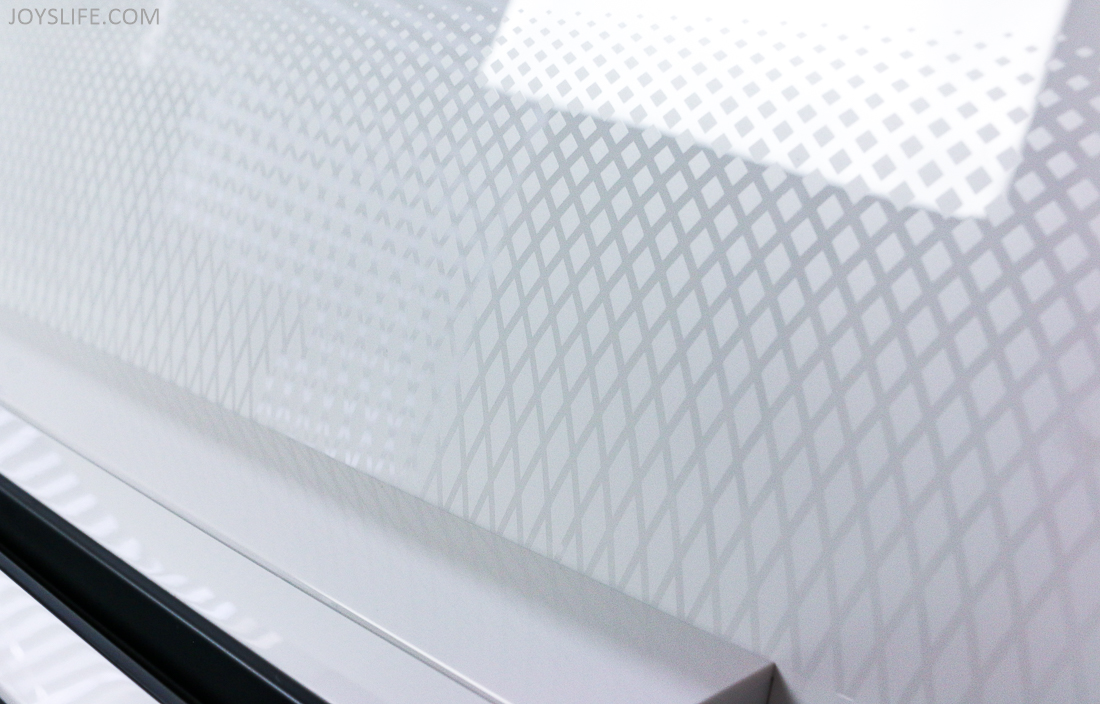 A few of the Cricut Maker's cool features are this diamond pattern on the inside lid and the docking slot at the bottom left of the photo holds your tablet or phone.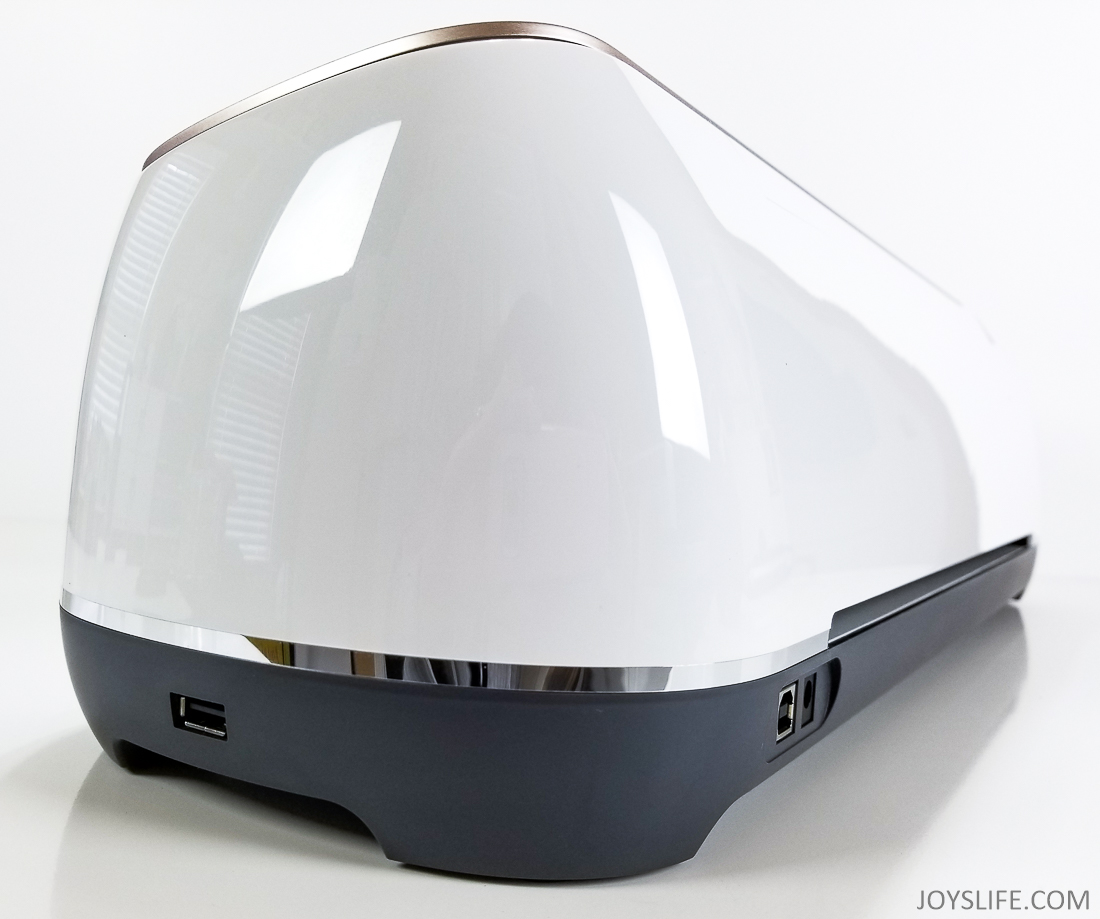 There's also a USB port that lets you charge your device.  Pretty cool!
Finally, two of my favorite things about the software that I almost forgot to say are that I love that you can use your own fonts from your computer AND I LOVE THAT YOU CAN ADJUST THE SETTINGS and add your own settings to any variety of media you want to cut to meet your specific needs.
Those are upgrades that I can give a thumbs up to.
So, what I'm saying is…I'm kind of in love with this machine.  I haven't tried everything with it yet, because it's so new, but what's different than the past three machines is that I actually want to use it.  So, stay tuned to see more about this machine!