New Electronic Cutting Machine the Brother DesignNCut 2017
Hey friends!  This is NOT a sponsored post, I'm just passionate about die cut machines.  I always buy them and often review them when new ones come out.  I just preordered this machine myself.  I don't work for Brother, Cricut or Silhouette,  I just work for me.  I'm not an affiliate for them either, but I do affiliate my links via Amazon, where I have shopped since 1999.  I love you, Amazon.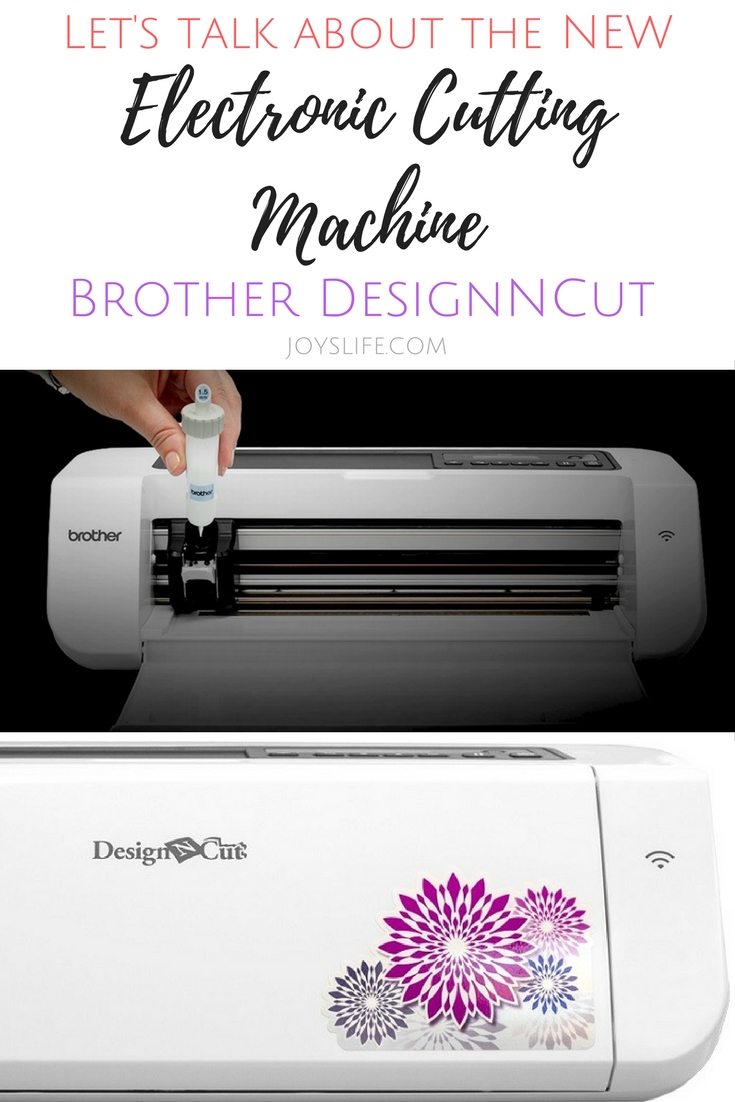 There's a new electronic cutting machine in town!  It's the Brother DesignNCut.  This is Brother's newest machine.  Their previous machine was the Brother CM350 ScanNCut 2, which I own and have promised myself I would review, and still haven't.  The new DesignNCut is promising pretty much what you're used to in current machines like the Silhouette Cameo 3 (review) and the Cricut Explore Air 2 (first look), it claims to cut simple to intricate designs, and use a wide variety of materials: paper, fabric, felt, foam, vinyl, iron-on, leather, plastic & poster board.

Brother DesignNCut
Like the Cricut Explore Air 2 and the Silhouette Cameo 3, this new machine is wireless network ready but it can also connect directly to a PC.  It uses Cloud based design software, which can be a problem if you don't have good network connection.  Network connection is not a problem for me, but I hear from plenty of people all the time about how they want an older Cricut machine so they can go as low tech as possible to keep from having to connect to the Internet.  If a good connection is a problem for you, Cloud based software is going to be a problem for you.
Brother's Cloud software is still going by the name "ScanNCutCanvas", the name of their previous machine.  You can check it out here.
One of the biggest differences between the previous Brother machine, ScanNCut and this new Brother machine is that the DesignNCut does not scan.  Instead, it uses the "CaptureMat" function, where you'll use your phone or a camera to photograph a design that you want to turn into a cut file.  You'll work with the design inside the ScanNCutCanvas to create cut lines.  (That's how the Silhouette Cameo works too, using the PixScan mat.)
One of the things that was a drawback for me with Brother's previous machine is probably still going to be a drawback for me, their accessories are expensive.  I bought the ScanNCut2 because I'd recently started embroidering, sewing and quilting.  I'd heard that sewers really liked the ScanNCut2 because it worked flawlessly with Brother's .pes design files for embroidery machines like the Brother SE400, which I love.  (See the cool things I've made with it here.)
The accessories that Brother suggested for the ScanNCut2 to cut fabric were a necessity for me, because that's one of the reasons I bought it.  So, I got the Erasable Pen Set, pen holder, (those are for marking seam allowances), Fabric Support Sheet, a dedicated Standard blade, blade holder and mat, just for cutting fabric.  I bring all of this up to say, you're probably still going to be hit with high accessory costs for the extra things that you want to do with the new DesignNCut machine, and the costs of the accessories for their previous machine (ScanNCut2) are higher than the other two front runners from Cricut and Silhouette.  It's possible that any new accessories for the DesignNCut will be more cost competitive, but … I sort of doubt it based on the past.  So, keep that in mind.
Accessory Cost Comparisons
Again, it's possible that the new DesignNCut accessories will be more price competitive, but costs for their recent ScanNCut2 machine accessories say otherwise.
Here's a quick cost comparison of mats: Cricut mat (includes 2), Silhouette mat (includes 1), ScanNCut2 mat (includes 1).  Hopefully, the DesignNCut mat will be less expensive, but it's not listed for sale individually yet.
Brother DesignNCut Video
I look forward to getting the new machine when it's released, Amazon says September 1st .  YAY!  I'm especially excited to try cutting fabric with it!  I'll be sure to keep you updated after it arrives!
Are you excited about this new machine?