Candy Corn Stamped Fabric Bag – Blog Hop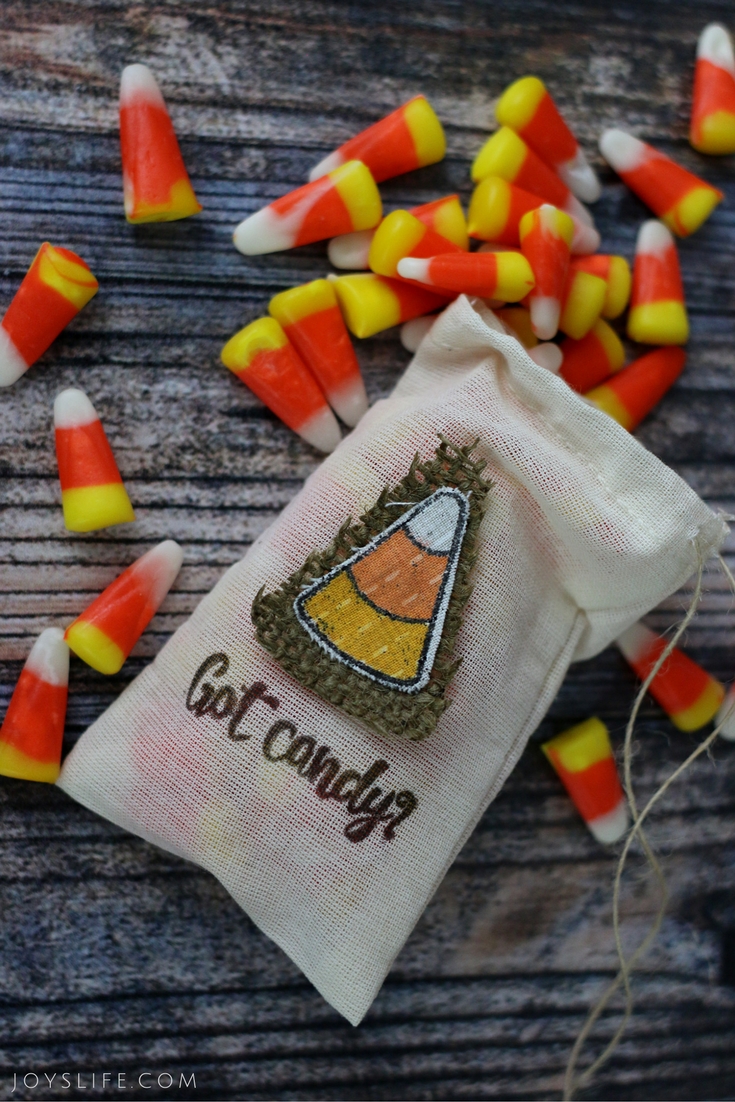 Did you know that you can stamp inks on fabrics?  You did?  Well, did you know you can heat emboss them too?  You can!  This candy corn stamped fabric bag uses several fun techniques that are simple to create.  Let me show you!
  I'm using two dies and a stamp from the Candy Corn Kisses set below.  First, cut out a small piece of burlap.  Place the large candy corn die on top of the burlap with the cutting part facing down.  Run that through your die cut machine a few times.  Remember if you don't get a clean cut, you might need to add a shim.  (A shim could be a piece of folded cardstock or a rubber mat.  You're just trying to add flat, even bulk to make sure the machine rollers are making good contact with the die and the material.)  The burlap cut out perfectly for me, but the fabric I used was Spiderman strong.  It didn't want to cut out as easily.
Here's a tip!
Burlap loves to fray.  I added Dritz Fray Check to keep it from unraveling.  It works great!  It does need up to 30 minutes to dry though, so plan for it.
I love that this Candy Corn Kisses set has matching dies!
Use the smaller candy corn die to cut out a piece of candy corn shaped white fabric.  Stamp the fabric using the small candy corn outline stamp and Versamark (it's clear), or Versafine ink.  After stamping, quickly cover the fabric with fine black embossing powder.  You want to add the embossing powder before the ink dries.  Shake off the excess.
Using tweezers so you don't burn your fingers, activate the embossing powder by heating it with a heat gun until the powder melts.
The embossed image adds a nice dimension and it helps you stay in the lines when you color in your candy corn!  I LOVE Faber Castell's Big Brush pens.  They are fantastic!  You can draw with them or paint with them.  See these posts for other ways I've used them.
I'm using the Dark Chrome Yellow and Orange Glaze.
Put something inside your bag, to keep ink from going through to the other side.  I'm using a plastic sleeve from a pair of scissors I just bought.  Here's a video that will help you if you need it!
If your fabric soaks up a bunch of the ink from the stamp, you can go over the stamp with a pen.  (Again with my Faber Castell Big Brush love.)  I used the Big Brush Black pen.  This one is super useful!
Attach your finished candy corn to the bag and you're all done!  You might consider turning the burlap and fabric candy corn into a pin that someone could wear!  To attach it you can pin it, hot glue it or whatever best fits your needs.
Here is the blog hop line up just in case you get lost along the way!
 Miss Emma
Miss Brigit
Miss Emily
Miss Jessica
Miss Katie
Miss Kim
Miss Liz
Miss Lucia
Miss Nikki
Miss Ruthie
Miss Audrey
Miss Joy – You Are Here! Welcome!
Happy Crafting, Friends!