How I Discovered My Landscape Style with a Cup of Tea
This is a sponsored post written by me on behalf of Tazo® Tea. All opinions are 100% mine.
How a walk with my camera and a cup of Tazo® tea helped me find my landscape style.
If this were the entrance to a haunted house, you could give me two thumbs up on my excellent start, right?  Yeah.  I hear ya, but it's not.  What happened here is that I hated the kinds of plants that used to be there and I went all crazy and hacked them down like an 80's slasher movie.  I sent my husband out to dig up what was left and then I called it a day.  That day turned into two years.  I started to be able to ignore it, like I had front walkway blindness or something.
Then one day it occurred to me that just because I'd chosen front walkway blindness as a pitiful superpower, didn't mean other people had.  I realized that I could bring some beauty into the world for people who pass by and for my family, if I would just make an effort.  That meant figuring out what I liked.
Sometimes the most obvious things are hidden to the person who is searching for them.  I mean me.  I've been trying for years to figure out what I wanted to plant in the front yard, but what I like is planted everywhere!  I just didn't put it together, until I made this cup of Tazo® Tea and took a photo journey around my house with my dog.
My dog, Saban, and I headed to the back yard with my camera.  I thought taking some photos of the plants and things that I liked might help me.  It was the exact right thing to do.
I love this lemongrass plant.  My husband planted it at the beginning of the summer and it's enormous now.  I love how it's leafy, so green and so big.  Ha!  I identified something that I like!
By the way, when I got back inside I read the Tazo Zen™ tea box and guess what?  It has lemongrass in it!  How cool is that?  I had no idea when I took this photo!
I love these rose bushes.  They smell amazing and are so vibrant.  I love pinks and reds, which should have been a clue as to plant/flower color for the front, especially when you look at my nails in these photos.  They're close in color to the flowers I've chosen and even the color I painted our front door.
Yep.  There's a red I love with more leafy green.  These pictures tell a story that I wasn't able to see previously.
I went back inside and made myself a cup of Tazo Passion® tea.  This very cup of tea is what made me see the color pattern of the things I loved.  When I saw the cup turn this beautiful red it made me joyful.  Seriously!  I LOVE that color and this is when I really started to GET it.  These are the colors I need to work with.  They actually lift my spirits and make me happy.
This tea box made me laugh out loud.  I actually used to plant pink hibiscus on our front porch.  I felt like my tea was trying to tell me something.
Hmmm…find passion in my planting landscape?  Yes.  I can do that.
Also, this tea is my new favorite.  I LOVE it.  I've bet I've had 8 cups since yesterday.  It's good all day and night, especially if you're looking for a caffeine free experience.  The flavor is exactly what it says, exuberant.  LOVE!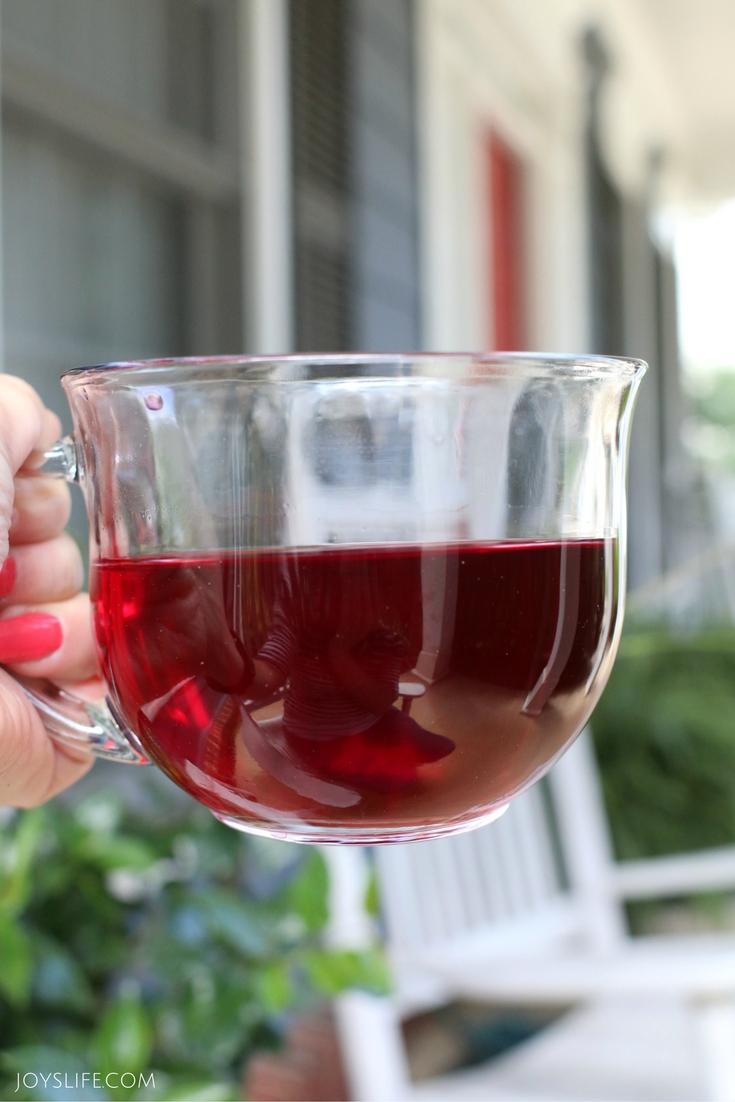 So, here I am on the front porch.  It's welcoming, which is why it's so odd that I let a haunted house walkway lead up to it.  Check out my tea and the front door, or my fingernail color choice and the tea…and the door!
This fern shows my love of leafy plants again.  Plus, green.  I don't like any other color leaf.  I guess that shows.  I really like the curve and turn of this ferns leaves.  If you know what variety this is, please leave me a comment.  I thought it might be a Boston fern, but I'm not sure.
So, I think I've figured it out.  I need to find plants that are leafy green with pink or red flowers.  Now was that so hard?  It wasn't.  Actually, it was really eye opening and relaxing.  Plus, I'm super excited to have a plan!  Though, finding those plants that are also heat tolerant and good in full sun might be a challenge.  I'm not going to wait another two years before I get moving though.
I made these cups of Awake™ English Breakfast and Passion so I could share some tea with my husband and tell him my planting plans. I told him how I discovered my landscape style with a cup of tea and he thought my whole process was really cool. (I love that he appreciates my process.) We're actually going to head out to a local nursery this week! So, no more procrastinating and no more haunted house walkway, not unless I'm actually decorating for Halloween!
 Take a Walk with Your Camera and #SipJoyfully!