Homemade Sausage Pizza & Pizza Sauce Recipe
This is a sponsored post written by me on behalf of Carando®. All opinions are 100% mine.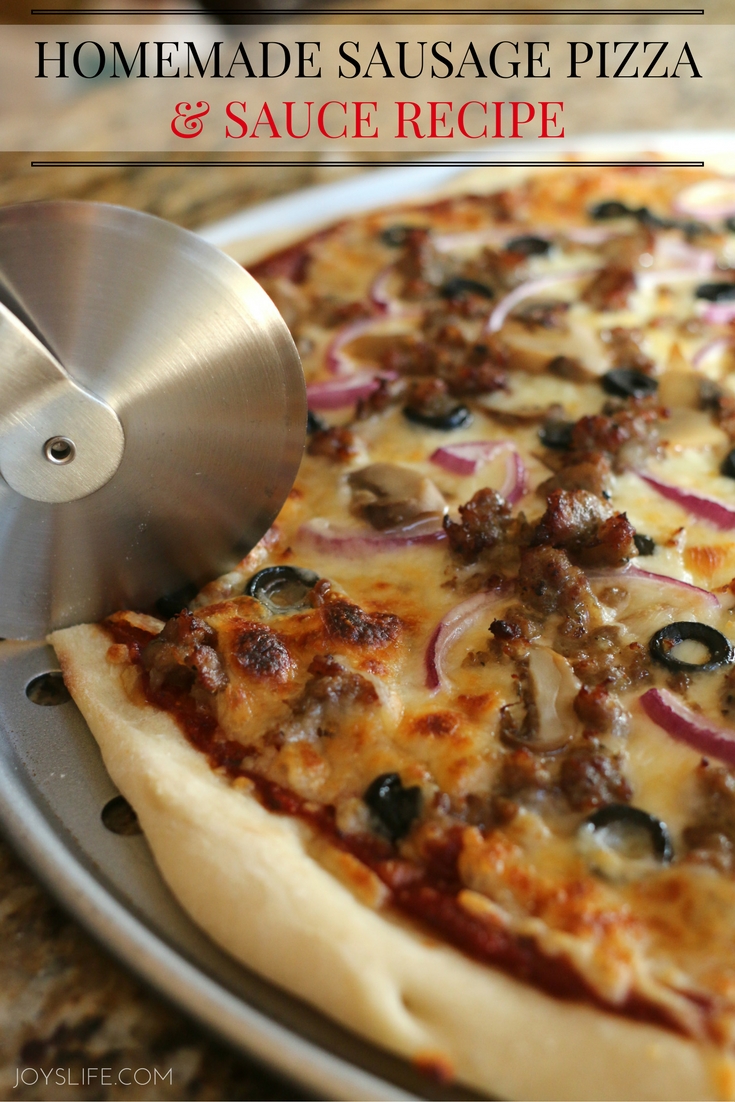 We're pretty picky about pizza around here.  When we go out for it, we choose a local place that makes food that tastes like home.  When we order pizza for delivery, we have to order several to feed our crowd and to satisfy everyone's tastes.  That gets really expensive, really fast.  That's why I'm super excited that my husband came up with this delicious homemade sausage pizza and pizza sauce recipe.  I mean why call out or buy food that tastes like home, if you can make it at home?  This recipe is affordable, easy to make, faster than delivery and better too!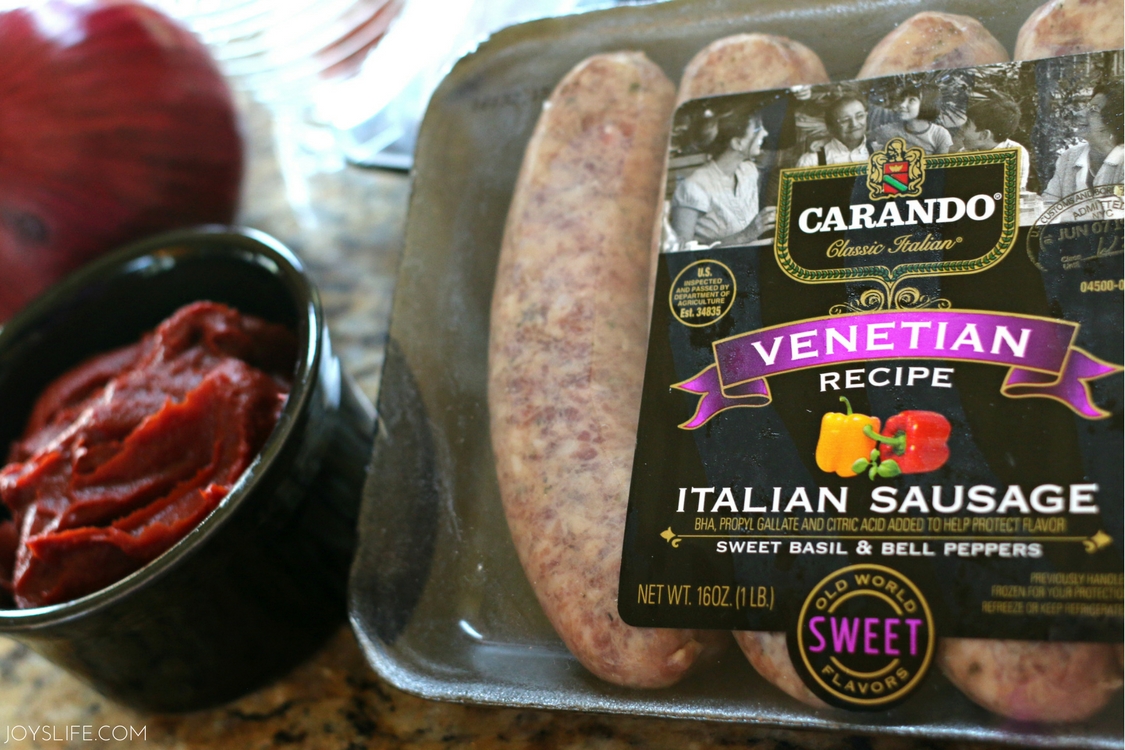 We picked up Carando Venetian Italian Sausage with sweet basil and bell pepper from Kroger.  Carando uses authentic Italian recipes to craft their Italian Sausage, Meatballs and Charcuterie items.  We loved the flavor of this sausage!  You can find it in the fresh meat section.
While you're in Kroger, don't miss the Taste of Italy event, in-store from September 17th – 24th in select Kroger stores. Taste of Italy is a Kroger event which is focused on Authentic Italian Flavors and Italian meal inspiration.  Learn more here: Taste of Italy
Ask your local Kroger store for dates and times for the sampling event!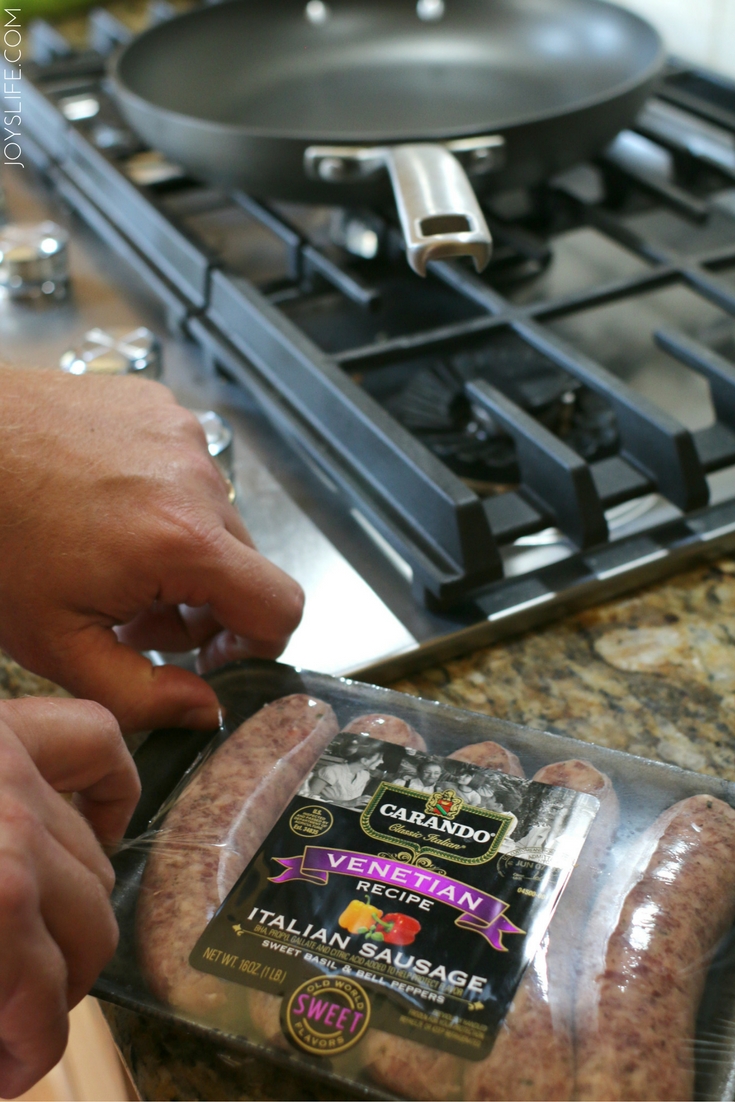 The first thing you want to do is remove the sausages from their casing and brown them in a skillet.
This sausage smells really good.  We'll be buying this sausage again and again.  I'm eager to try their other flavor and meatballs too.  They have Toscano Italian Sausage – Mild herbs with fennel and anise, Venetian Italian Sausage – Sweet basil and bell peppers (the one we're using), Abruzzese Italian Meatball – Blended Italian cheese and herbs and Sicilian Italian Meatball – Bold & Spicy Red Pepper Flavor.  Doesn't that make you think of so many great Italian recipe possibilities? Here are some more recipe ideas: Carando Recipes
Time to Make the Pizza Sauce!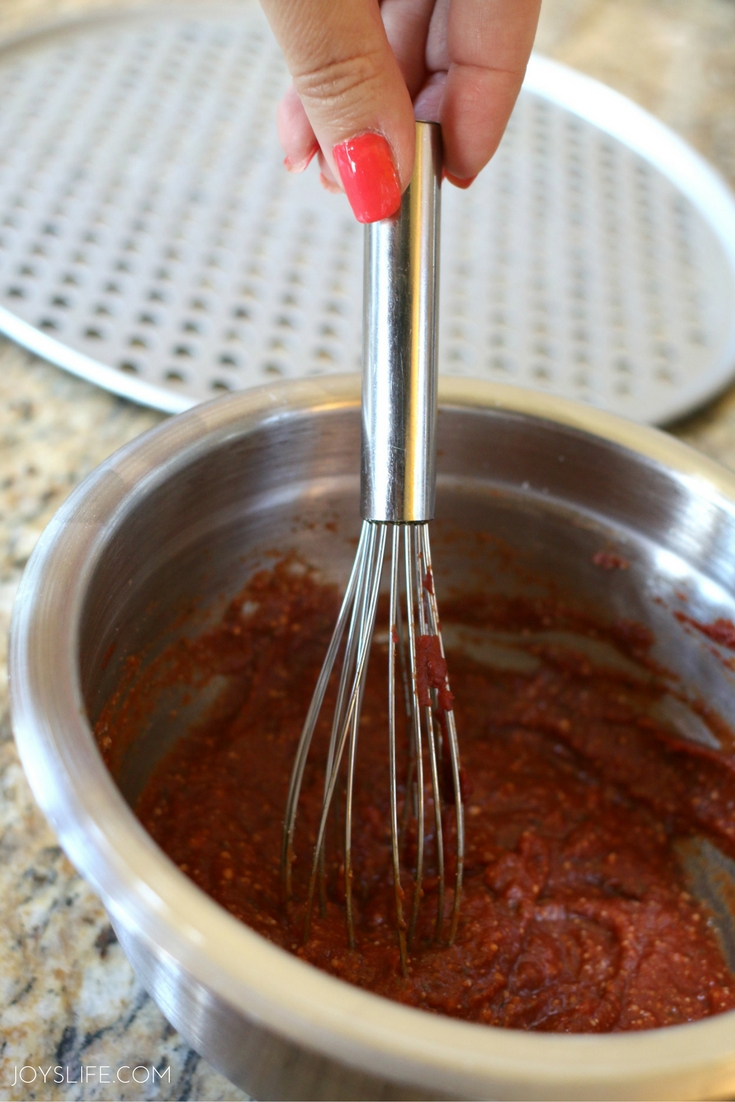 Making your own pizza sauce helps keep that authentic flavor that you're looking for.  You will love how easy this sauce is and what a compliment it is to the rest of the pizza.  We're using a smoky paprika to help give it a wood fired flavor, right out of the oven.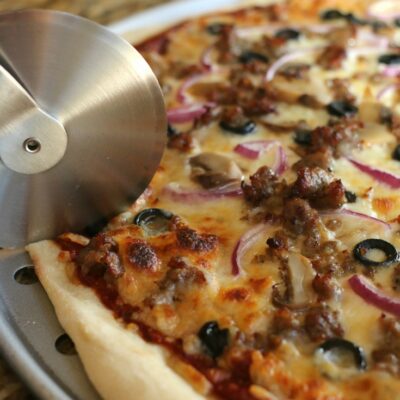 The Best Pizza Sauce Recipe
This flavorful sauce is just what you need to help you create the Perfect pizza!
Print Recipe
Share by Email
Share on Facebook
Share on Twitter
Pin Recipe
Ingredients
1

6 oz can tomato paste

4

oz

warm water

3

Tbsp

grated Parmesan cheese

1

tsp

granulated garlic

1

Tbsp

white sugar

1/2

tsp

onion powder

1/2

tsp

dried oregano

1/2

tsp

dried basil

1/4

tsp

smoked paprika
Instructions
Mix all ingredients.

Let sauce sit for 15-20 minutes to let flavors meld.

Add to pizza and enjoy!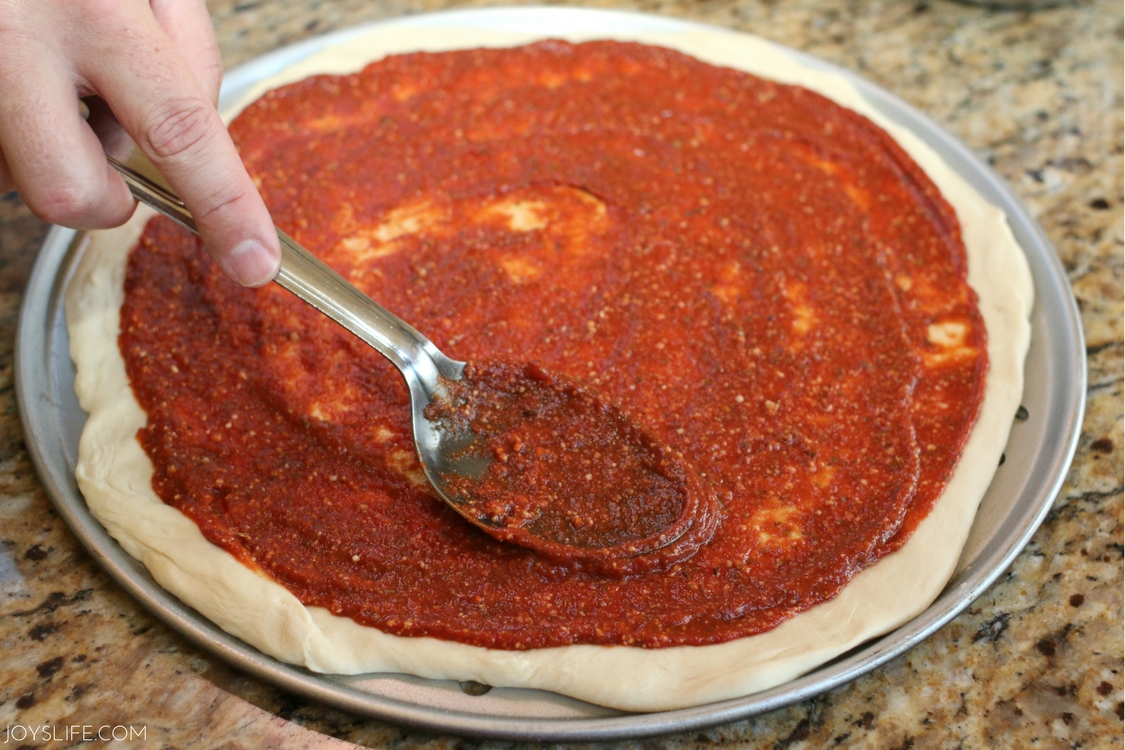 So, what about the pizza dough?  We use a dough recipe that came with our Cuisinart.  My suggestion is to make your own dough, but you can use a store bought dough.  Some grocery stores even sell pizza dough, ready to bake, in their bakery section.
Spread your dough on a pizza pan or bakery sheet and add the pizza sauce.
Add mozzarella cheese.  Want more?  Add more!  That's the beauty of making this at home!
Toppings!  We added red onion, black olives, mushrooms and the browned Carando Venetian Italian Sausage.  YUM!  Time to bake your pizza.
We baked our pizza at 425 for 15 minutes.  Keep an eye on your pizza until you determine the best cooking time for your oven.  I don't want you to burn it!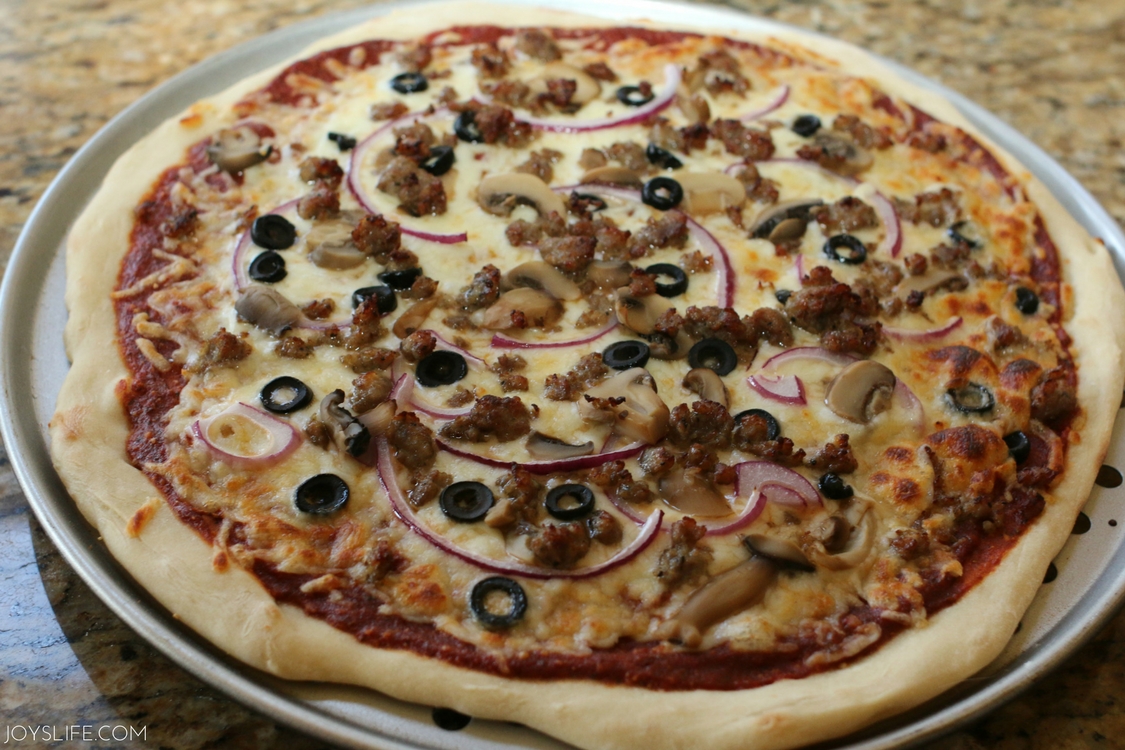 Frankly, I couldn't believe how amazing this pizza turned out.  We ended up making another one right away and I went online and bought an additional pizza pan for baking, because we only had this one.  LOL!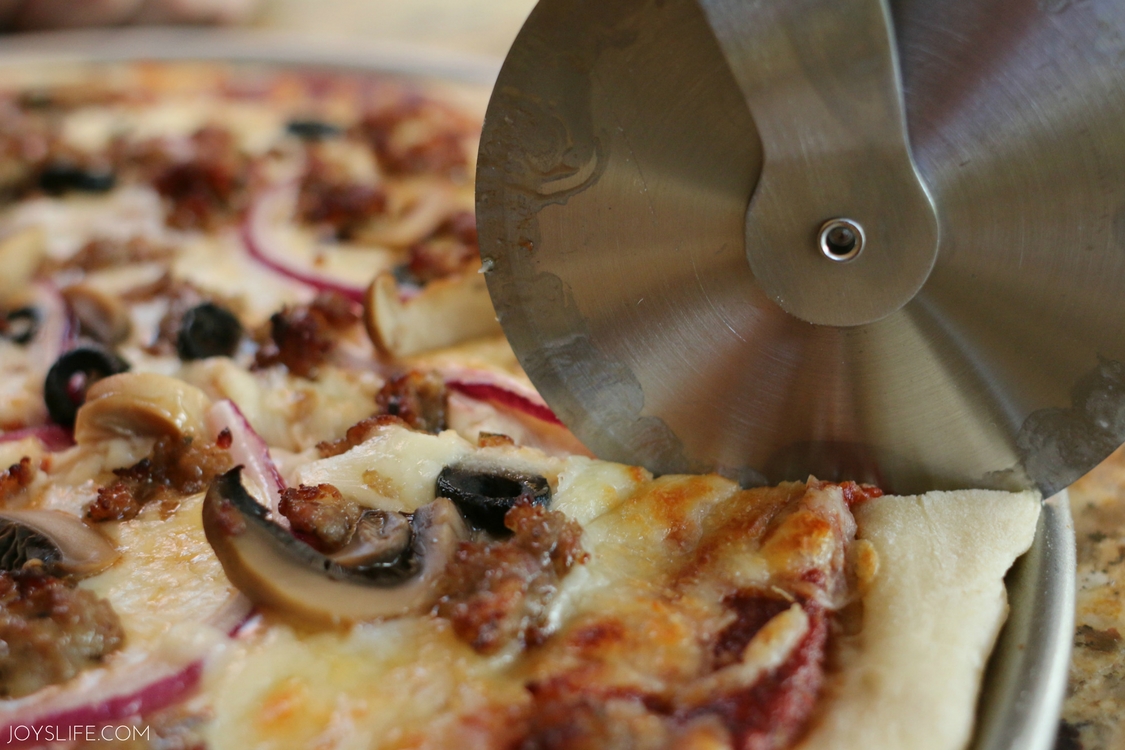 This crust looks a little white here, but I assure you, it was thoroughly cooked and this pizza tasted AMAZING!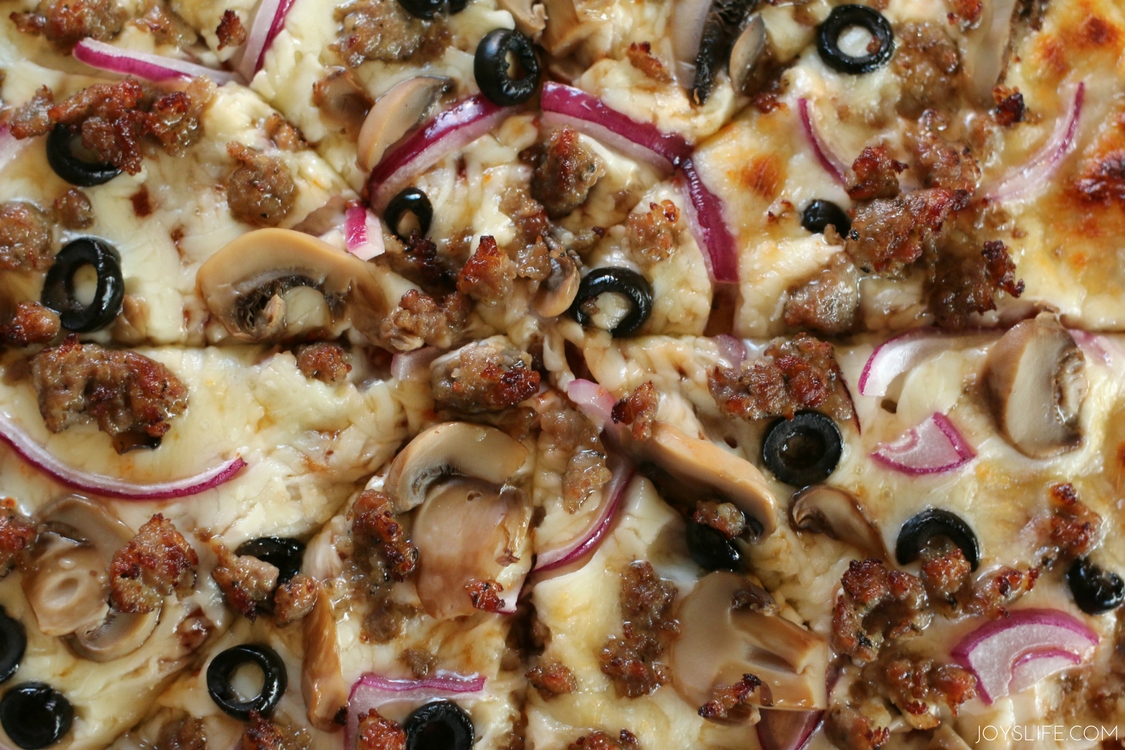 The sausage has such a good flavor.  We will be making this pizza again and again!
Whether you want a quick and easy Italian dinner or an inspired Italian meal creation, Carando Italian Sausage and Meatballs will help you bring the best to your family!
What are your favorite Italian dishes?  I'd love to hear what you like to make!