How to Make a Home Decor Flower Ball

 I love this project because it is something you can use just about anywhere in your home.  An added bonus?  It's very inexpensive.  Of course, that depends on how big you make it and the price you pay for your flowers and ribbon. 😉
To make the flower ball, I used Glue Dots 1/2-Inch Craft Dots, a styrofoam ball I got at my local craft store in the floral department and fake flowers that I got for .99 per bushy stem.  I also used some ribbon that I had in my ribbon stash.
First, I removed each flower from the stem.  That was easy, I just pulled them off.  Next, I stuck a Glue Dot® to the base of each flower and stuck them into the styrofoam ball.  I found that even though I stuck the stems into the styrofoam ball, I needed a Glue Dot® to help the flowers stay stuck.  This is especially important if your flowers have a short stem like mine did.
If you're going to add ribbon, do it before you add all of the flowers.  The flowers can help hold the ribbon on and it looks much neater than jamming it in there after all the flowers are attached.  (Been there, done that.  LOL!)  You can also use floral pins to help you hold the ribbon in place.  I found that using Glue Dots® and jabbing a few flowers into my ribbon worked just fine.
 I think adding the ribbon really helped give the flower ball an extra little oomph!  Plus, it provides a way to hang it if you so desire.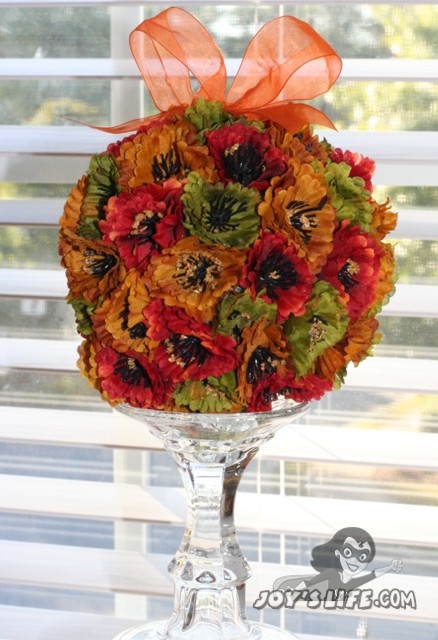 Simple!  We're all done!
I wrote this blog post while participating on the Glue Dots® design team.
Happy Fall Y'all!