Alabama Crimson Tide Embroidered Houndstooth Placemats
Hello Tide fans!  If you've been reading my blog for a while, you know that I've been an Alabama football fan from birth.  I even named our dog after the current coach.  (Learn about our dog's name on this post and see more posts about her here.)  Every year, I do what I can to add some new Alabama things to our home so we can celebrate our team while we "homegate".  This year I've added these awesome Alabama Crimson Tide Embroidered Houndstooth Placemats and I LOVE THEM!  I hope you do too!
What You'll Need to Create Alabama Crimson Tide Embroidered Houndstooth Placemats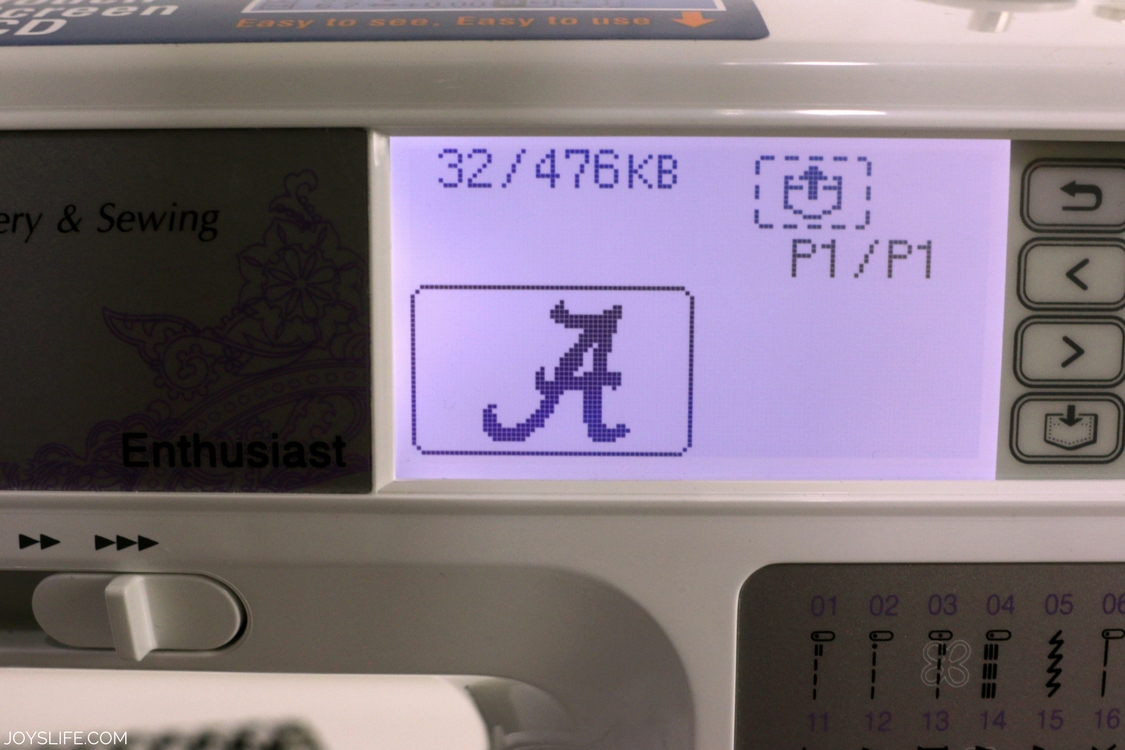 You'll need:
Houndstooth Placemats – You can make them or buy them.  I bought mine at the At Home store.
An Embroidery Machine – I love and recommend the Brother SE400
An Alabama "A" Embroidery File – I'm using this one that I bought on Etsy.
Red embroidery thread.
Sulky Solvy Water Soluble Stabilizer
Sulky Temporary Spray Adhesive
Scissors – I use these embroidery scissors and these fabric scissors.
The first thing you want to do is upload your Alabama "A" file to your embroidery machine.  If you're using a Brother machine like mine, you'll want to use the PES file.
Next, hoop the tear away stabilizer.  Lay your placemat on top of the tear away stabilizer.  Spray the back of the placemat with the Sulky Temporary Spray adhesive and stick it to the stabilizer.  Cut a piece of Sulky Solvy Water Soluble Stabilizer and lay that on top of the placemat.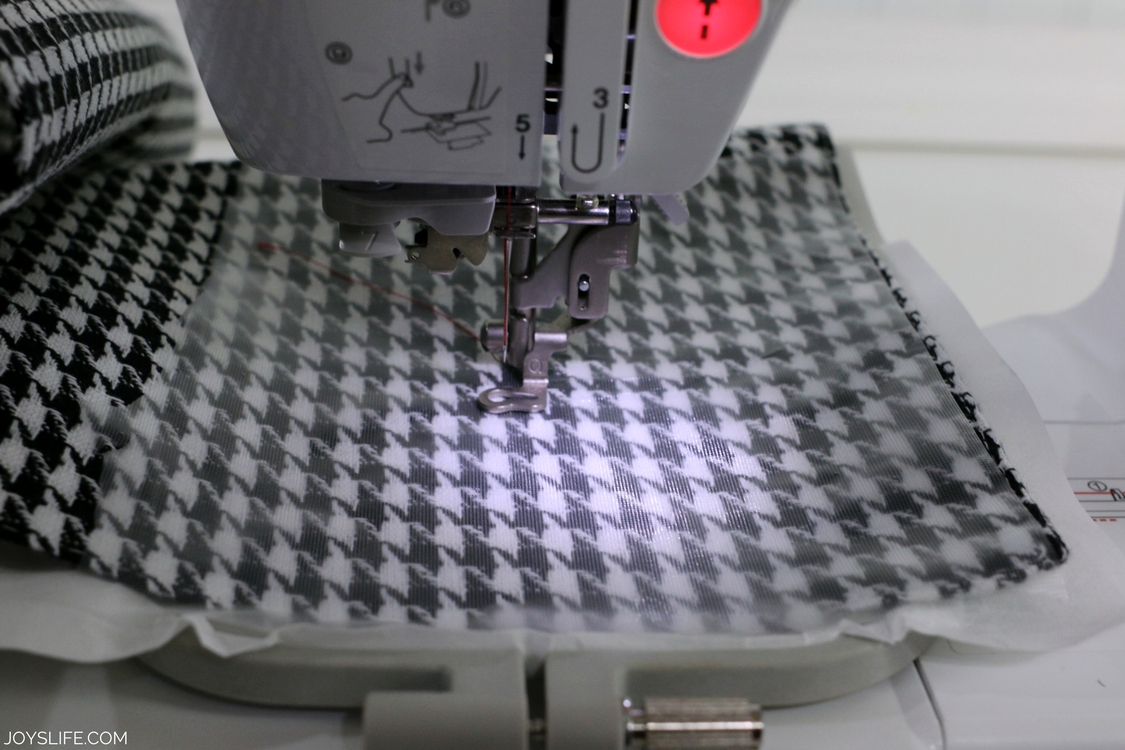 Using stabilizers will help you get the best result.  The thin stabilizer on top may not seem that important, but it keeps your stitches from getting buried down into the fabric.  It's pretty amazing.  You'll especially notice its importance if you try stitching on a towel with a deep pile.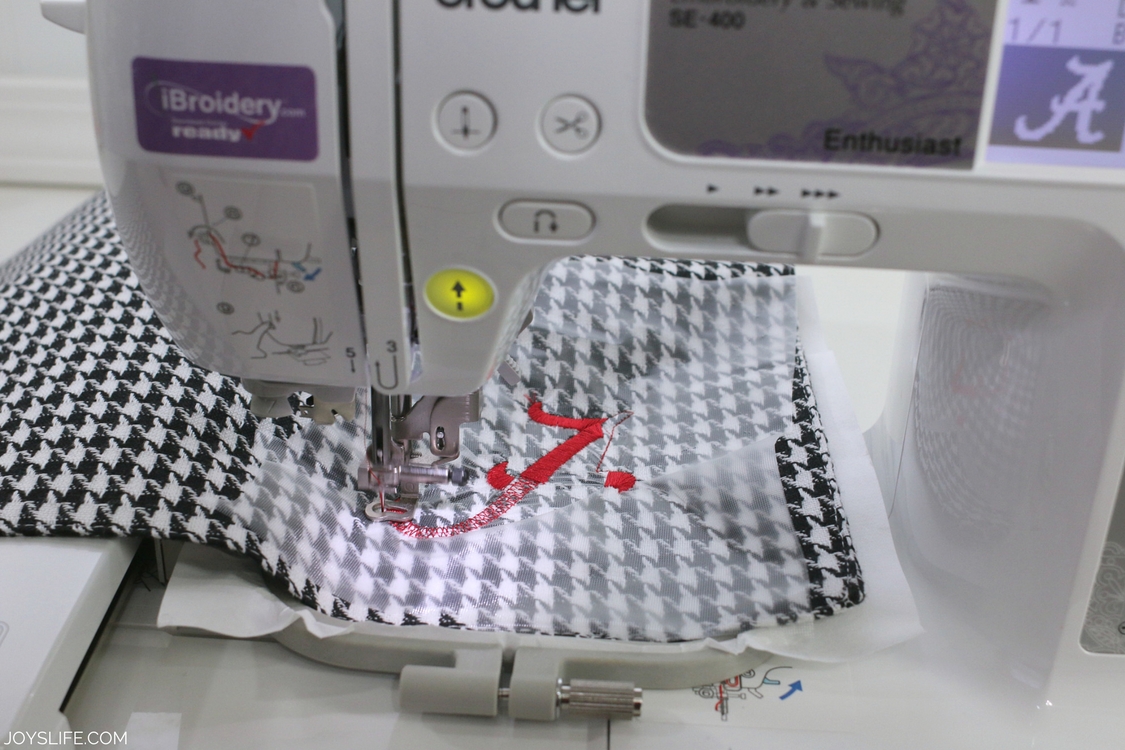 Here it is in the middle of stitching!  I was super excited to see how it would turn out.
 Ta da!  It's finished sewing!  It didn't take too long either.  I embroidered 4 of these mats in an hour.  I might have been able to move a little faster but I took my time.
When your "A" is finished, pull it off of the tear away stabilizer.  Hence the name "tear away". LOL!
Trim any long threads.
You can also gently tear away the water soluble stabilizer from the top.  Stubborn pieces can be rubbed up and away using a dot of water.
You can just pick out and tear away any remaining pieces of the tear away stabilizer and you're left with an awesome "A" on the back!  If you want your "A" to be solid red on the back, then use a red thread in your bobbin, mine was white.
Here it is up close!  We're all ready to Roll Tide at our table!
Hey, while we're at it, here are some other football craft posts!
This was a fun and quick project.  I hope you'll give it a try with your favorite team colors and emblem!
Now that we have some Crimson Tide themed placemats, here are some yummy football food ideas too!
Hey, you might like this post too!
Enjoy your game!