Make a Take Care of Yourself College Care Package + Free Silhouette Sleep Mask File
This shop has been compensated by Collective Bias, Inc. and its advertiser. All opinions are mine alone. #BeHealthyForEveryPartofLife #CollectiveBias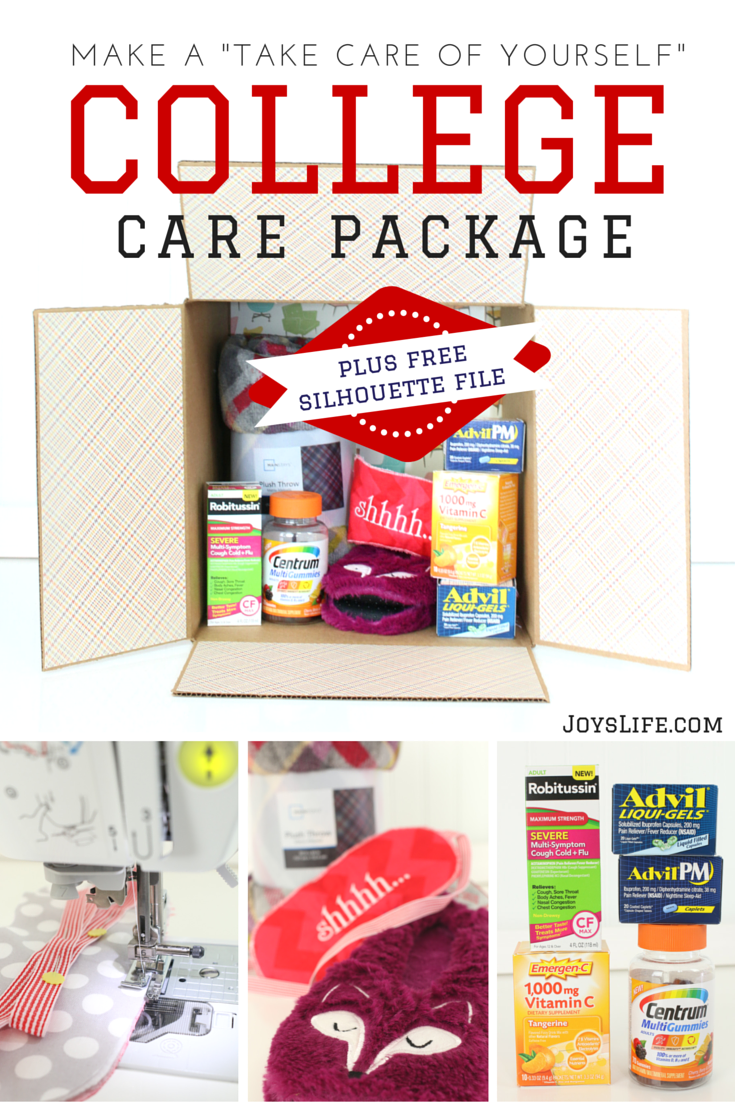 My daughter goes to college six hours away from home, so care packages are a great way for me to let her know I'm thinking of her and to send her things she needs.  If you have a child in college then you've no doubt heard your son or daughter say, "I'm completely out" of this or that.  Right?  Why does it always happen after they've just left the house and are headed back to school?  Why?  LOL!  The other day I told my daughter that I was going to be sending her a care package with Robitussin, Advil (use as directed), Emergen-C and Centrum Gummies in it and she said, "Great! I need all of that and I'm totally out of it."  I kid you not, she had just left the store.  No problem, child of mine, I've got you covered.  I just want you to take care of yourself and be healthy.  Parents, you've had this conversation, right?  Of course.  Well, here are some tips and ideas to make a "take care of yourself" college care package, so we can stock them up with the things they actually need…and some comfort items too.
Hey, as a bonus, I've included a Free Silhouette Cameo Sleep Mask File!
College can wear you out and being exhausted can lower your resistance to all kinds of germs.  So, I'm hoping this sleep mask might be just the thing to remind the kiddo to pencil in some rest time.
You can make this project as simple or as intricate as you'd like!  I've provided you with the template for the sleep mask.  You can use your Silhouette Cameo to cut out as many as you need!
Download the Free Sleep Mask Template for the Silhouette.
If you need help with your Silhouette Cameo, check out my tutorials.  Curious about which Silhouette Cameo you should buy?  Check out this comparison post!
After you've cut out your template, cut out all the fabric you're going to use.  I decided at the last minute to line my mask with some soft felt, so if you're lining it, cut that out too.  You can use fabric glue to stick everything together or just stitch around the edges.  You can also turn the fabrics back to back, leaving 1/4″ seam allowance and straight stitch.  Make sure add the ribbon before stitching the mask closed and turn it right side out before you close those areas.  Today I did something crazy (for a beginner like me) and it sort of worked out.  I put a different foot on my sewing machine and tried zig zagging around the edge of the fabric.  I'm very new to sewing, so simply trying this was pretty much a win for me, creatively.  However, I think I need a serger.  LOL!  That would make really nice edges.  You do whatever fits your style, ability and time schedule.  Whatever you do, add the ribbon or stretchy headband BEFORE you sew everything closed.
I used my Brother SE400 embroidery machine to add "Shhhh…" to the sleep mask.  This part is totally optional, but I really dig embroidering, so I went for it.  It's best to add embroidery prior to putting the sleep mask together.
Time to get everything together and pack the box!
Without fail, this is the time of year all of my kids get sick.  My perfect example is sitting in the other room coughing right now.  Me shouting, "Cover your mouth!" might be part of our family Fall traditions.  So, I picked up TWO bottles of Robitussin CF Max SEVERE Multi-Sympton Cough Cold+Flu, one for my daughter, one for us.  I also got Advil Liqui-gels (use as directed) and Advil PM.  To stay well, I got my daughter some Emergen-C and Centrum MultiGummies.  If you're not much of a vitamin taker, I say go gummy.  Seriously.  I do.  Every day.  It's the first time in my life I've ever taken vitamins daily without fail.  Go gummy!
Walmart is also where I got those adorable fox slippers and that super soft blanket.  Those things paired with the sleep mask really help drive home the "take care of yourself" theme.  Plus, who doesn't love to bundle up in a blanket and relax?  Sign me up for that!
Decorate the Box, Simply!
I'll  level with you.  I'm a crafter and I've never, ever sent my daughter a decorated care package.  WHAT is wrong with me?  Well, you don't have to be a crafter to add a little pizzazz to a box.  I took 3 sheets of 12×12 cardstock and cut two of them a little less than 6×6 each, giving me 4 smaller pieces.  Using my ATG, I glued each one to the inside flap of the box.  I took the last sheet and glued it to the bottom.  Now it looks so much better and more fun!  That was easy.
I've shared my ideas about what to include in a "Take Care of Yourself" college care package, I'd love to hear what you would include in your care package!