Heat Transfer T-Shirt Vinyl Cricut Halloween Pillowcases – Chic & Scary and Simply Scarecrow

I found these pillowcases for only $5 at Walmart and immediately knew I wanted to give them a Halloween theme.  My two boys stepped up to help me fulfill my challenge.  They picked out the designs they wanted from the Chic & Scary Cricut cartridge and the Simply Scarecrow cartridge.
Need vinyl?  I like to buy mine from Expressions Vinyl.
I cut my vinyl out using the Cricut Expression 2.  You can use any Cricut to do the same thing.  If you want to save space, use a Gypsy to squeeze all of your cuts close together.  That way you won't waste any vinyl.
I used heat transfer or t-shirt vinyl to create this skeleton.  If you're cutting this kind of vinyl, you'll want to flip everything or it won't iron on the right way.  It's critically important that you flip it if you are using lettering or everything you cut will be backwards.  I show and discuss heat transfer vinyl, flipping, layering and more in detail in my Cricut Vinylology DVD.
This is heat transfer vinyl after it has been weeded.  You see that it still has the backing on it.  These birds are from the Simply Scarecrow Cricut cartridge.
I buy my heat transfer/t-shirt vinyl at Expressions Vinyl.
This has been weeded and ironed.  Next I'll peel away the clear backing and we'll be all done with this one!  I use a teflon sheet to cover my vinyl when I iron it.  You can use a piece of material like another pillowcase or thin towel.
I use those Tim Holtz Scissors
all the time!  Here I'm layering some vinyl.  I'm not taking a ton of time with it.  I'm just clipping some yellow pieces off of that other heat transfer vinyl, ironing it down and then layering the other piece.  These 2 vinyls are not the same kinds of heat transfer.  One can only be peeled cool, the other cool or hot.  I go over how deal with multi layering of different kinds of vinyl in my DVD.
All done!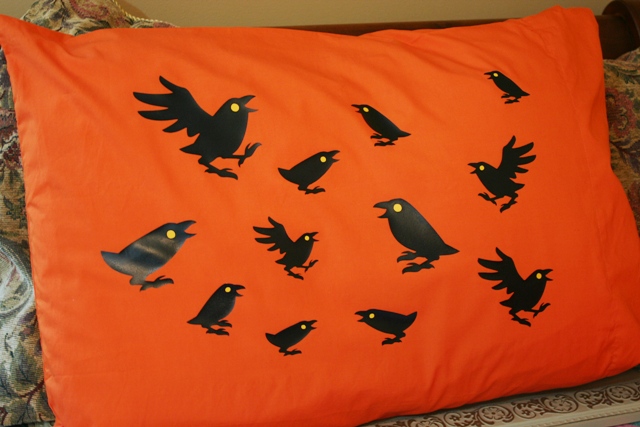 Ca-Caw!  Isn't this one kind of creepy?  My son wanted multiples of crows.  Good idea!  I think it looks awesome!
Learn all about using heat transfer, regular vinyl, layering and so much more in the 3+ hour 2 Disc Cricut Vinylology DVD.
Pick up your tshirt/heat transfer vinyl at Expressions Vinyl.
Have a Crafty Day!  Ca-Caw!!