Gypsy Smiley Cards Digital Cartridge Devil Vampire Card
Smiley Cards is a fun and really different cartridge!
Well, my friends all good Halloweens must come to an end. 😉 I've enjoyed these last 31 days of crafty Halloween and Fall posts. It's been a challenge for me, but I've enjoyed it. I've loved reading all of your comments especially. I will soon choose 5 winners who've left comments on non-give away posts to win some crafty prizes. I like that idea so much, I've decided to do it again next month too! 🙂 Alright…let's get on with this card and some peeks at the Smiley Cards cart!
I was happy to be chosen to do some early testing for the cartridge downloads that are part of the Nov 1 release of some carts for the Gypsy.
This screen is showing some shorthand text messages. Do you like word bubbles? This cart has a lot of word bubbles in different shapes on it.
You'll also find a bunch of emoticons (text-like faces) and a cards function. My favorite thing? It has a DONUT!! It also has pie!! There's also a pretzel and a beer/root beer. So…YAY to this cart, LOL!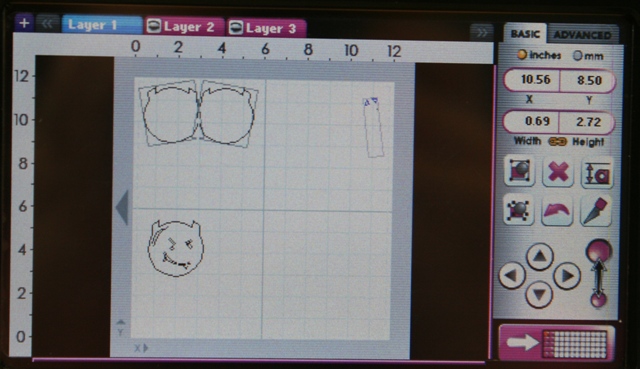 I increased the sizes of these before I cut them out.
I used my Gypsy to weld 2 backgrounds together to form a card made of out 2 devil/vampire heads. I'm not sure why he has horns and vampire teeth…whatever…let's just go with it. Maybe they're just ears?
I love that American Crafts foil paper. It's GREAT!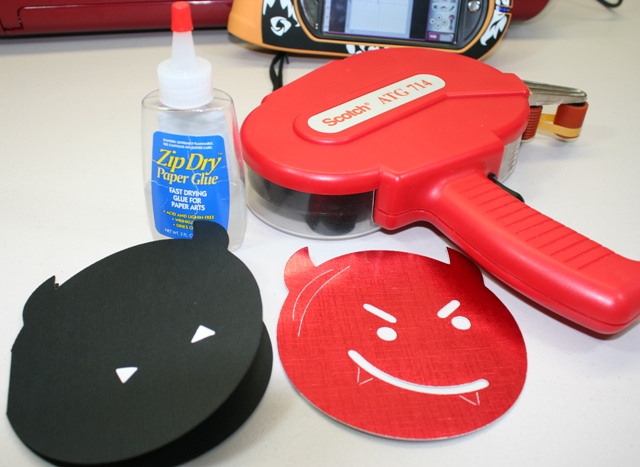 I used the ATG to glue the red foil cardstock to the black cardstock. Zip Dry paper glue was the perfect choice for the teeth.
Here's the card before I applied Stickles to it.  Stickles are a wonderful glitter glue.
You can read more about them in these posts I wrote:
Stickles Distress, Glitz and Regular Compared.
Here's the inside of the card.  You can use a white pen or put some white paper inside so you can use any color pen/pencil to write a note.
All Stickled up and ready to go trick or treating!
Well, time to pack up the Halloween cartridges for a while. Let's move on to Thanksgiving and Christmas! I have a lot of fun things coming up in November and a really special event planned in December. We'll talk more about it tomorrow. For now…I've got some trick or treating to get ready for!
HAPPY HALLOWEEN
Come back tomorrow for a video and to hear some of my plans for November! 😀