Happily Ever After Blog Hop – Happily Ever After Cricut Cinderella Notebook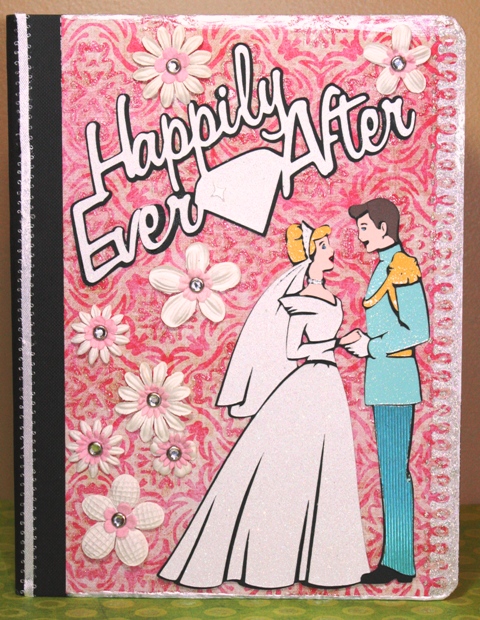 A Simple Notebook can be a Lovely Thing
At the beginning of each school year I replenish my composition notebook stash when they're selling for about .25 each. Then when I get the notion I can whip up a quick change like the one above!  I used my Cricut Expression and the Happily Ever After Cricut cartridge to create this project which would be perfect for an upcoming bride to keep wedding notes in!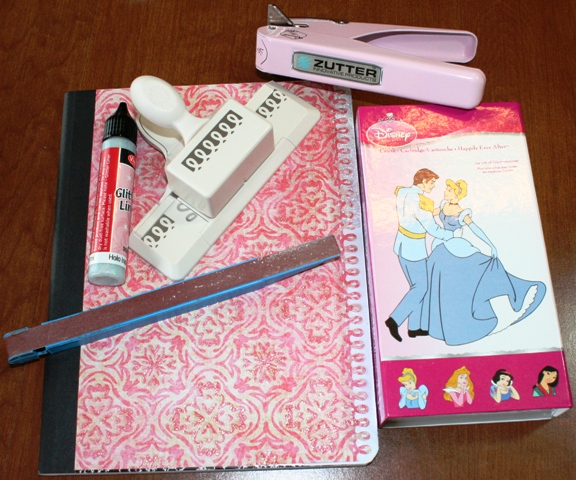 Here are some of the things that I used: Viva Decor Glitter Liner covers the right hand side of the notebook. Another kind of Viva Decor pen was used to cover the bottom where I cut the paper too short. 😉 I used the Zutter Corner Rounder Tool to (guess what?) round corners (good guess, LOL). All of the wording and images come from the Happily Ever After Cricut cartridge.
The Martha Stewart loop punch helped me create the looped edging on the right.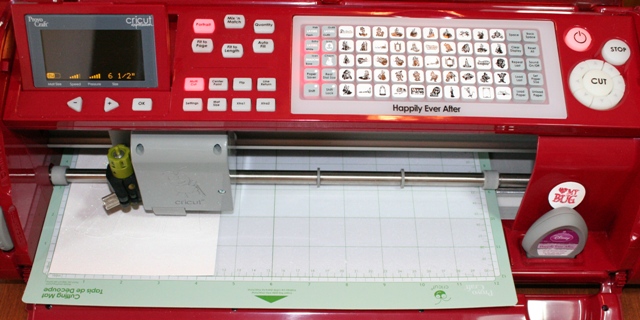 Using the Portrait Function
Do you ever use the Portrait function on your Cricut Expression? I usually forget about it, but not today! I wanted to make the Expression cut Cinderella's dress out on the paper that I had positioned going up and down, but the cut was made to go from side to side. After pushing the Portrait button I had that Expression bending to my will…or you know…doing what it was made to do. LOL! You might notice that I also have the Multi-cut button on. That's because I was cutting glitter paper. I had my blade at 6, pressure at 5 and multi-cut set to 2.
I've had this cartridge for a long time, but this is the first time I've used it. Like many multi layer character cartridges, the piecing can take some patience. I find that it can be helpful to stick with the suggested colors to help you decipher which piece goes where. That's especially helpful if you're tired, in a hurry or have a lot of these to make.
That weird looking thing on the left is really the same as the weird looking "X" on the right. Say, "Hello" to my little friend. "Why, hello little friend. We were just talking about how Joy loves to take that famous line from the movie Scarface and make it crafting related. Isn't that odd, little friend?" If you don't have a Xyron Create A Sticker or some kind of Xyron, you need one.
It was such a sanity saver when I wanted to quickly adhere those little pieces. That's what you're seeing in that strip of paper in the middle. Those are little pieces that now have adhesive backings allowing me to be able to "stick and go".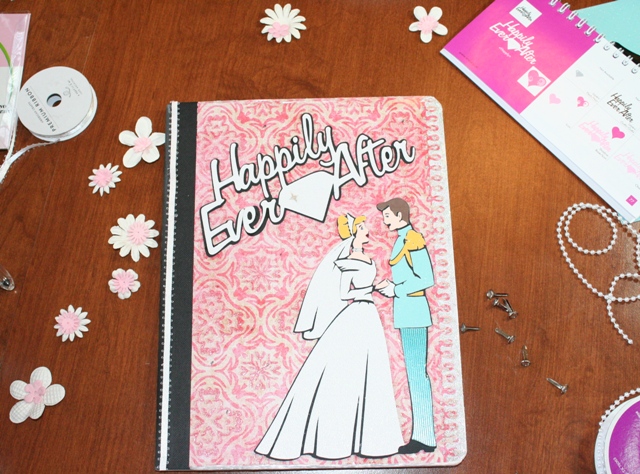 So yesterday I used flowers for the first time in a long time and here I am already using them again. Now I KNOW I need to add some more to my crafty stash. Hee hee hee…any excuse to go craft shopping will do.
I'm using the Crop-A-Dile Big Bite to punch holes in the composition book so I can attach the flowers using brads. Cool!
If you'd like to know how to use a Crop a Dile or Crop a Dile Big Bite check out my "how to" video!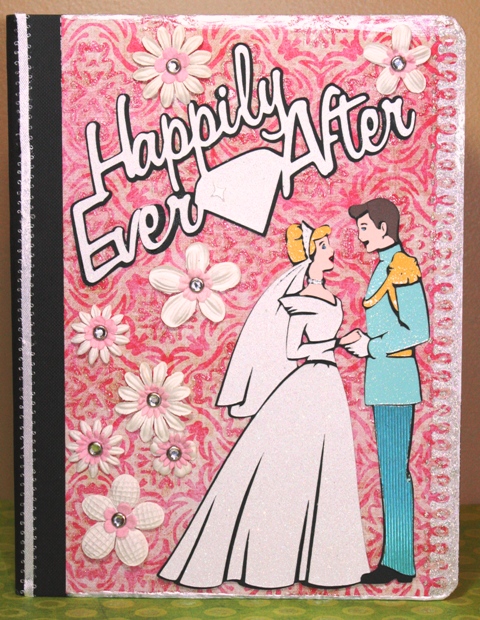 Leave a comment to be eligible to win a $10 gift certificate to Amazon.com
! I'll choose a winner for one gift certificate from all of the comments over the 4 day hop. The winner is announced on the 1st day of the blog posts on May 5.