Happily Ever After Blog Hop – Glass Etched Bride & Groom Wine Glasses

Etched wine glasses are an easy and inexpensive gift.  The first time I ever made them, I bought a set of 12 glasses for around $8.  I etched them all and gave them as Christmas gifts to my in-laws.  They loved them!  Here's a link to the 12 wine glasses I etched. I've also etched salt and pepper shakers.  Here's a link to them.  😀
I started with some inexpensive wine glasses.  You can certainly use expensive ones, but going cheap keeps you from kicking yourself if you mess one up or you observe someone dropping one after you're done. 😉
Cricut Explore Air.I'm using my Cricut Expression but there's a newer machine out now, the Cricut Explore Air.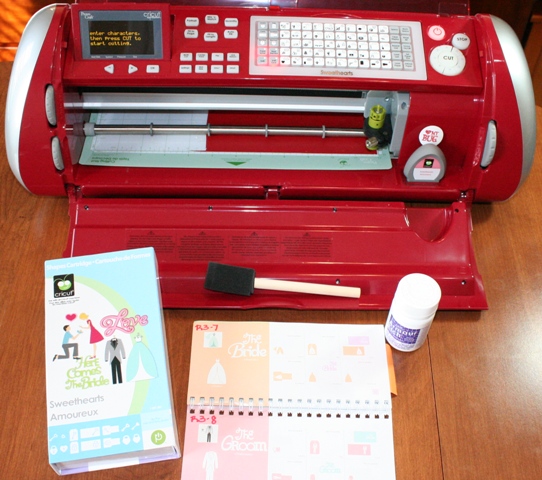 I'm using the Sweethearts Cricut Cartridge
, Armour Etch Glass Etching Cream
, some leftover vinyl that I had and a foam brush.
Need vinyl?  I like to buy mine from Expressions Vinyl.
There's the vinyl all cut down and ready to apply to the glass.  Applying vinyl to a curved surface can be difficult.  If you'd like to know how to glass etch on curved and flat surfaces using vinyl and your Cricut you'll enjoy my Cricut Vinylology DVD.  I show you how to do that and so much more! 😀
Now for the magic!  I'll apply the Armour Etch to the glass.  Did you notice that I cut the word "the" off of each sentiment?  (Normally, I'd use my Gypsy to hide the things I don't want to cut, but my Gypsy died.)  That left such a little area of vinyl I decided to apply some extra around the edges.  That keeps the Armour Etch from etching areas that you don't want etched. 😉  After applying the etching cream all you have to do is sit back and wait.  You can follow the directions on the bottle…or add extra time like I do.  Next, you wash the cream off and TA DA!!  Etched glasses!!
One of the things you learn in my
Cricut Vinylology DVD
is how to glass etch on flat & curved surfaces using vinyl. 🙂
Leave a comment to be eligible to win a $10 gift certificate to Amazon.com
! I'll choose a winner for one gift certificate from all of the comments over the 4 day hop. The winner is announced on the 1st day of the blog posts on May 5.