Happily Ever After Blog Hop – Silhouette SD Floral 3-D Shoe
Something borrowed, something blue.  Something like a paper shoe.
I LOVE my Silhouette SD (it was the precursor to the Silhouette Portrait)
. It is small, easily portable and can do some great things with paper and vinyl. The only drawbacks of the Silhouette SD are that it can't cut tough material or work with sizes bigger than about 8″. I used it to make this awesome paper shoe, perfect for a bridal shower, birthday or Mother's Day.
Here's a screenshot of the shoe that I downloaded from Silhouette for .99 and then cut out.  The shoe didn't come with any directions on how to put it together, but I thought it was pretty easy to figure out.  Actually, there may have been directions somewhere, but I didn't search too hard.
The Silhouette in Action
Here the Silhouette is cutting out the shoe. This pretty paper is from the Anna Griffin Isabelle Collection. The stuff you see on the edges of the Silhouette mat is paper still stuck there from a previous project.
This is what I had to deal with after I peeled it off the mat.  It was pretty easy to figure out though because the Silhouette can score paper and this design had score lines.  Simple!  I just bent everything that was scored and stared at it until it turned into a shoe.  LOL!
See the computer screen in the background?  Well, that highlighted red shoe is the design that I downloaded.  Here I've glued parts of the shoe together using Beacon Adhesive's Zip Dry Paper Glue
.  Zip Dry is awesome.  I use it all the time.  Frankly, I haven't found a Beacon Adhesives product that I don't love.  Their Fabri-Tac
is great for gluing fabric together.  Super Daughter used it for a project in Chemistry last year where she had to create, fill and seal a felt bag shaped like a mole weighing a specific amount.  It held and she got an A.  Woo hoo!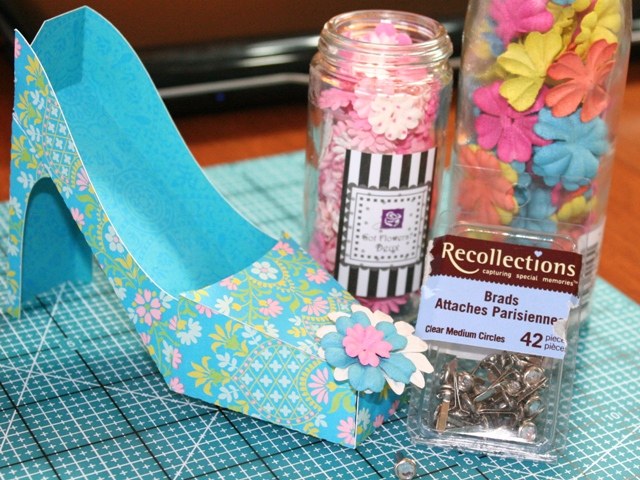 Flowers and brads and shoes…oh my!
I went through my flower stash and created these layered flowers to compliment the shoe.
Pretty from the side, back and front!
This shoe would be pretty as a place holder for tables at a party or event.  You could even put treats in it.
Leave a comment to be eligible to win a $10 gift certificate to Amazon.com
!  I'll choose a winner for one gift certificate from all of the comments over the 4 day hop. The winner is announced on the 1st day of the blog posts on May 5.