Hogs and Kisses 3D Pig Candy Holders – Lettering Delights
These 3D pigs are so cute!  I used the Hogs & Kissses cut it set from Lettering Delights to make them.  They were fast and easy to make too.  YAY to that!  Here's how I made them:
I was able to use my scraps to make these little piggies.  This little piggy saves her scraps in 12×12 plastic containers.  I sort them by general color.  This is my pink, red, orange and yellow container.  I cut the pieces into usable squares before I add them to the box.  I don't keep anything smaller than 3″ x 3″ unless it's really unusual.  One way to not have a lot of scraps is to use digital paper.  Here's some that matches these pigs!  You can see it here.
These pieces make 2 piggies.  One piggy comes in the file but I doubled mine.  I also made it shorter and wider.  I'm using my Silhouette Cameo  with the Silhouette software today but you can import Lettering Delights files into SCAL or MTC  too.
Need help importing .svgs into the Silhouette software?
How to import .svgs and how to make imported .svgs cut in the Silhouette software. Check out my FAQ's page for more tutorials on the Silhouette software and Cameo. I hope that helps!
All you do is fold the perforated parts and glue them.  Add the black piece to the back of the pig.  Lastly, attach the ears, snout and tongue.  Easy!  I'm using  Zip Dry Paper Glue to put everything together.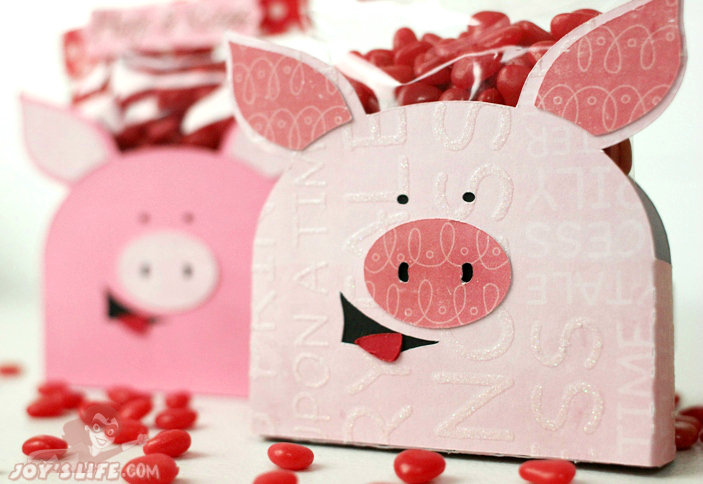 I just LOVE these cutie pies!  I added the "Hogs and Kisses" sentiment for these from the Joy's Life Barnyard Puns stamp set.
 That'll do pig…that will do. 😉
Have a happy day!