Joy's Life Lots of Pun Stamps & Cricut Create a Critter Gift Bag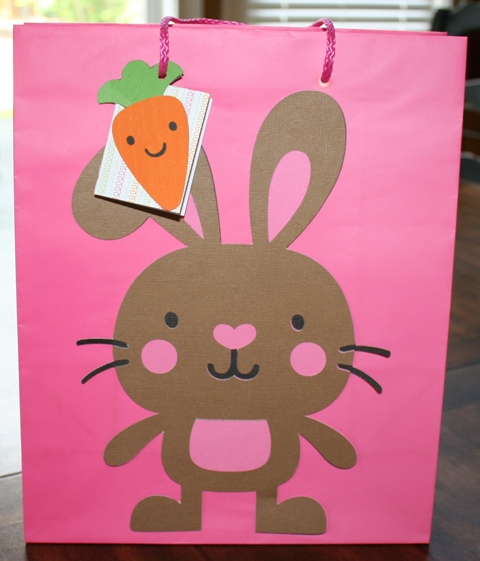 A few days ago I was on a hunt for some craft supplies when I came across some plain colored gift bags for $1. YAY!!! I knew just what I wanted to do. I wanted to turn them into something cute that looked great, but didn't cost "cute bag" prices.
So here's what I did:
That sad crumpled tag is what was stuck to the bag.
I reused this adorable rabbit and carrot.  Remember when I stuck them to DS#2's door?  Well, it's certainly not Easter anymore, but my SIL will LOVE this bag when I give it to her with a gift inside for her b'day.  She's always been so supportive of all my creations. 😀  Isn't that nice?
The carrot is stuck to a piece of cute cardstock from my scrap stash. It is an inexpensive change and much nicer to look at.
Both of those stamps are from my "Lots of Pun" stamp set.
I used some leftover pink cardstock to line the inside of my little card.  I added the "Hoppy Birthday" stamp and the hearts stamp.  I used a small Marvy circle punch to create a cute circle for the hearts.  Then I popped them up using a fat round pop dot. 😉
Crop A Dile Big Bite how I love thee, let me count the ways.
To attach the carrot card to the bag, I first punched a hole in the carrot.  That's easy to do with my trusty friend the Crop A Dile Big Bite.  Do you wonder how they work?  You can check out my video to learn all about Crop A Diles (the Big Bite AND the regular).
Just thread the handle back through the carrot and you've got a carrot on a string!  … or… a card attached to your bag. 😉
Now I have a cute bag ready for gift giving!  YAY!!
Have a Hoppy Day!!