Halloween Vinyl Decorated Trick or Treat Bag – GIVE AWAY
Expressions Vinyl sent me some great vinyl to try out (and something great for YOU TOO!). 😀 Today I used their white iron-on (heat transfer) vinyl to create this fun bag for Halloween night!  You can make one too!
Here's what I used:
You'll need heat transfer vinyl and an iron for sure!  I used the Mini Monster's Cricut cartridge for everything.  I bought the bag in a set of 3 at Hobby Lobby.  Did you know they have an online store too?  They do!  Ok, I know you see that mat says Pazzles.  Well, I don't own a Pazzles machine, but I was curious if the Cricut could use their mats too.  The answer?  Yes AND no.  I had to cut it down to make it fit, but it works just like a regular Cricut mat.  Frankly, that was a rather boring experiment.  LOL!
Here I am cutting the iron on vinyl.  You have to cut it with the shiny side down AND use the flip button.  I teach you all about using heat transfer/iron-on vinyl (and lots of other vinyl too) in my Cricut Vinylology DVD.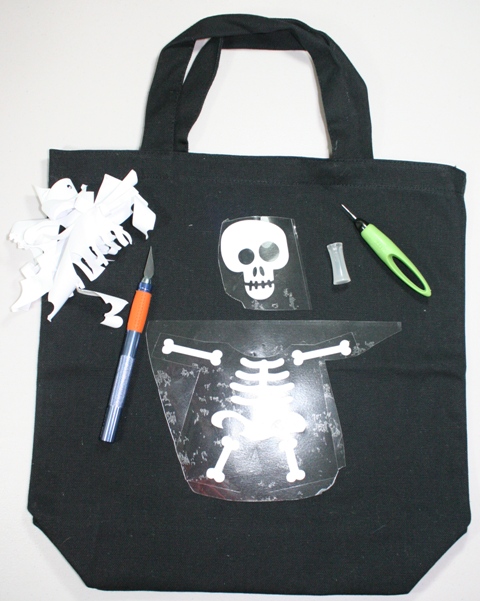 AH HA!  He's all cut out and weeded.  He's a bit sticky from the mat, but he's just fine and ready for some heat. 😉  He was cut at 8 1/2″ and is from page 48 in Mini Monsters.  When I'm just doing vinyl projects for myself, I only use an Exacto knife for weeding.  I used to work in a vinyl sign shop that's what I did there. 😉
I'm using a Teflon sheet to cover the vinyl so I can iron it.  You need to put something over the vinyl before ironing directly on it.
I hope you like it!
READY FOR THE TREAT?

EXPRESSIONS VINYL has donated a $25 Gift Certificate to ONE WINNER and also has a coupon "PUMPKIN" good for 10% off all purchases in October!  So, go do some shopping AND leave a comment below to be eligible to win the $25 gift certificate.  I'll use Random.org to choose a winner on Friday, October 30, 2010.
WINNER!!
# tas66 Says:
October 22nd, 2010 at 10:02 PM e
This is so cute. Thanks for sharing. I am suppose to go back to work next week , maybe I can get your DVD then. I want to play with iron on vinyl so bad.
Tricia
THANK YOU TO EXPRESSIONS VINYL.COM!
I HOPE YOU HAVE A GREAT DAY with lots of treats!!