There It Is Again Thursday – Tim Holtz GIVE AWAY
If you didn't see it last year, we'll just pretend it's new. LOL! Here are some posts from last year that I wanted to share again. If you've seen them before then maybe a GIVE AWAY will help you forgive the repeat. 😉
GLASS BLOCK DECOR
Do you heart this?  It was fun to make.  I used paper, chalk and a Cuttlebug die + a glass block.  Wanna make it?  CLICK HERE FOR THE FULL POST AND MORE INFO.
Are you thinking, "I know I've seen glass block done with vinyl.  I want to know how to do that."?  Is THAT what you're thinking?  Well, I actually do a project with vinyl and glass block in my Cricut Vinylology DVD!  Say what?!  Yes.  It's true!!  CLICK HERE FOR CRICUT VINYLOLOGY DVD INFO.
THANKSGIVING INVITATION
Friends, I made this invitation last year and it was a SUPER HIT with ye ol' family.  I was THRILLED.  It also got into the Cricut Chirp, for which I was also thrilled.  However, nothing beat hearing that the invitation made it to the top of my sister-in-law's fathers piano.  THAT was high praise.  Here's the post that explains how I made it.
I hope you all have a wonderful time preparing for your holiday traditions no matter how or what your family celebrates. You never know what a difference your simple (or elaborate) hand crafted items might make to someone. Don't be afraid to share what you create. Be bold. 😉
MUCH SUPER JOY LOVE TO YOU!
Here's a crafty give away for something I just recently started using and LOVE!!!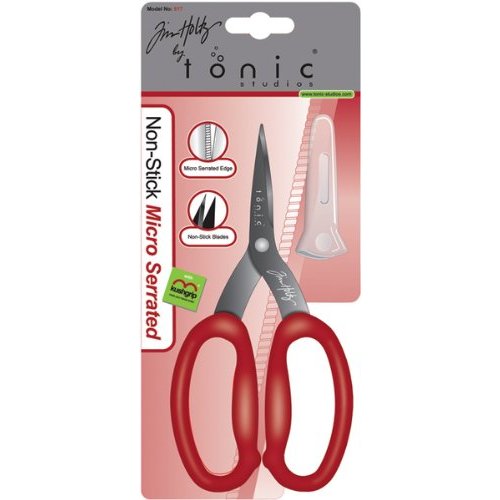 I heart these Tim Holtz Tonic Studios scissors!  They're great!
For this Give Away, I want you to tell me your favorite post from September or October of this year OR last. You can see everything from month's past by going to the "ARCHIVES" drop down menu on the left. I'll choose a winner on October 28 30, 2010. WOO HOO!
WINNER
# maryanneross Says:
October 21st, 2010 at 6:00 AM e
You inspire me to come home from a long day of teaching and make stuff Joy, thank you! I am going to do the spiders and vinyl 'creepy' in my economy size bottle of hand-sanitizer for the classroom…….muuuuhahahahahaha
DON'T FORGET … At the end of October, I will pick 5 winners who've left a comment on any non-give away post on Joy's Life during the month of October. Those 5 winners will win some crafty surprises. So, you can leave a comment on all the give away posts AND on non Give Away posts and still have a chance to win!