Cricut Pooh Halloween Card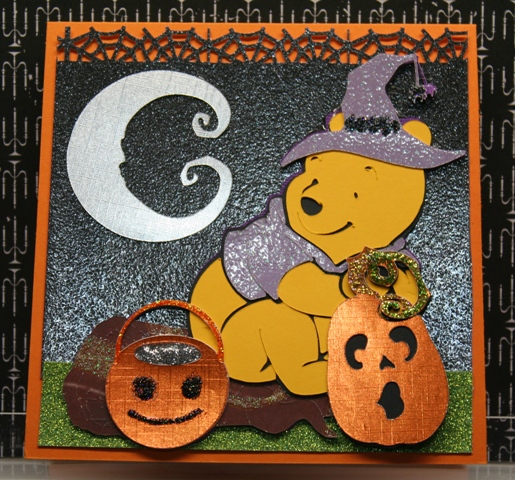 I created this Winnie the Pooh card using my Gypsy and 4 different Cricut cartridges.
I'm so excited that the most recent update to the Cricut Imagine makes it work with the Gypsy.  Sadly, it only cuts with the Gypsy and doesn't have color functionality with it yet, but I'm sure that's coming.   I just had to use my Gypsy along with my Imagine and try out the new update.  So, that's what I did!  This whole card was created with my Gypsy and cut with my Imagine.
Here's the Gypsy working with the Imagine!  Oh, to have color + Gypsy…I can't wait!!
The Imagine mats aren't very sticky and I got tired of ruining paper, so I added some EZ Dots repositionable adhesive to the mat.  I didn't consider the warranty, so you might want to read up on that. 😉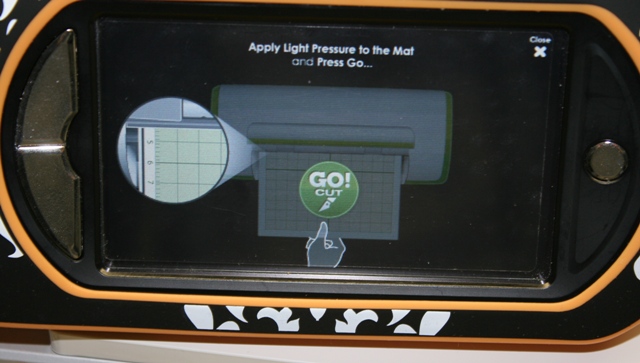 One nice thing about using the Gypsy with the Imagine, at least for me, is that it's easier to load the mat pressing go on the Gypsy while pushing the mat.  That's because you can put the Gypsy wherever is easiest for you, instead of just dealing with the lid all the time.  Am I the only person who wants to rip that lid off and work on it more comfortably?
I got a message on my Gypsy that it had lost connection with the Imagine.  I tried a few things to reinstate the connection, but what worked was pulling the cord out of the top of the Gypsy and then plugging it back in. 😉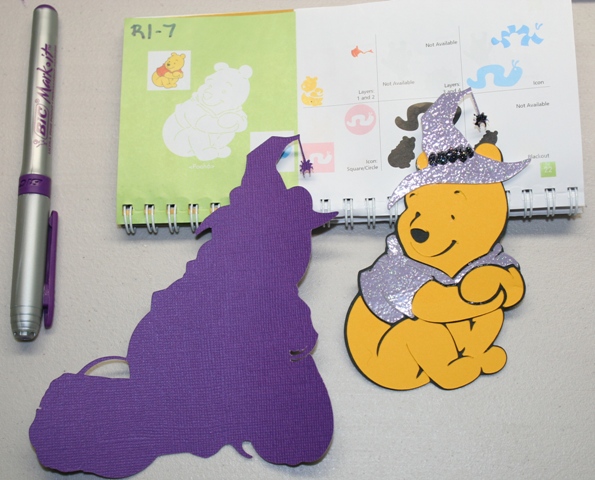 As you can see, Pooh didn't come with that witch hat originally.  There is a witch hat on that cartridge, but I decided to go with the hat from Happy Hauntings instead.  The purple background is where I welded everything together.  I then applied all the separate parts to the background for stability.
See Pooh?  He's watching from the top of the Imagine.
Now I'm cutting out the log that Pooh will sit on.  I set the blade to cut this design twice, using the Gypsy.  Want to know something funny?  When the Imagine cut twice it would cut a line (for example) then recut that line.  Then it would move to the next thing.  Normally, the Cricut Expression would cut everything, then go back and cut everything again.  It was weird!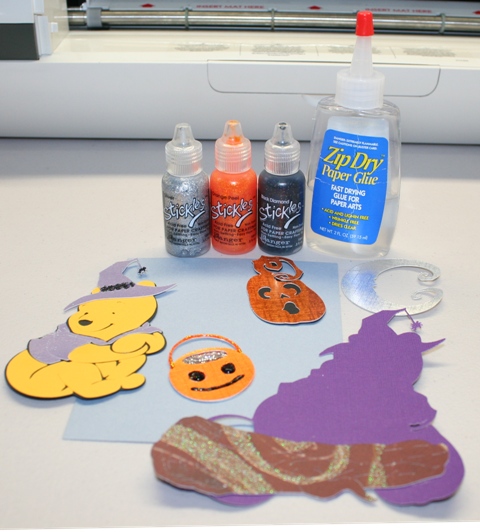 Stickles & Zip Dry…what would I do without them?
Pooh's trick or treat pumpkin comes from the Mini Monsters cartridge, the Jack o' lantern and the moon come from the Oct 31 cartridge.  The pumpkins and moon were made using foil cardstock by American Crafts.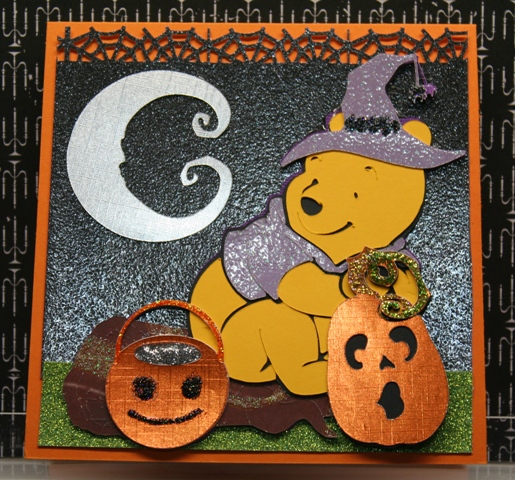 Only 11 more days until Halloween!
I used a Martha Stewart spiderweb punch for the top of this card.  The black and green background is two pieces of glitter cardstock.  It's best to do a multi-cut of 2 when cutting glitter cardstock.  Zip Dry paper glue is a life saver (or at least a craft saver/sanity saver) when it comes to gluing glitter cardstock to glitter cardstock (and tons of other things too).  I used Stickles on both pumpkins and the hat. 😉 That was fun! I haven't made Pooh before. Now I need to make Mickey Mouse…and the Princesses…Batman…Superman. Good grief. LOL!
I Hope You Have a Super Day!
Click HERE and leave a comment on Monday's post to be entered to win an Imaginisce Spooky Town kit.   DON'T FORGET … At the end of October, I will pick 5 winners who've left a comment on any non-give away post on Joy's Life during the month of October. Those 5 winners will win some crafty surprises. So, you can leave a comment on all the give away posts AND on non Give Away posts and still have a chance to win!