Cricut Imagine Photo Frame Bird Gift and Imagine Nation Monday
Emma at My Creative Time asked me to be a Guest today for her Imagine Nation Monday series. Woo hoo! I adore Emma, so of course I said, "Yes!" I'm so glad she asked me because it gave me a reason to get back to my Imagine.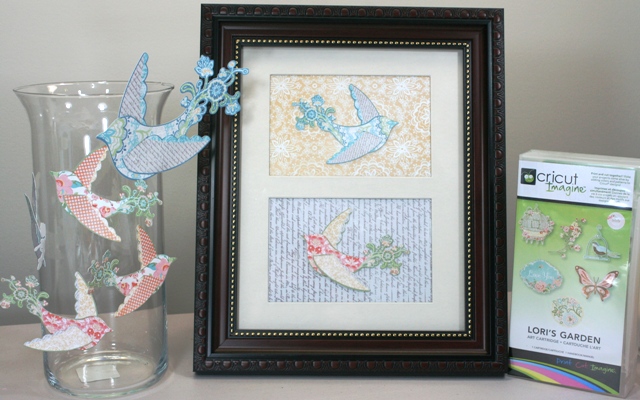 I used the Lori's Garden Cricut Imagine cartridge, white cardstock, some adhesive and a $3 photo frame from Walmart to create a quick gift for my husband's aunt who loves birds. You can see I also stuck some of the birds to one of those containers that I previously turned into a hurricane lamp. It's perfect for adding some flowers! Here's the link to the hurricane lamp video.
I used white cardstock and Lori's Garden to create that awesome paper! It still blows my mind that I can create cool paper from white cardstock using my Imagine. I used that for the background in the frame.
I'm using an ATG gun (tape gun) to make this project much faster and easier!
I didn't use the make paper function on my Imagine because I don't have any 12×12 white cardstock. So, I used one of the shapes that are part of the Imagine's contents and filled that shape with the pattern I wanted. Later, I chose an actual square since those rounded corners weren't the best choice.
These birds are right off of the Lori's Garden Cricut Imagine cartridge. That cart has some pretty backgrounds.
I bought some paper very similar to that cursive background from Stampin Up. I LOVE that I can make it! 😀
Thanks again to Emma for having me as an Imagine Nation Monday guest on her blog today!