Cricut Happy Hauntings Coffin with Skeleton Candy & Imagine
Coffin from Happy Hauntings Cricut Cartridge
I SUPER LOVE the Happy Hauntings Cricut cart. I made this little coffin from it without too much trouble at all. Which is great because trouble is no fun. 😉 Wait until you see what I put inside this little box!

Don't freak out if you don't have an Imagine, you don't need one for this.
Between you and me…I just used my Imagine for this project because it was where I happened to be. You don't move this beast around much…unless you're just trying to exercise. I only wanted to cut out the coffin and I didn't need the Imagine to print, so I just set it to cut.
Here's the screen where you can flip your images on the Imagine.  I flipped one part of the coffin because I'm using double sided paper and I wanted each side to be different.  I could have probably used the side I wanted without flipping, but just to be sure…I flipped.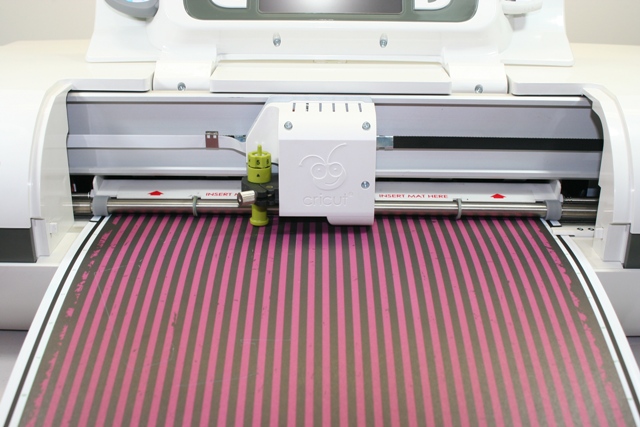 Here the Imagine is just cutting.  This awesome paper is by Stampin Up.
For the candy I wanted to put inside this coffin, I needed to cut it out at 7 1/2″, so that's just what I did.
The Imagine has it's own special mats.  The black lines are read by the machine.
Now we're all ready to remove these from the mat then score and assemble them.
I LOVE my Fiskars trimmer. It's affordable and works so well!  This little coffin has several pieces to score.  You might be just as happy with your finished product if you use a bone folder or just your fingers to score, especially if you have a lot of them to make.
Time to tape everything!  If you've never held an ATG gun I know they are huge, but they're really not very heavy.
You're going to LOVE this candy I found for the inside of the coffin. It's PERFECT!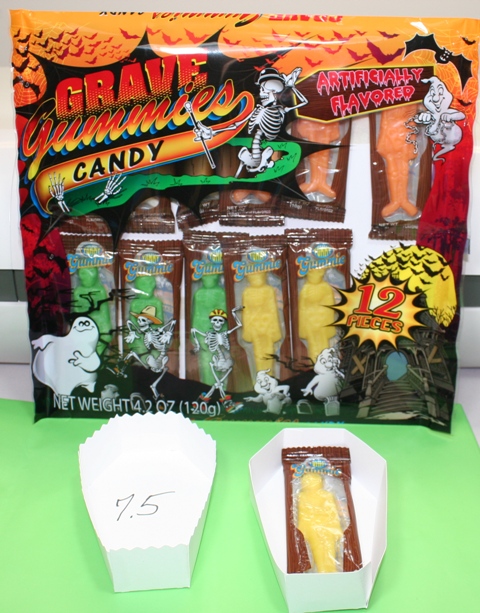 GRAVE GUMMIES!!
I found all of these little gummy skeletons at the Dollar Tree. When I saw them I knew I had to buy them so I could put them in the little coffin. LOL! As you can see, I did a preliminary cut using white paper. I wanted to be sure I had the right size before I sacrificed my good Stampin Up paper. 😉
Be sure you hover over the photos…I'm just sayin'. 😉
I LOVE this fun little treat box and am so glad it's just as easy as cutting and scoring to create it.  Hey, I used a button on something for the first time.  I think I'm in love with buttons now!
SEE YOU TOMORROW for a Fall craft and a Give Away!