Cricut Imagine Halloween Treat Bag Happy Hauntings, Best Friends & Nursery Rhymes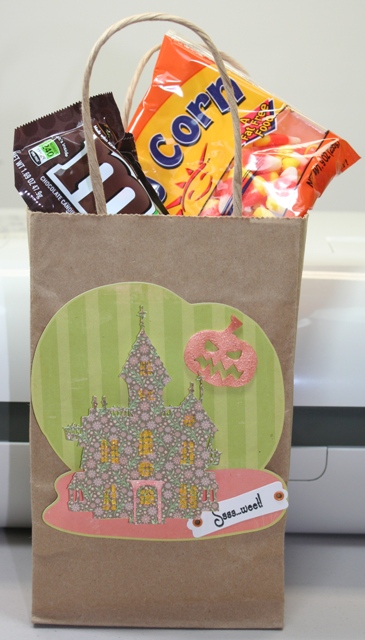 Wow! I imagined a bag of candy. Then it came true! 😀
I used my Cricut Imagine to create all of these images except for the stamp.  The "Ssss…weet" sentiment is from my Lots of Pun stamp set.  It worked perfectly for this bag of sweets that I'll be giving to my friend and neighbor.  I also used Shrinky Dinks in my Imagine to create the pumpkin.  I'll tell you more about how I did that tomorrow.  😉
I used the Happy Hauntings Cricut cartridge (on the left of the machine) to create the haunted house.  I just varied the colors by choosing from the Cricut Imagine's Nursery Rhymes palette.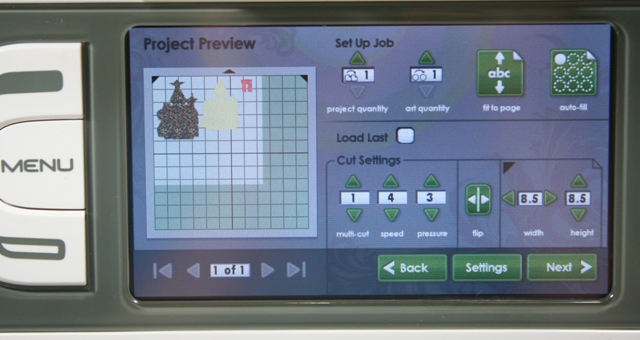 I like being able to choose different colors and prints and just use white paper.  I look forward to the Imagine having even more functionality.  I'd like to have more control over the parts of images that can be colored.
One thing that AMAZES me about the Cricut Imagine is its ability to cut really small and intricate things so precisely.  It does a better job of cutting out tiny things than the Expression.  Just look at the tiny windows it cut out of this haunted house.  The cutting ability has impressed me more than any other function of this machine.
Honestly, I don't think I'd bother to print and cut a piece of yellow paper, unless I didn't have yellow paper.  It was a little painful to have used ink to create that yellow paper and then cover it with yellow Stickles.  Oh well.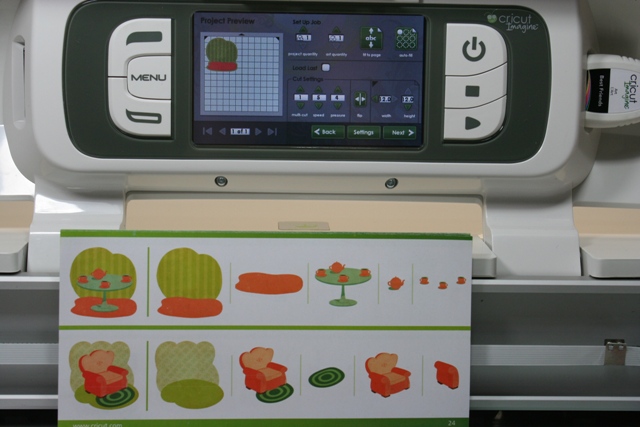 I used the Cricut Imagine's Best Friends cartridge to get that image above for the background.  I didn't change the colors at all because they worked well with what I had created.
I used my Crop a Dile Big Bite to attach the eyelets to the sentiment that I stamped.  I also used Zip Dry, pop dots and my ATG gun to glue everything down and to the bag.
Here's a Video I Made about How to Use a Crop a Dile.
And now… I have a treat bag all full of Ssss…weet candy!!  Here it is up close:
I love using my Cricut Imagine or Expression to decorate gift bags.  It's such a fun way to personalize a simple bag.
Here's a link to a gift bag I created using Create a Critter.
Here's a spider gift bag I made using Doodlecharms.
Don't forget to leave a comment on yesterday's post to be eligible to win a Cricut Vinylology DVD!  And guess what?  At the end of October, I will pick 5 winners who've left a comment on any non-give away post on Joy's Life during the month of October. Those 5 winners will win some crafty surprises. FUN!  So, you can leave a comment on all the give away posts AND on non Give Away posts and still have a chance to win.
SEE YOU TOMORROW for More Crafty Ideas!