It's SuperJoy Loves Her SuperFriends Day! Don't miss the GIVE AWAY at the bottom of this Post!
I created this a while ago and realize it's not very Fall"ish", but Super Husband is out of town and I have a bunch of things to do with the Super Kids and our Crafty Lair.  I hope you understand and enjoy this Halloween Springoween birthday card anyway.  BTW, there is a TREE-T for you at the bottom of this post!
Using the Gypsy along with my Cricut Imagine, I was able to choose patterns from the Cricut Imagine Yummy cartridge and apply them to the trees from the Cricut Give a Hoot cartridge. Of course, you don't have to have an Imagine to create this card. You can use any Cricut along with the Give a Hoot cartridge and your choice of papers.
In true "near Halloween" fashion, if you want several trees for the rabbit to hide behind, you'll need to chop hand cut the little rabbit right off the trees.  SPOOKY…CREEPY…WOO…WOOO…  LOL!  I used my Cutter Bee Scissors to do just that. I cut each of the trees at 3 1/2″.
I used pop dots under the trees to give the card dimension. I love pop dots!
I used the "a tree-t for you" stamp from the Joy's Life Yummy Puns clear stamp set. Using these stamps is easy! All you have to do is stick them to an acrylic stamp block, ink them and stamp! Simple as pie. Oh, Yummy Puns has a "Pie Love You" stamp too!  You know who really likes pie?  Me!  Fruit pies are my favorite.  Cherry used to be my #1, but now it's apple.
I didn't have any ribbon the exact color of my cardstock, so I cut a piece of cardstock down to a thin ribbon size. I punched holes in the "a tree-t for you" tag and inserted brads to help balance the look of the card.  The grass was made using the awesome Martha Stewart Fringe Scissors.  There you have it! A tree-t for you!
Here's the real Tree-T for You…a GIVE AWAY!
The 14th of every month I celebrate YOU!  SuperJoy Loves Her SuperFriends Day was a day I created to thank you for being a part of my site.  I appreciate you and thank you for coming by and sharing this love of crafting with me. 🙂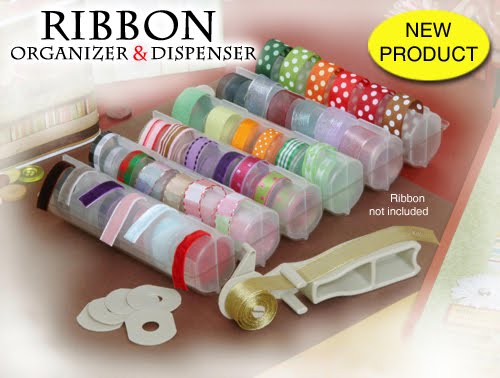 See more Best Craft Organizer products at their site.
Here's a video I made showing how to use the Spool & Store!
This month I'm giving away TWO Spool & Store ribbon containers! Just leave a comment telling me one of the ways that you store things in your crafty space. I'll pick two winners and announce them on this post on Wednesday, September 21. 🙂
AND THE WINNERS ARE:
grambojoan says:
September 15, 2011 at 3:14 PM
i have all my ribbon stored in a box with little paper clips holding the ends to keep them from unwinding. so i really need the ribbon storage system thanks for the chance to win
Rebecca Wagner says:
September 19, 2011 at 8:16 AM
Great card! The bunny is a little frightening though. LOL I would love to win the organizer for ribbon as I have outgrown my little spool hanger with all the beautiful ribbon out there. Thanks for a chance to win.
I hope your day is GREAT!