Yesterday, I talked about how I'm slowly creating a craft room from a former kid hangout/guest room to fit my crafting needs. At first, I was going to cover the room in high and low cabinets. I never could make a decision about how I wanted them set up and how they would best work with the way I craft. Have you ever thought about that? I was talking with a friend online about how walking into a home with a completed craft room still wouldn't mean that it would work for us. Why? Because in order to make a work space right for you, you really have to understand how you craft, which way you move, what supplies you most often use. All kinds of things. They are things that you don't consider until you really concentrate on it. During this process, I have decided to either use what I find around my house or buy inexpensive storage solutions. If I decide later that permanent cabinets are the best idea, I won't have already spent tons on storage. What I am really hoping, is that these affordable options fit my needs as a permanent solution.
Here's how this room used to look.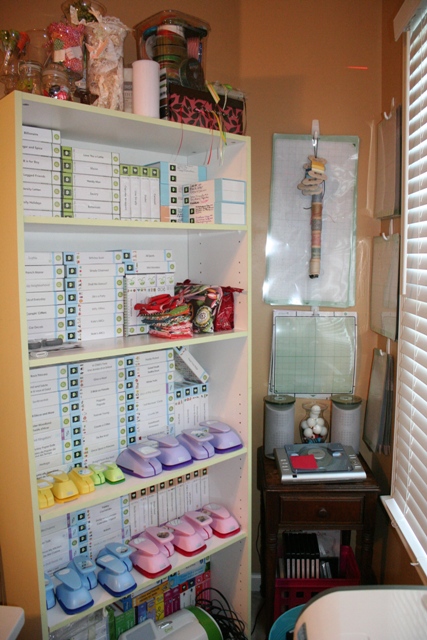 This first photo is a simple white bookshelf (that I painted light green years ago), Large Command Hooks hold my Cricut mats and also hold my laminated Sizzix die info on the side of the bookshelf you can't see. That sad little table is next in line for a makeover. It holds a CD player I got for free with an office supply order. I listen to books on CD when I don't have my TV on (watching DVDs). Under the table is a "milk crate" style box I bought at WalMart last year for $5. It holds my larger Sizzix dies. The blue tin you can barely see holds the rest of my Sizzix dies. Next to blue tin (where the Superman puzzle was hiding), which you can't see at all are stacks of 12×12 boxes. See what they look like below:
These boxes are about to be replaced with some paper storage cubes from Michael's. I already bought 4 of the cubes when they were 50% off. If you don't catch them on sale, use a coupon!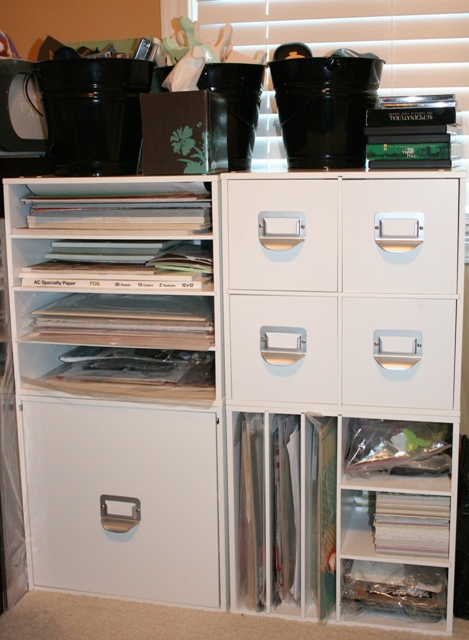 I keep my ink in the drawers, 8 1/2 x 11 paper in the file drawer and a lot of the other stuff you see (besides a few papers stacks that aren't in the 12×12 boxes) are projects I haven't finished! I only keep brown Puff Plus boxes in my craft room. Why? Just one of my quirks. LOL! Those 3 buckets are due for a vinyl makeover. They hold Martha Stewart, Stampin Up and EK Success paper punches. (DVD's are Supernatural, One Tree Hill (embarrassing) and 3 scary movies.)
I had so much trouble with that 4 set of drawers cube! It was missing pieces and I had to use wood glue on one of the draw fronts, one of the decorative screws for the handles was stripped right out of the package and the bottom right drawer has a defect which makes it look dirty. I was too tired to worry with it, so I kept it. I also had no hardware in another box. The other 2 boxes were perfect. I suggest buying close to your home in case you need to return/exchange them.
Remember when I showed you how to make Dollar Store hurricane lamps? See my video here. Well, now I'm using some of them for ribbon storage. You'll also see buttons and bottle caps stored up there. I like that I can see what I have. I'm also using the ribbon box I made from a photo box. How tacky is my empty peppermint box that is now ribbon storage? Hey, tacky or not it is useful! My spools of tulle are up there too. You can't see them all in this photo.
If you go to the top photo you can sort of see this piece of furniture behind my folding chair. Yes, I need to get a real chair. LOL!
I'm not about to tell you some lie about how cheap Pottery Barn furniture is. It's not. However, I was able to get this $600 cabinet at the Pottery Barn Outlet for $100. I was as happy as a clam. Clams are notoriously happy. It's in perfect condition and I love it. It holds my Imagine on top and my Imagine cartridges (so far) in the bottom pull out drawer. I store ink, paper I use for test cuts, laminating tags and weird paper that doesn't fit in other categories in here. Four of my Imagine cartridges were delivered to me with completely crushed cases when I first bought my Imagine, so that's why you see that weird one in the bottom right hand corner.
Ok, that's it for today. I store project supplies (like t-shirts, frames, canvas bags, candles, etc.) in my closet. I'll show you that another time if you really want to see it. It looks like…a closet. LOL! If you read yesterday's post, you know I store vinyl in the trundle of the bed. In front of my table I have a long wall with the door on the left. On that wall I am putting some more bookshelves. I'll be storing plastic containers full of Cuttlebug folders, jewelry making things, sewing machines, adhesives and things like that on the bookshelves. My TV and DVD player will sit on top of one too. Right now that wall is lined with a very boring white 6 foot folding table. To my right is a sink and door that leads to a bathroom. It's nice having a sink in here. 😉 Alright! I'm off to assemble some crafty storage!
I hope you got some ideas or at least feel like you aren't the only person in the world who doesn't have a magazine worthy craft room. It's wonderful to see those lovely rooms, but for many, lovely is in the eye of the beholder and in the usefulness to that particular crafter. Right? 😉
Have a Craftily Organized Day! LOL!!