How to Glass Etch a Dessert Plate & Pumpkin Roll Recipe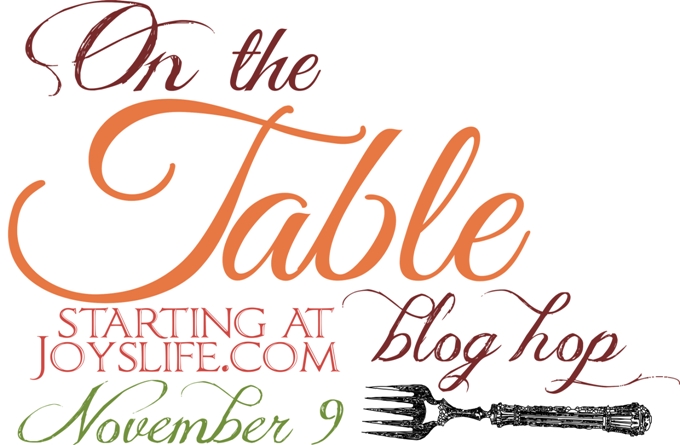 Welcome to the hop! Be sure to check out each of the talented ladies' blogs listed at the bottom of this post … don't miss the giveaway!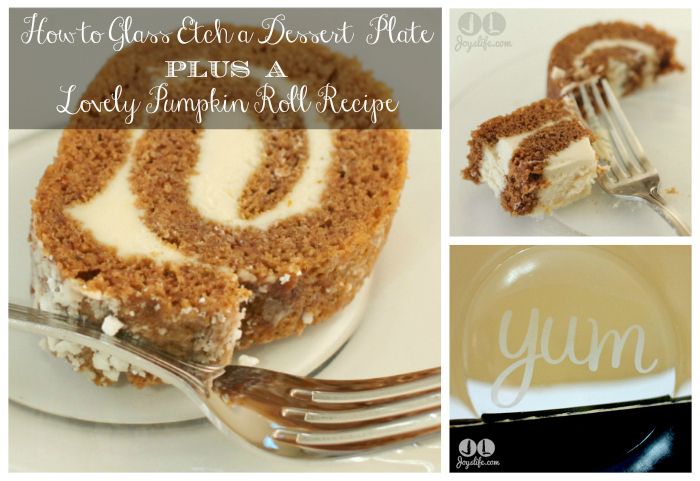 At the bottom of this post I share the recipe for the pumpkin roll!  For now, let's learn how to glass etch!  Glass etching a plate or any glass, is a terrific way to create inexpensive gifts or home decor that is unique and thoughtful.  Here are some previous etching projects I've done.
How to Glass Etch
Here's what you need: A glass item. I'm using a plate from Hobby Lobby. I can't find them at the Dollar Store anymore. Sad. Armour Etch Glass Etching Cream, a stencil (I make mine using vinyl and a die cut machine), a foam brush. Need vinyl? I like to buy mine from Expressions Vinyl.
If, like me, you're making a stencil using vinyl you'll need to be sure to reverse cut your image to apply it to the bottom of a plate. You can glass etch the top of a plate but I prefer to have the image etched from underneath.
I've chosen to etch "YUM" on my dessert plate. If I found that at the bottom of my plate after finishing off a dessert, I would think it was super cute. 😉 Again, reverse cut the vinyl and apply it to the bottom of the plate.
Make sure the vinyl is stuck down really well. Use a gift card or a squeegee to burnish it to the plate. Next, add the glass etching cream using the foam brush. Keep it off of your hands! It burns! Try to get an even amount on the area you want to etch. Be careful! Anywhere you get the cream will become permanently etched.
I ignore what the instructions say and let my project sit for 20 minutes for a good etching result. Next, I run the plate under warm to hot water and let it wash the cream away. Once the etching cream is all washed off, peel off the vinyl.
TA DA!! Here's how mine turned out. I love it!
What's a dessert plate without dessert?
Pumpkin Cream Cheese Roll Recipe
Pumpkin Cream Cheese Roll
Print Recipe
Share by Email
Share on Facebook
Share on Twitter
Pin Recipe
Ingredients
Cake Roll
3

eggs

1

cup

sugar

2/3

cup

canned pumpkin

1

teaspoon

baking soda

1

teaspoon

cinnamon

1/2

teaspoon

nutmeg

3/4

cup

flour
Filling
1

8 ounce package cream cheese, softened

4

tablespoons

butter

softened

1

cup

powdered sugar

1

teaspoon

vanilla
Instructions
In a large bowl, beat eggs and sugar. Beat in remaining cake ingredients.

Grease a 10″x15″

jelly roll pan

. Line pan with waxed paper, then grease and lightly flour the waxed paper.

Pour batter into the pan and spread evenly. Bake at 350F for 15 minutes.

*Cake cooks fast so watch carefully to avoid burning the edges.

While cake is baking, sprinkle powdered sugar heavily over the kitchen towel, using a sieve or sifter.

Turn hot cake onto the towel.

Remove waxed paper. Trim off burnt or crusty edges.

Sprinkle more powdered sugar over the hot cake and quickly roll up with towel inside. Let cake cool completely, about 30 minutes.

Meanwhile, prepare filling by beating together all ingredients until smooth and creamy.

Unroll cooled cake and spread with the filling mixture. Roll up cake with filling on the inside. Wrap in waxed paper and then foil.

Refrigerate or freeze. To serve, slice cake about 1/3 inch thick and sprinkle with powdered sugar.

Note – cake cuts best when still slightly frozen.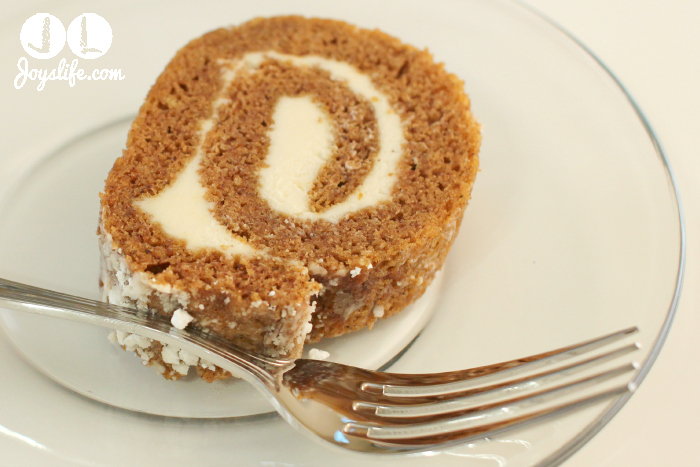 How yummy does that pumpkin roll look? It was awesome AND the first one I've ever made! Since I'd never rolled a cake before, I watched this video just to make sure I didn't end up with a mess. It really helped! The only change I made was that I didn't wait 5 minutes before I took it out of the pan.
It was delicious! I was so proud of myself. 🙂 I was really doubting myself at first but it turned out that it wasn't very difficult after all. See, that's why you shouldn't doubt yourself and you should just jump right in! I hope you'll give it a try too!
Using a Cricut?  I show you step-by-step how to glass etch AND MORE in my Cricut Vinylology DVD!
Now hop on over to these ladies' blogs and see what they've got in store for you!
Joy – Welcome!! – You Are here
Giveaway Time
Leave a comment for a chance to win a 10-oz jar of Armour Etch Glass Etching Cream so you can make your own awesome glass etching creations! I'll list the winner on this post on November 19, 2013. Woo hoo!
And the winner is:
Katherine Clayton says:
NOVEMBER 9, 2013 AT 7:29 AM
WOW! What a GREAT and creative idea on etching a word on glass to make something "blah" into something "WOW!". What a GREAT way to start the hop. 🙂 Thanks so much for sharing . . . and for the inspiration!!!
Happy Crafting!