Shoe Rack Craft Punch Storage
Punching Martha Stewart…Martha Stewart Punches
I rarely go to garage sales, but this morning I was on my way to Lowe's to get some bead board for another project and I was summoned by a sign announcing "Huge Garage Sale". Sometimes the stars align just right and you get pointed in the direction of a great sale. LOL!
I was so excited to find the perfect thing for my craft punches and for only FIVE DOLLARS!! (Say what?!) Yes, FIVE DOLLARS!
$5 Garage Sale Shoe Rack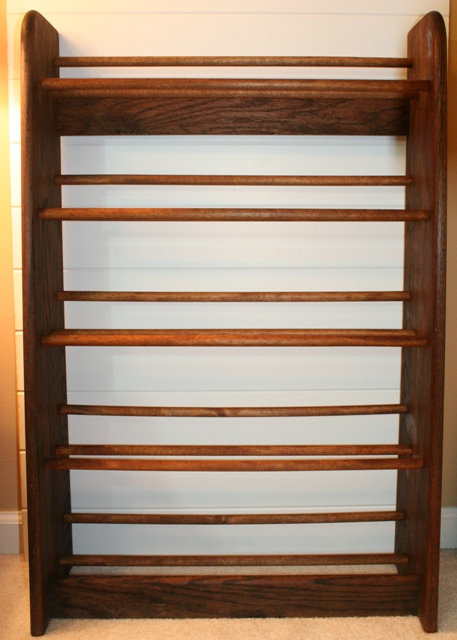 Here it is!! (What? It's just a shoe rack. You got us all excited over a shoe rack?) Well, wait until you see how awesome it is at non-shoe storage!
Shoe Rack Become Paper Punch Storage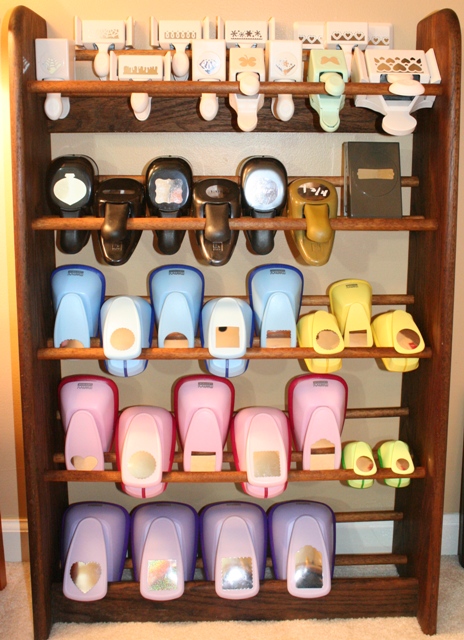 TA DA!!! Well, whaddya think? I super love this shoe rack turned punch rack.
It's SHOERIFFIC…PUNCH A LICIOUS…GREAT! Some of my punches didn't really fit so I'm keeping them in one of the black buckets I showed you here. I'm down to one bucket now though! YAY! I realized that if I can't see the the punches, I rarely use them. Hopefully, I'll use them more now that they are displayed and easy to grab.
Another Punch Storage Idea
A lot of people store their punches on over-the-door shoe holders like this one: Over The Door Clear Shoe Organizer. That's a great idea too!
Other Storage Ideas
If you'd like to read some other crafty storage ideas you should read the comments left on this post. People are so creative with their spaces! I'll keep working on mine and letting you know how it's going. I think it's looking a little more crafty and creative every day.
Speaking of Punches – Here are Some Tips
Want to know how to Correctly Use the Martha Stewart Punch Around
the Page Punches? Click HERE.
Want to know how to use Border Punches correctly? Click HERE.
Joy's Life Stamps & Punches
My All Around Sentiments stamps work with 1″ & 1-1/2″ circle punches.  See them HERE.
Now Go Punch Something. Wait.
You know I mean paper, right? LOL!