Cricut Seasonal Easter Cartridge – Does This Surprise You?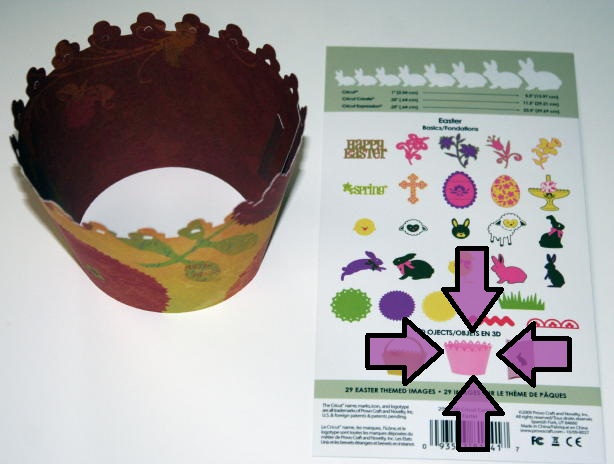 Is it JUST ME, or did you think that would be a bowl type thing?
Ok, between you and me I think this cart is pretty cute. Honestly though, I just bought it because I HAD TO HAVE that chocolate rabbit with the bite out of his ear. Sick? Maybe…but it makes me laugh. Every year I laugh at that same comic about the chocolate rabbits. Really…EVERY YEAR! Have you seen it? Here it is: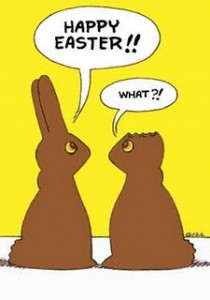 So, I'm sure you can see why I HAD TO HAVE the new Easter cart.
Plus, I've had GREAT success using this cart to make those pillow boxes which I love, as you know.  Here's a link to the pillow boxes I made from this cartridge.  Ok, back to my confusion and perhaps, complaint.  Looking at that image sheet that comes with the Seasonal cartridge, I thought it was a bowl.  I really did.  So, I hit fit to page and got … that.  What is it?  A tiny crown?  A tiny lamp shade?  (I did try it on a little lamp and it was too small.  Great idea for 12×24 paper though!)  Later DH suggested it might be an egg holder!!  YES!!  So, I should shrink it down and put eggs on it!!  Taaa Daahh!  Now, that's a great idea, but my question is still this, "What did they intend for this to be used as?"  IT LOOKS LIKE A BOWL on that sheet.  I think they should either make more detailed photos about what things are OR show the image in use.  IDK, I'm confused at what the thought process is here.
If you think that is frustrating…just wait until tomorrow when I show you the Easter Basket. It turned out fine…but…well, you'll see. 😉
Keep On a Craftin'!