Flaming Oven Card – From My Kitchen (Literally)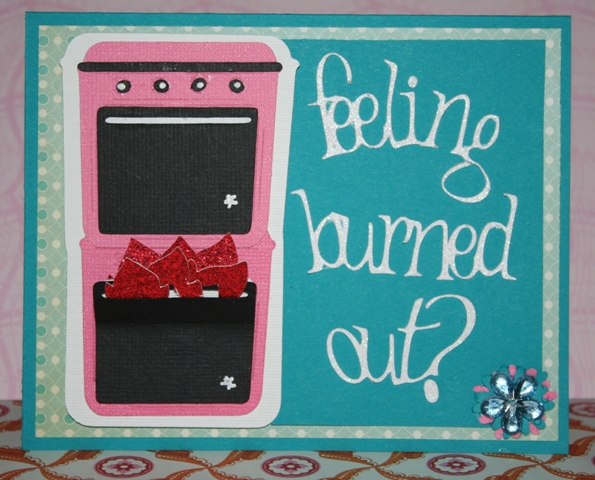 It's good humor and grilling outdoors that gets one through the hard times. 😉
A few nights ago I was putting the finishing touches on a requested birthday meal for Super Husband and that's when the sparks started flying…and I'm not talking about good sparks either! I'm talking about the kind that can go out of control and burn your whole house down…if you're not paying attention.
These flames are from the Create a Critter cartridge.
The element in my upper oven went bad and started shooting out sparks and flames!! Super Husband to the rescue! He saved the day; I saved the dinner. However, that was the end of using the oven until a repair man could come. The element actually burned so hot that it was dripping metal like lava! It burned in HALF! Crazy! It happened so quickly too! Hey, if that ever happens to you shut off the breaker and later…after there's no power you might want to break the metal connection of the element. For example, mine did burn in half, but there was a tiny piece of metal still connecting the two ends. With the power OFF, break off the connecting piece (if there is one). That way the electrical connection is broken in case something funky happens before you get someone to come look at it. 😉 Also, DON'T TURN IT BACK ON!!
Knock Knock!  Who's There?  Chicken.  Chicken Who?  Chicken the oven, I can smell something burning!
I used a lot of cartridges for this…From the Kitchen for the ovens.  I welded the oven background using my Gypsy and a rectangle from George + the shadow of the oven.  I made those little flowers on the bottom right using Lyrical Letters.  I welded a few flower"ish" shapes to make the more flower"ish" shape I ended up with.  😉  The lettering comes from Lyrical Letters too.  I welded that using my Gypsy and turned some of the letters a tad.  The flames are from Create a Critter.
I hope you like my little card. You'll be happy to know that the repair man came today and I don't have to replace my oven(s). YAY!! I'm just going to be out $175 for the heating element…which is not in stock…and might be here in a week…give or take. Let's see how many meals Super Husband can grill?! LOL!
HAVE A FLAME FREE WEEKEND!