Design Team Thursday – St. Patrick's Day
Happy St. Patrick's Day everyone!!  The Design Team and I hope you enjoy this St. Patty's Day themed projects.  I hope you're wearing green today so you don't get pinched! 😉  Don't forget to take a look at my new stamps and if you find something you can't live without…there's FREE SHIPPING WORLDWIDE!!  Happy Green Day! 😉
AMANDA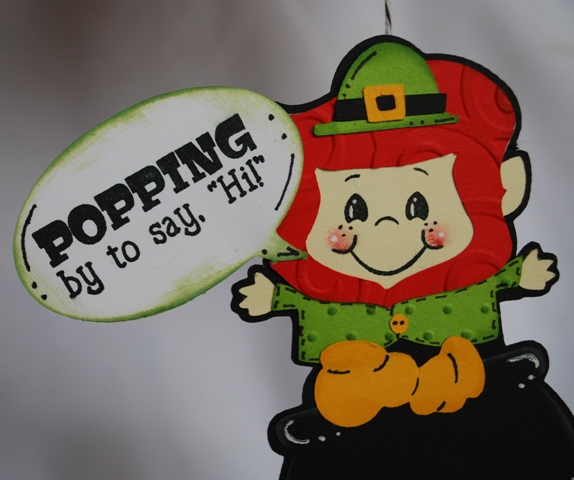 This week I created a St. Patrick's day hanging paper ball. The sentiment on my project is from Joy's new "Yummy Pun Stamp" set. This set is available on Joy's product page.
To create this hanging ball I cut out (20) 3 inch circles. The leprechaun was cut from the Simply Charmed cart. All the circles were scored and glued together with a strong adhesive. Bakers twine was used to attach the leprechaun to the the bottom of the ball. The ribbon was secured to the top of the ball with hot glue to create the loop to hang the ball from. To finish this project I added a bow where the ribbon and the ball meet. The ball idea comes from Southernbelle blogger Amee.
You can visit Amanda at her blog: http://amandascraftsandmore.blogspot.com
MELISSA
Happy St. Patrick's Day!!
My card for this week is made using Simply Charmed and Gypsy Wanderings. The Pot of Gold is the perfect theme! My card base is cut at 5.00 and the Pot is cut at 4.33 welded together using the gypsy.
I used Recollections and DCWV papers, added ribbon and of course my card wouldn't be complete without Joy's stamps. I used her Yummy Puns Stamps for my sentiment. Wouldn't it be sooo sweet if we could receive a pot of gold like this!
Thanks and have a blessed day!
Visit Melissa at her blog: http://melissa-moecreations.blogspot.com
JIN
Happy St. Patrick's Day, everyone! Every holiday is a treat day and so I have whipped up some super fast treat bags for the little ones. Using Make-the-Cut and Lettering Delights' In Luck graphic set and Animal Bags and Boxes SVG set, I cut out the Four-Leaf Clover and glittered it. I assembled the bags and filled them out with treats. Joy's All Around Sentiment stamps are super versatile and it was perfect for this fast but fun project.
You can visit Jin at her blog: http://www.underacherrytree.com
KYLE
This weeks project was inspired by simplicity. The shamrock was cut from the A Childs Year Cartridge @ 4 inches with a layer of the same cut at 4.25 inches. This is a 5 by 5 card. All layers were cut 0.25inches less that the original size. The paper is from the Guys Stack from DCWV. The sentiment is from Joy's Mother and Daughter Stamp Set.
I hope I inspired you to make something this week!
You can visit Kyle at his blog: http://thegreencricut.blogspot.com
RUTHIE
I used Make-the-cut and welded a shamrock to the top of the box, and then created the frame.
The shamrock tag was cut at 2 3/4″ and the sentiment is from the All Around Sentiment stamp set. I placed a cookie inside the box and tied the box shut with a piece of jute twine.
You can visit Ruthie at her blog: http://www.septemberninth.blogspot.com/
THERESA
In this card I used: basic white card stock base, 4 x 4 1/2, Green Card Stock, Orange Buttons, Copic Markers, White Gel Pen and the stamp "Friends make Life SWEET" from Joy's Life Yummy Puns set.
Hey, I see the "Hello Sweetie" stamp from Yummy Puns in there! ~Joy~
 You can visit Theresa at her blog: http://www.thescrapbookingqueen.com
TAMMY
I went to my first Cricut Circle event in Baltimore MD this past weekend and it allowed me to borrow cartridges that I do not have, this card, a "green" card in honor of St. Patricks Day, I made with the "Just Because Cards" cartridge, I now have added it to my must have list!  This is a fun simple card to let a "little" Friend know that I think they are cool and that they are doing a good job!   The yellow ribbon represents the sun and gives just the finishing touch and still allows the card to be given to a boy.  The sentiment stamp is from Joy's Life "Lots of Puns" Stamp set and the grass is actually the negative portion of some grass that I recently cut from the Martha Stewart Seasonal Cake Cartridge.
You can visit Tammy at her blog: http://tammyjennings.blogspot.com
Thank you to all of the designers!
Happy St. Patrick's Day to you all!