How to Print & Cut Stickers with Silhouette Cameo – Lori Whitlock Design Team Post
Make your own stickers…even photo stickers!
Today I'm using my Silhouette Cameo along with three .svg files from Lori Whitlock and sticker paper (or sticky shipping labels) to make stickers that you (or your precious kiddos) can use to decorate items for Valentine's Day.  Making your own stickers is a great way to personalize inexpensive envelopes for a whole classroom or just for a few special loved ones!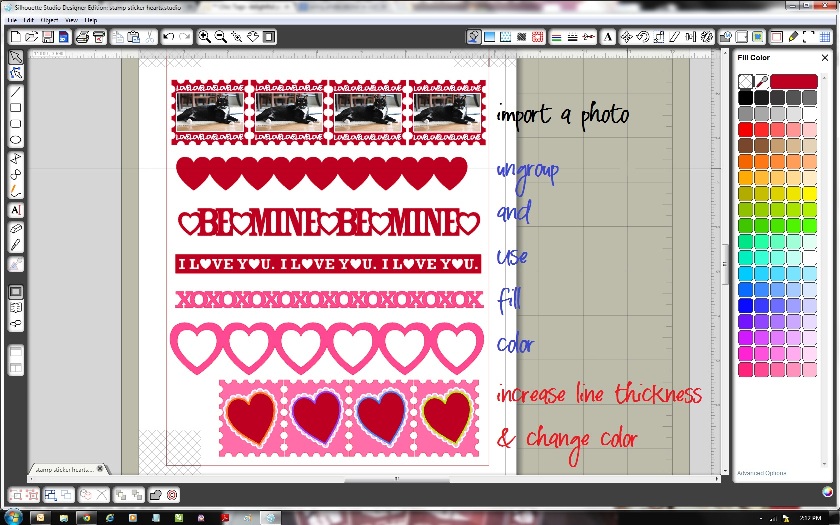 The first thing you need to do is import the file you want to work with.  I'm using these Lori Whitlock files: Nested Hearts, Stamp Set and Valentines Borders.  Ungroup the file (select it, right click it and choose ungroup).  Now you're able to fill it with color, patterns, a photo or whatever your heart desires!  Need help?  To learn how to fill or adjust a pattern: Click here.  To fill color: Click here.  To increase line thickness, dot lines and change line color: Click here.  To import a photo: Click here.  To print & cut: Click here.  Need more help?  Check out my Silhouette tutorials.
Make sure to add the registration marks to your project, they tell the Silhouette where to cut, and then send the stickers to your printer.  I used the same print settings that I use when I print on my favorite cheap cardstock.  I'm using an adhesive shipping label here, which did work, but I've since bought sticker paper.  I don't want to run out of shipping labels.
I cut my shipping labels using a blade setting of 3, speed 4 and thickness of 18.  I first cut the labels using a blade of 1 but they didn't cut through the sticker layer.  I suggest doing a test cut using a blade setting of 1 and then increasing it to a max of 3.  That should produce a "kiss cut" where you are cutting through the top/adhesives layer only, leaving the backing in tact.  You may be familiar with the "kiss cut" term regarding cutting vinyl.  It means the same thing in both examples.
I was pretty impressed that this worked so well, especially when I was using a shipping label.  You can see that some of the cutting looks a little rough in the bottom right hand corner.  I did cut this sheet of stickers twice as I perfected the right blade setting for my material.  However, some of that intricate text would probably cut better if you make it a little bigger, go a bit slower OR get the blade setting right the first time. 😉  Just sayin'.
I imported that picture of my cat and put it inside one of the stamps.  I used the Lori Whitlock's "Love" border, turned the text white, duplicated it and positioned it inside a stamp above and below my cat's photo.  This is a fun way to make your own personalized photo stamps!
I had these envelopes on hand and you probably do too.  Decorate what you have or make envelopes using leftover cardstock, especially those sheets of it you don't really like anymore.  It's a great way to get rid of lame paper.  LOL!  Uh, tell no one that I'm sending cards to that their envelopes are made from lame paper.  Shhhh! 😉
Now Go Get to Stickering!