Hamburger Family Mini Album – Mini Book Blog Hop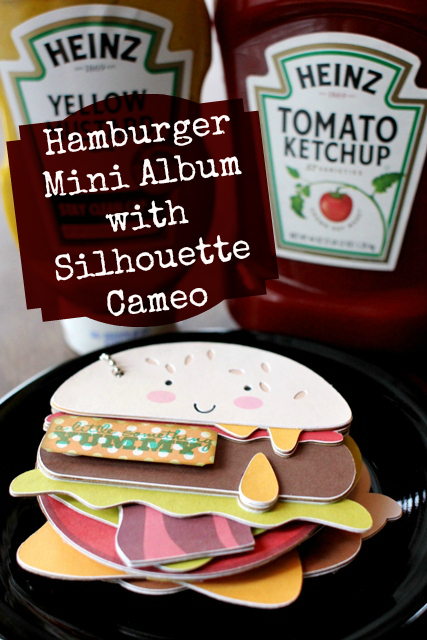 Yummy mini album!
I had such a good time making this mini album using the Oishii svg files from Lettering Delights. I'd been wanting to use those adorable shapes and cute food and found that the perfect way to use them all was to…build a hamburger!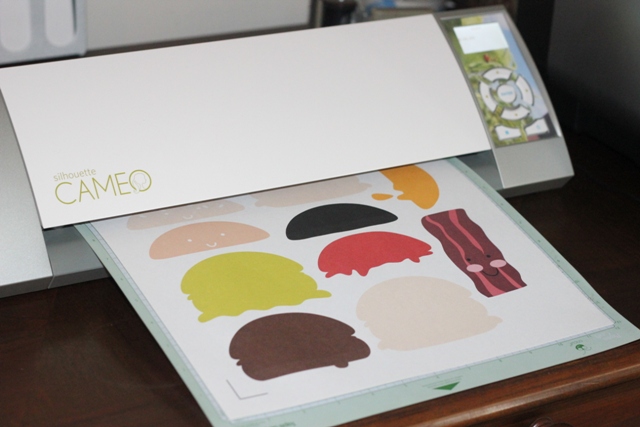 I used the print and cut function of the Silhouette Cameo to help me create the album.  In the pictured on the left, you can see the paper part being cut out.  On the right,  I'm using the Cameo to cut shapes out of a cereal box which I'm using as a thin chipboard.
I used Zip Dry Paper Glue to stick all of the paper to the chipboard/cereal box.  I don't know if you've tried Zip Dry but I've been using it for years and I just love it!
I covered the photo with the piece of chipboard I wanted it to fit and used a pencil to help me create cut guidelines. Then I cut the old fashioned, non-electronic cutter way…a pair of scissors. Say what?! It's what people used before there were die cut machines. Ohhhh! LOL!
Time to add details to the hamburger!  Here I'm using the Bumpy Road punch to help me create a fun little tag fitting for an Alabama celebration.  That's a photo from a little party our family had for the recent National Championship game.  We're (obviously) Alabama fans.  RTR!!  You can find the "Happy Tideings" sentiment in the Pun in the Sun stamp set.
Just between you and me, I thought that I might not be able to punch a hole through the top of the hamburger because I added so many layers to it before I remembered that I was going to have to punch the hole.  As it always has, the Cropadile chomped through the layers like a pro!  Want to know how to use the Cropadile?  Check out my video.
Since I made a hamburger, I decided to choose family photos that were food related. I hope you enjoy looking at them! See all the Lettering Delights fun Oishii food images.
This is my oldest son when he was about 3. He's covered in melting ice cream.  Sentiment from "Sweet Popsicle Puns" stamp set.
Here are my kiddos about 5 years ago at the Hard Rock Cafe eating the biggest sundae they'd ever seen.  The "chocolate" sentiment is from the Tag You're It 2 stamp set.  "Every day" sentiment on the bottom is from the Yummy Puns set.
Here's my youngest when he was pretty little enjoying some super junky junk.  It was one of those things I only let him have once in a BLUE MOON.  I used a mix of Holiday and Everyday Occasions stamp sets.  They're made to mix and match so you can make the sentiment that best fits your occasion.
I had fun using Washi tape to add some fun to the pages.  I used Zip Dry paper glue to add these brads.  I broke off the bending parts of the brads so they'd lay flat.  The "Friends" sentiment comes from the Yummy Puns stamp set.
Those hot dogs look burned up but they're not, I promise!  LOL!  You can find a recipe for the "Firecracker footlongs" here.  The sentiment comes from the Pun in the Sun stamp set.
Go see what these talented ladies have made!
Joy: You are here!  Welcome!
Jenny: http://jennyplace26.blogspot.ca
Kimberly: http://hellocutiecrafts.blogspot.com
Patty: http://craftykitten1.blogspot.com
Maria: http://joyfulstamper.blogspot.com
Cyndy: http://arcyscraps.blogspot.com
June: http://simplyelegantpapercrafts.blogspot.com
Megan: http://thoughtsoftraveling.blogspot.com
Staci: http://preciousmem.blogspot.com
Debbie: http://bugjuiced.blogspot.com
Lori: http://got2bcrafting.blogspot.com
Time for a Giveaway!
Leave a comment for a chance to win this fun 12×12 paper pack by Echo Park! A winner will be chosen on January 24, 2013 and listed on this post…so check back! 😉
AND THE WINNER IS:
Pat N. says:
JANUARY 13, 2013 AT 2:16 PM
Well, that is just the cutest mini-album I've ever seen. You really did build a hamburger! Very creative and such a cute way to savor those memories. lol! I think I just made a punny!
Have a Happy Day!