How to Make a Pokemon Team Rocket Grunt Costume PLUS an Iron On Vinyl Tutorial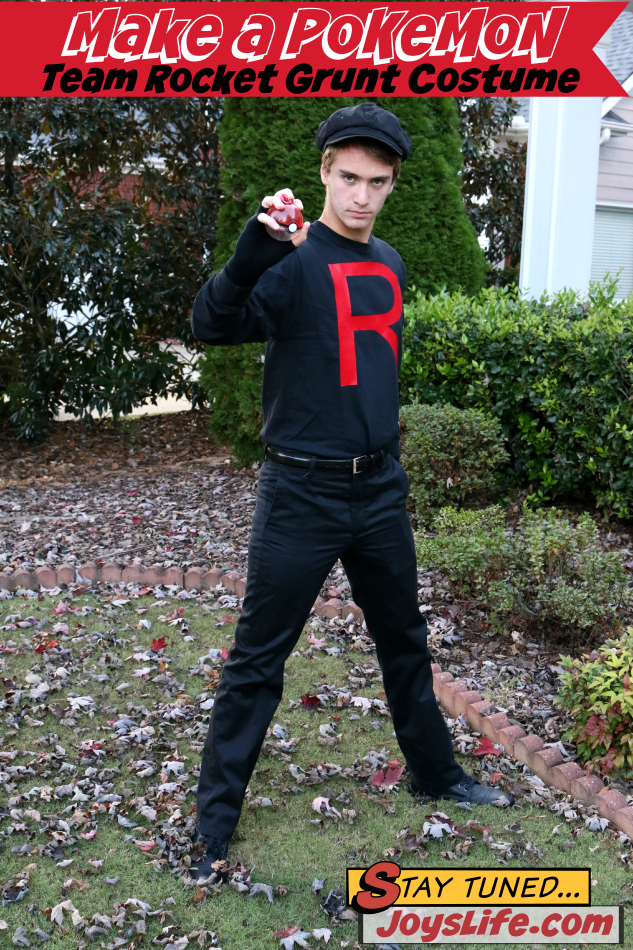 I'm so glad that I still get to cobble together Halloween costumes.  This year my oldest son was invited to a costume party and wanted to go as a Team Rocket (from Pokemon) grunt.  Yes, I totally had to look that up because I thought Team Rocket wore white.  There's a lot I don't know about Pokemon.  LOL!  Luckily, my son sent me all of the links I needed to buy his costume on Amazon.  Unfortunately, the shirt he wanted (which looked just like this) took a long time to ship and thanks to a lack of advanced planning on the part of someone who isn't me …just sayin'… we didn't have the time to wait.  So, I used iron on/heat transfer vinyl to add an "R" to the shirt and we were done.  Well, we were done after I used Amazon Prime and bought these items.
Here's what I bought from Amazon to make this costume…fast:
Plain Black long sleeve shirt: Russell Athletic Men's Basic Cotton Long Sleeve Tee, Black
…or you can buy this shirt if your kid doesn't wait until the last minute to tell you that they need a Team Rocket shirt…that could happen…
Team Rocket Shirt Pre-Made: TeeStars Men's – Rocket Inspired Long Sleeve T-Shirt
Newsboy Cap: Cotton Elastic Newsboy Cap – Black
Black Fingerless Gloves: Fingerless Gloves – Comes in several colors! (Black)
Here's how I made the "R" for the shirt:
I'm using the Silhouette Cameo to help me create this project.  Need more Silhouette Cameo tutorials?  Check these out.
When cutting heat transfer or t-shirt vinyl, remember to cut with the SHINY SIDE DOWN.
REVERSE the LETTER!  When you layout your letter in your design software make sure the letter is backwards.  Cut it like that.  That way when you flip it over to iron it onto the shirt your letter faces the right direction.  Terribly important!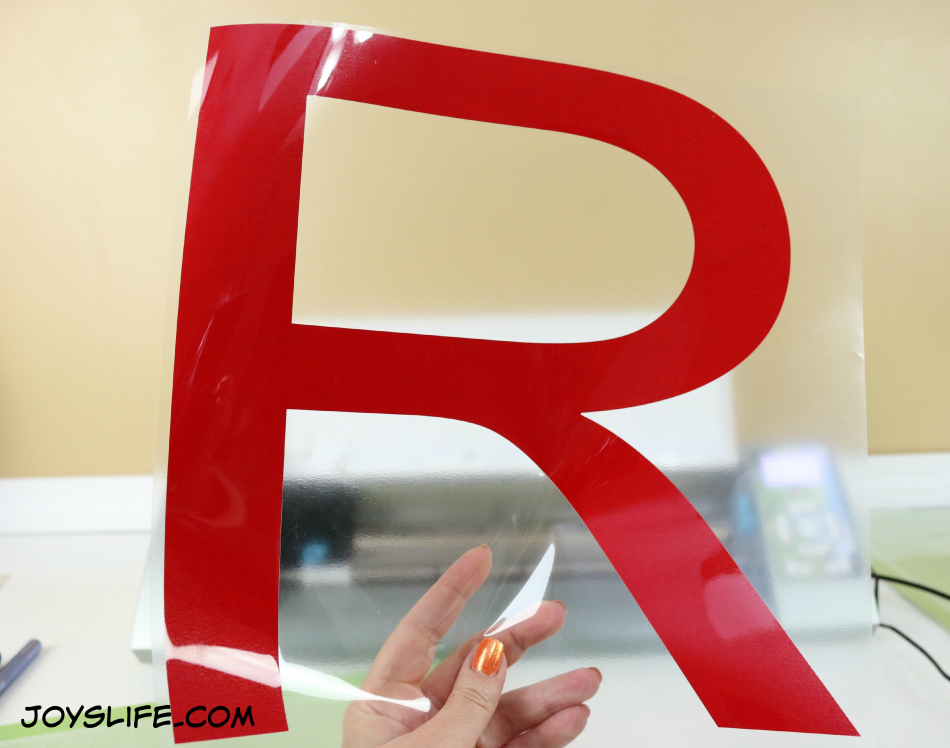 Yep!  It's facing the right direction.  Super!  Now place it on the shirt.
Once you have the letter where you want it, iron it down.  I use a teflon sheet to cover my vinyl.  You can use a thin cloth/towel/tshirt.  My iron is on the cotton setting.
Depending on the brand of heat transfer vinyl you're using you may have a clear adhesive sheet over the top of the vinyl or you might have one solid color sheet.  Read any instructions that come with your vinyl or are on the manufacturers site.  Some need the top layer to be peeled off when they are hot, some when they are cold.  It depends on the vinyl.  Need vinyl?  I like to buy from Expressions Vinyl.
Check out all of my vinyl projects on Joy's Life or on my vinyl projects Pinterest board!
I'm using a tiny ironing board that I bought from WalMart.  It's perfect for small projects and small spaces like my craft desk.  I also rest my iron on an iron-on mat to keep from searing a spot on  my desk.
Now your shirt is ready for wearing!
Happy Halloween…or costume party…or dress up day…or comic convention…to you!