Vinyl Tank & Yin Yang T-Shirts with Cricut

Quick and Easy Shirt Making with Iron On Vinyl – These shirts have already been worn, washed and dried.  They're clean! 😛

I made these shirts using iron-on vinyl and then cutting it out with my Cricut.  I used Siser Easy Weed vinyl.  You can read more about that here.  The tank shirt was designed and requested by my youngest Superboy.  I used the Stand and Salute cartridge for the tank and the USA.  That's a reflective silver, which is kind of cool.  With both shirts, I was able to just iron down the first image, peel off the covering  then iron down the next image and peel off the covering.  It worked out great.  Those directions are specific to the kind of vinyl I was using. 😉
This tank is straight…but the shirt is wrinkled, LOL!
Yin Yang comes from the Cricut Pagoda Cartridge – Oldest SuperBoy loves this shirt.
Ok, my Yin Yang.  It's looking a little tired now, but this (and the tank above) are after many washes.  Yes, you can just throw these things into the washing machine.  How's that for easy?  Very nice!  Here, you see that the bottom of the circle is folded under a bit.  That isn't just because I didn't want to iron 😀 .  It is also due to the shape and the weight.  Here I laid down the black vinyl first, ironed it on and then laid down the silver.  I believe the weight from all the vinyl and the circular shape work against the ability of this design to lay totally flat after a few washes…at least without some help from an iron.  Now, that's just a bit of free info for you.  As one of my professors used to say, "You wouldn't get that at Harvard or Yale!"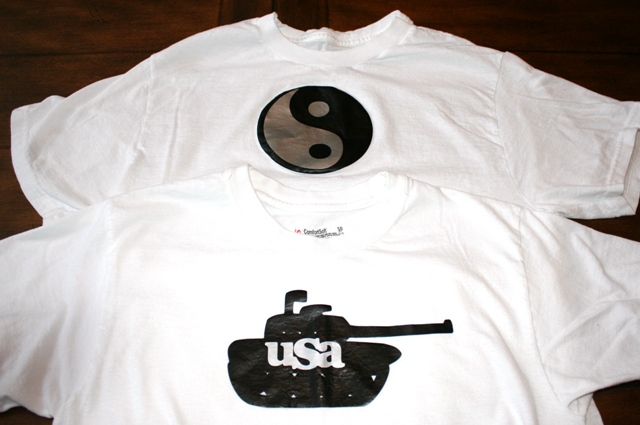 You can learn all about using iron-on and other kinds of vinyl with your Cricut in my Cricut Vinylology DVD. You can find it, along with a short commerical, on my Products page.
Here's where I bought the vinyl used in this project: H&H Sign Supply.
OFF TO MAKE A SHIRT FOR SUPER NEPHEW #1!