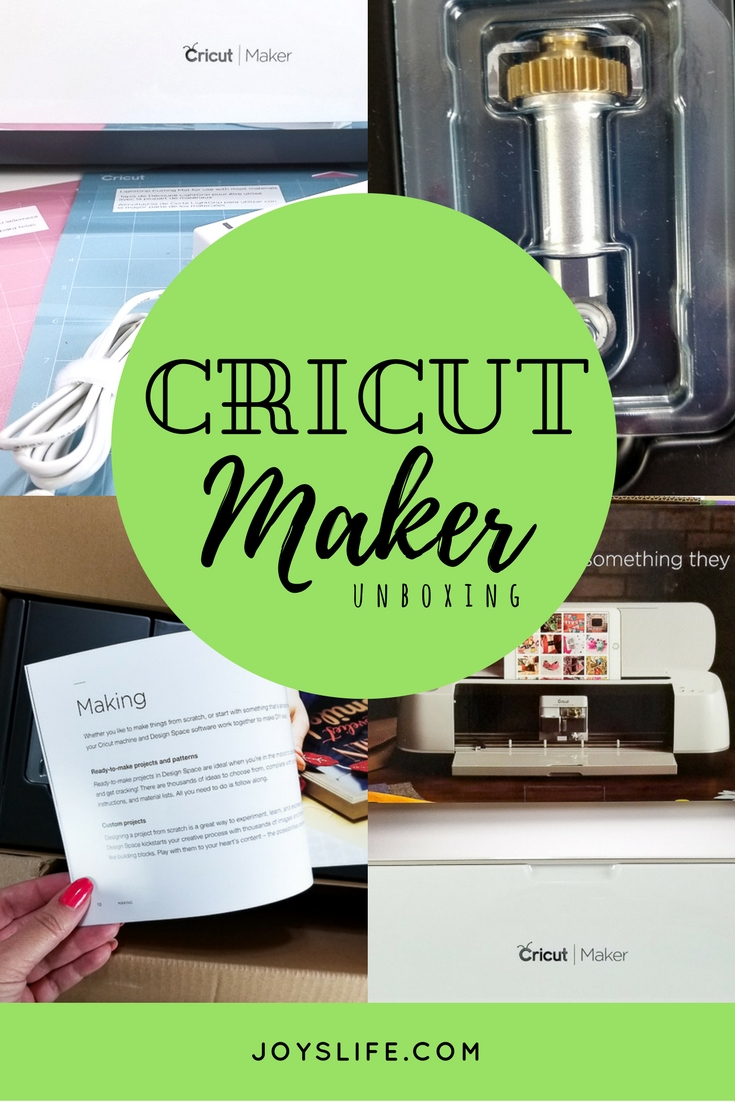 Hey, crafty friends! I just bought the new Cricut Maker and wanted to share this Cricut Maker unboxing with you so you can see what comes with it.
I thought it was kind of hilarious when I sat the box down on our dining room table and the box matched the table.  (Side note, my husband's about to build us a new dining room table!  Look at this headboard he and my youngest son just built!  I love it so much!)  Ok…back to the Cricut Maker.
This is NOT a Sponsored Post
Just to keep things clear, this is not a sponsored post.  I bought this machine myself.  Here's "Why I Don't Accept Free (or Discounted) Cricut or Silhouette or Brother Die Cut Machines".  I do buy nearly everything from Amazon though!
Why I Bought the Cricut Maker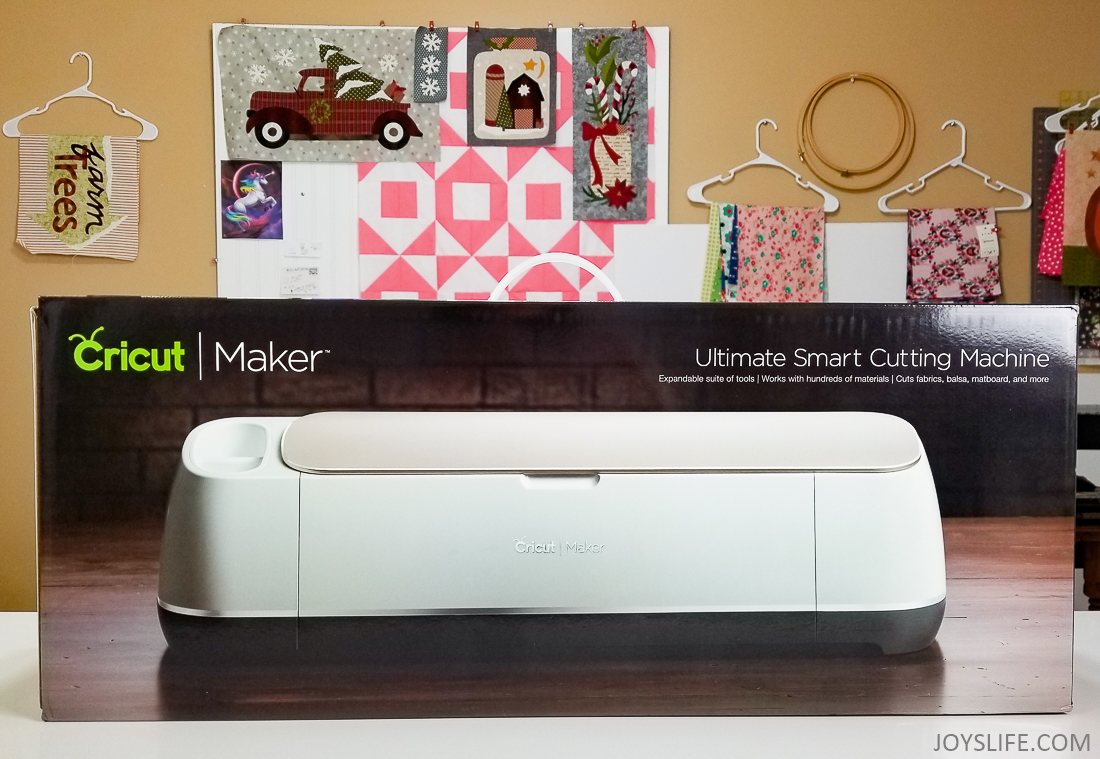 Right after Amazon delivered my new Cricut Maker, I had my husband carry it upstairs to my craft/sewing room.  (By the way, this machine is a bit heavier than the Cricut Explore Air 2.)  I hesitated sharing this photo because the room is undergoing a real shift, and … let's face it, it looks kind of ugly.  You can see that it's more sewing, quilting and embroidery than anything else.  (I love that unicorn picture that my husband printed out for me.  LOL!)
My interests have really changed over the past few years from paper to fabric, which is exactly why I wanted to try the new Cricut Maker.  If it wasn't for the new addition of the rotary blade, I would have never purchased this machine, because the Cricut machines have either bored me or really let me down over the past few years.  If you want to know what I mean, see this post about the Cricut Air and this one about the Cricut Air 2.  The Air 2 was such a lame upgrade I didn't even play with it again.
Even though I'm talking a lot about the rotary cutter feature and the Cricut Maker's fabric capability, all of the Cricut machines have always been excellent at cutting paper, cardstock and vinyl.  Here are more than 400 Cricut project posts that prove that point.
Cricut Maker Unboxing
Here's the top of the box.
This machine is different from the previous machines…but more about that when I share my review.  Let's stick with just taking it out of the box today!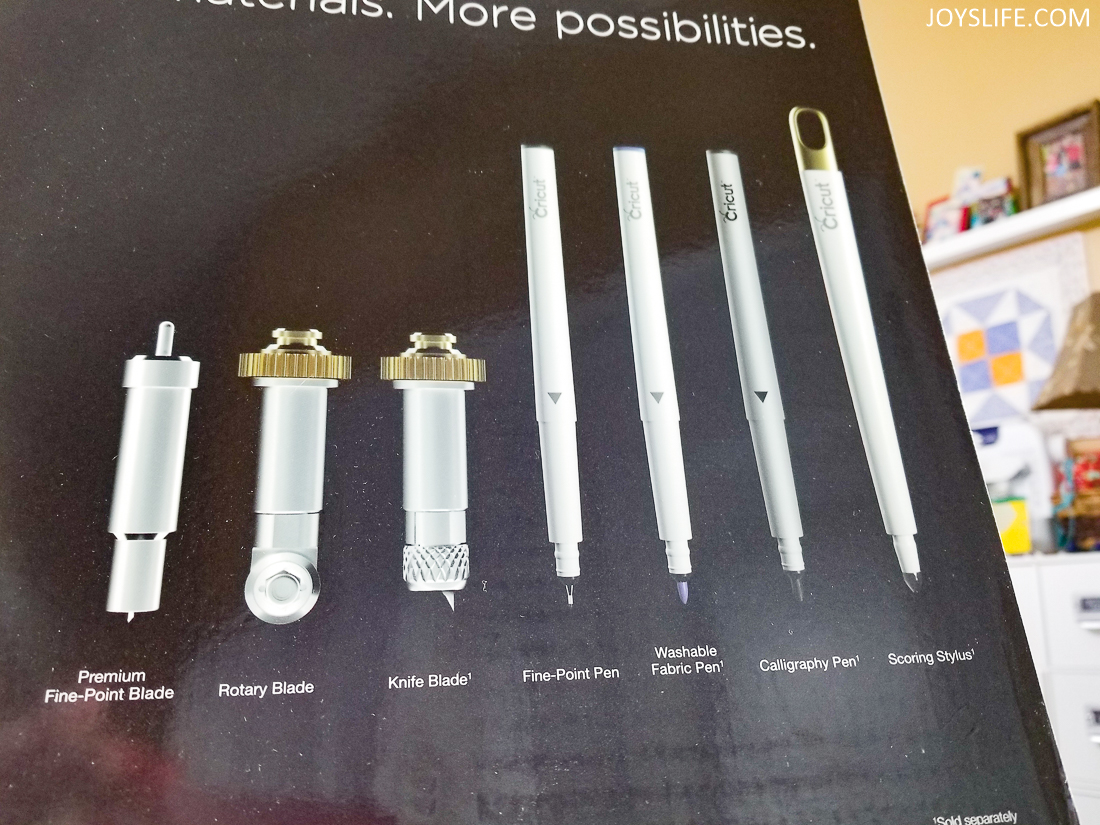 It comes with the Premium Fine-Point Blade, Rotary Blade and Fine-Point Pen (you can buy a whole colorful set of these pens too).  So, don't get super excited like I did and think all of those things are coming in the box.  See those little #1's to the right of Knife Blade, Washable Fabric Pen, Calligraphy Pen and Scoring Stylus?  Yeah, sold separately.  Behold my sadness.  Had I just read a little closer, I could have bypassed my crafty heartbreak.
Here's the first thing you see when you open the box.  The "Let's Get Started" box actually has a message on the box telling you the web address for setup.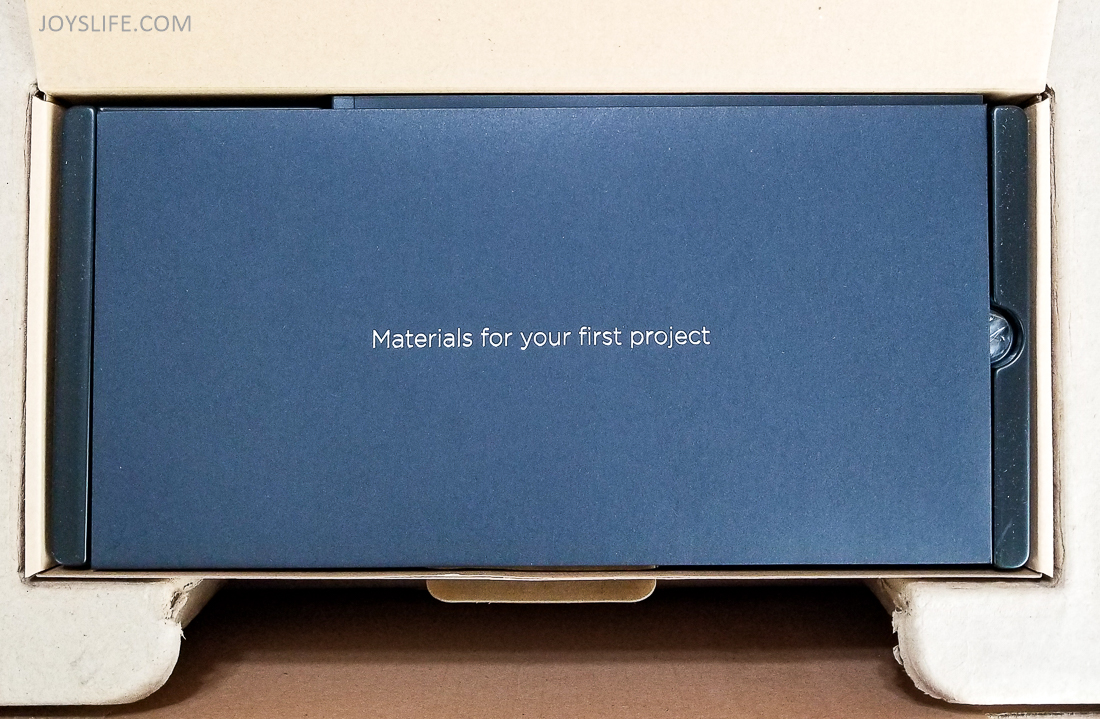 Once you open the "Let's Get Started Box" you'll see this box holding the materials for your first project.
Your first project is fun!  You'll make a card using this fabric, cardstock and the pen that you'll see in a minute.  Pretty cool!
About the Rotary Blade
When you lift away the materials, you'll see the Cricut Maker Welcome book and the rotary blade.  BE CAREFUL when removing the rotary blade.  Like all rotary blades, it's sharp!  AND…I don't know if this will continue to be the way the blade is shipped, but mine did not have any kind of cover on it after I removed it from that piece of plastic.  IT WILL CUT YOU so BE CAREFUL and DO NOT HANDLE THE BLADE!  Grab it from the top instead.  Please don't be tempted to touch the blade to see if it's really sharp.  It IS really sharp.  Roll it on the fabric mat or on a self healing mat if you just have to roll it.  I have, like and use this self healing mat if you're looking for one.
The Cricut Maker Welcome Book won't teach you a lot of things, but it will tell you a little about the Maker.  It's a good looking book, I can give it that much.
Under the tray that holds the book and the rotary cutter, you'll find the pen, warranty and plugs.  Cricut knows a little something about packaging.  This is the most thoughtful packaging I've experienced, other than Apple products.  Apple and Cricut know a little something about delivering special items to you, don't you think?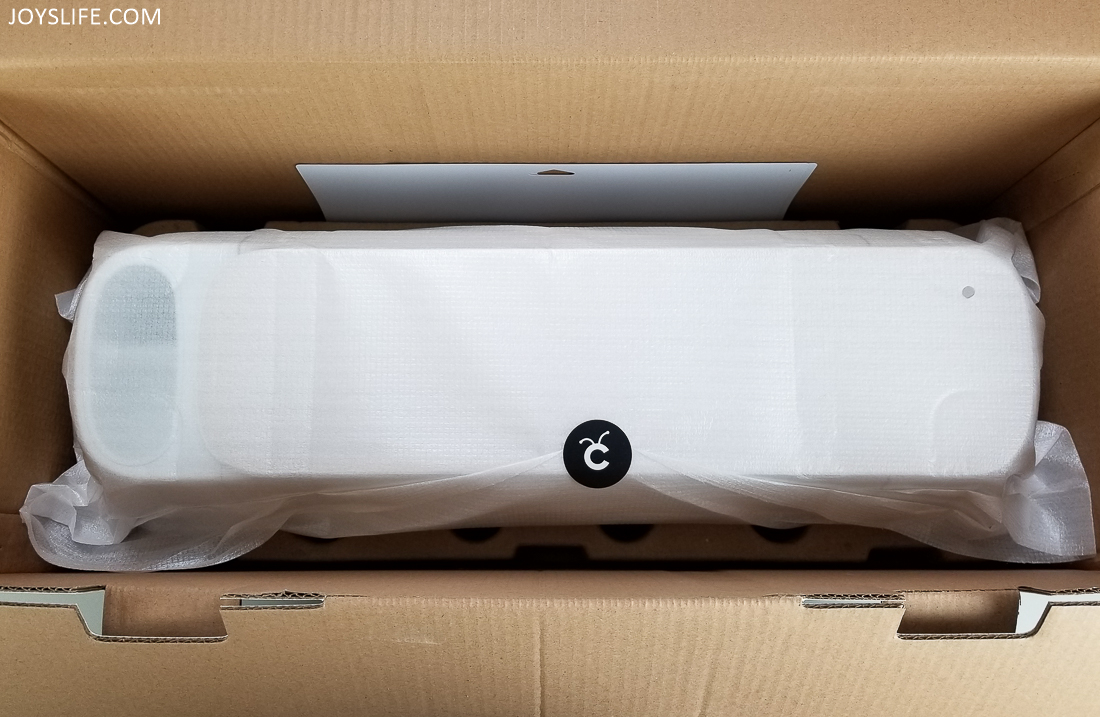 The Cricut Maker comes wrapped (and wrapped again, you'll see that in a minute) and stuck with a little Cricut head sticker.  Cute!  The mats are behind the machine.
After you remove the first protective layer, you'll find your Cricut Maker wrapped in clear plastic.  I think that's pretty nice.  Remove the Cricut Maker from the box, take off the plastic and you're just about ready to get started.
You get one Fabric Mat and one Light Grip Mat.
Ta da!  Here's the Cricut Maker and the back of the box.
I should really clean this room before I do anything else, but…NAH…I'm going to cut fabric with the Cricut Maker's rotary blade!
I hope you enjoyed this Cricut Maker unboxing.  Stay tuned for a review of the Cricut Maker!