How to Print and Cut with Ecal Software for Sizzix Eclips
Print and Cut is a great function to have with a die cut machine.  It allows you to color items digitally which can save you time and money.  How? Well, you don't have to purchase tons of paper because you can print on white.  Cool.  It saves you time by not having to search your paper stash for the perfect match and because you can also choose to print things as the designer intended.  Easy as store bought pie.  I've shown you how to Print & Cut with the Silhouette Cameo, now let's learn how to do that with the Sizzix Eclips.
Set Registration Marks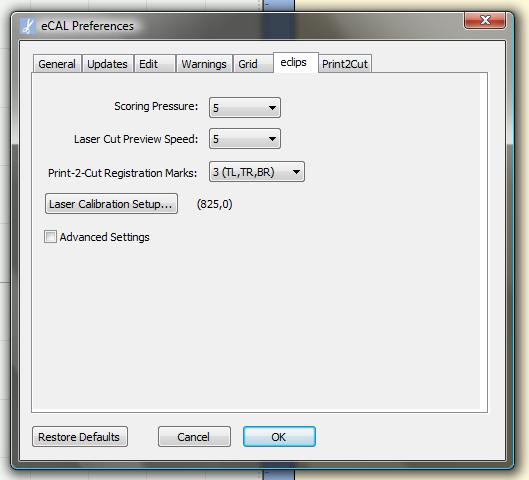 Before you get started, I suggest you go to the "Edit" tab and from there choose "Preferences".  That will open this screen.  I've found that the best setting for "Print-2-Cut Registration Marks" is 3 (TL,TR,BR).  That just means that you will print 3 registration marks around your image in the TL=Top Left, TR=Top Right and BR=Bottom Right.  Setting it to this does a better job than the 2 marks in the default, in my opinion.
If you've never calibrated your machine or if you move it around a lot, you should follow the "Laser Calibration Setup".  It will make sure your machine is cutting where it should.
Choose Your Registration Mark Preferences
These are the defaults that I like to use for the Registration Marks.  This keeps the marks close to the image without taking up too much extra room on the screen when laying everything out.  You can adjust these as you see fit for your needs.  If you don't like your settings just restore the defaults.  No harm, no foul.
Import a File
Now, it's time to import whatever you want to print and cut.  I showed you how to import a file here.  I'm using the first image from the Millions of Mums Graphic Set by Lettering Delights for this tutorial.  Ok, go grab the file you want to use and import it like I showed you.
Ungroup the Image
With the image that I am using, I first had to ungroup it to show the cut lines.  If you have to do that just select the image, right click and choose "ungroup".  Next, click on the "Preview" button at the top.  It looks like a paper with a magnifying glass on it.  Now you'll see the red cut lines like I'm showing above.  You can also see the registration marks!  YAY!
Time to Print
The rest is easy!  Click on the "Print-2-Cut" button as indicated by the pink arrow above.  That will open a box which will guide you through printing and cutting.  You'll need to come to this screen so you can print.  Make sure your printer is hooked up!
As you progress through the print and cut guide box that's provided on your screen, you'll get to the point where it tells you to line up the laser with your registration marks.  It's easy to do, but here's what it looks like.  You'll be using the buttons in the guide box to move the laser to the center dot inside the registration lines.  It's important that you get as close to being on the dot as possible because the better you do, the more accurate your cut will be.  You'll do this for all three marks.
Want to move the blade/laser quicker?  Hold "Shift" and click on one of the on screen arrow keys.  You can also do a short click, followed quickly by a long click on the on-screen arrow keys.  That one takes a little more getting used to but it does get that carriage moving faster!
I hope you have fun printing and cutting with the Sizzix Eclips!
Here are some Sizzix Eclips projects I've made.  You can also see them on my Sizzix Eclips Pinterest board.  Here's a video about my first impressions of the Sizzix Eclips.  You can see the machine and the basics of how it works in that video.
Happy Crafting!