How to Make a Get Well Care Package for Cold and Flu Season
This shop has been compensated by Collective Bias, Inc., Abreva, Breathe Right, Clorox, Robitussin and Theraflu. All opinions are mine alone. #SoothesOfTheSeason #CollectiveBias
The holiday season is here! While I was making lists and checking them twice, I thought I'd better pack up a Get Well Care Package for my two sons who are away at college. With the changing weather and rushing around, it can be hard to keep your family healthy, especially when they're far away, so I stocked up at Kroger on get well/stay well essentials. I'm shipping them to the boys and readying our own home with them too! Here's How to Make a Get Well Care Package for Cold and Flu Season for not only surviving the holidays, but enjoying them on a whole new level.
Supplies for Get Well Care Package
The first thing I did was go shopping at Kroger to gather all of the items for the Get Well Care Package. Kroger is a destination for all of my flu needs! I picked Clorox® Disinfecting Wipes because they're perfect for wiping down hard non-porous surfaces. They wipe away 99.9% of the most common allergens*. I also got Breathe® Right Extra Clear Nasal Strips. They give you instant nasal congestion relief that's drug-free and opens your nose up to 38% more than decongestant sprays alone. Nothing heals your cold sore faster** than Abreva® Pump Cold Sore and Fever Blister Treatment, so I made sure to get that. Cold sores are the worst!
I'm excited about Robitussin® Maximum Strength Honey Cough & Chest Congestion DM, it's new! It has the real honey you want, the powerful cough relief you need. Gluten Free. No Artificial Colors. True Source Certified Honey. I really like that it has real honey!  To finish up the package, I got Theraflu Power Pods Daytime Severe Cold. The pods are compatible with most single-serve coffee makers and give you powerful relief without a prescription.
Remember, Theraflu Power Pods Daytime Severe Cold and Robitussin® Maximum Strength Honey Cough & Chest Congestion DM should not be used at the same time.
Easy Print and Cut Decorating
There's nothing wrong with throwing everything into a box and sending it on its way, but if you want to dress it up a bit, there's nothing quicker than print and cut!
I bought a few simple lettering designs for use with my Silhouette Cameo, and used the fill color feature on each cut so I didn't have to go through all of my colored paper. I just started a new job and I don't have the kind of time that I once did, so print and cut is my BFF. Plus, it's so easy! I'm just using white cardstock and choosing the colors that I want.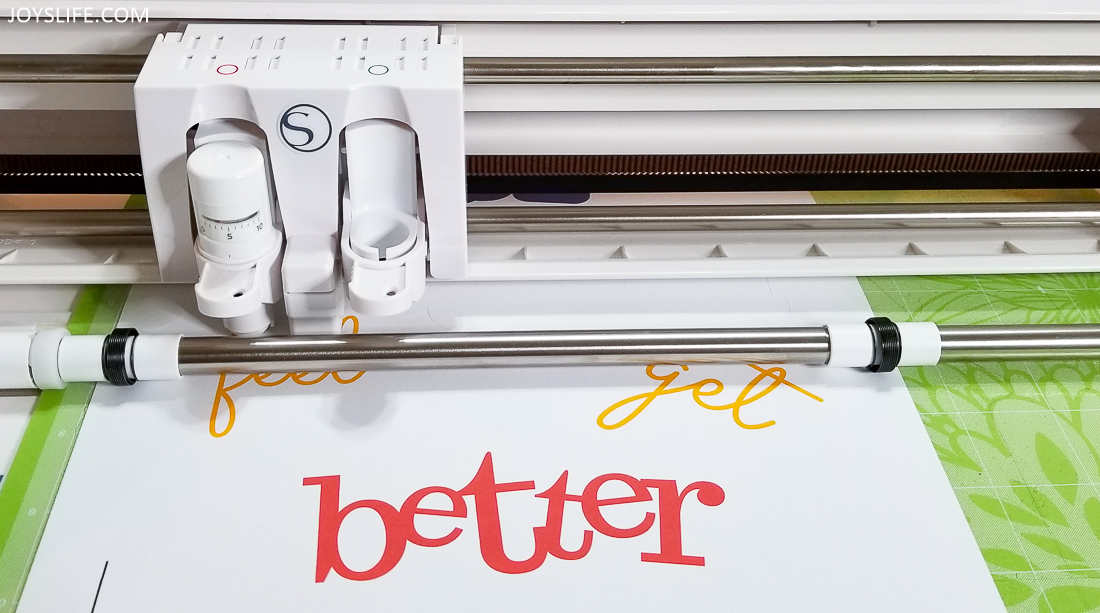 Next, you print it and let your die cut machine do the cutting. Sweet! Don't have a die cut machine? You can print a message out using your printer and any compatible program you have. That works too! I taped white paper to the inside of each box flap and added a few get well messages. Adding a bit of colorful tissue paper keeps the package fun and acts as cushioning during shipping.
This Get Well package has so many things you need to help you get well and stay well!
Beginning on 12/9/18 through 1/26/19 you can get $1 Off Any Theraflu Product
Beginning on 12/9/18 through 1/26/19 you can get $2 Off Theraflu Power Pods, 12ct Powders, 40ct Caplets, and Syrups Twinpack
On Robitussin there will be a $1.25 off coupon through 1/4/19
If you're like me and have kids away at school, don't forget to send them Get Well or Stay Well packages along with the other things you send. There's nothing worse than getting sick and realizing that you don't have the things you need to help you treat symptoms of cold and flu!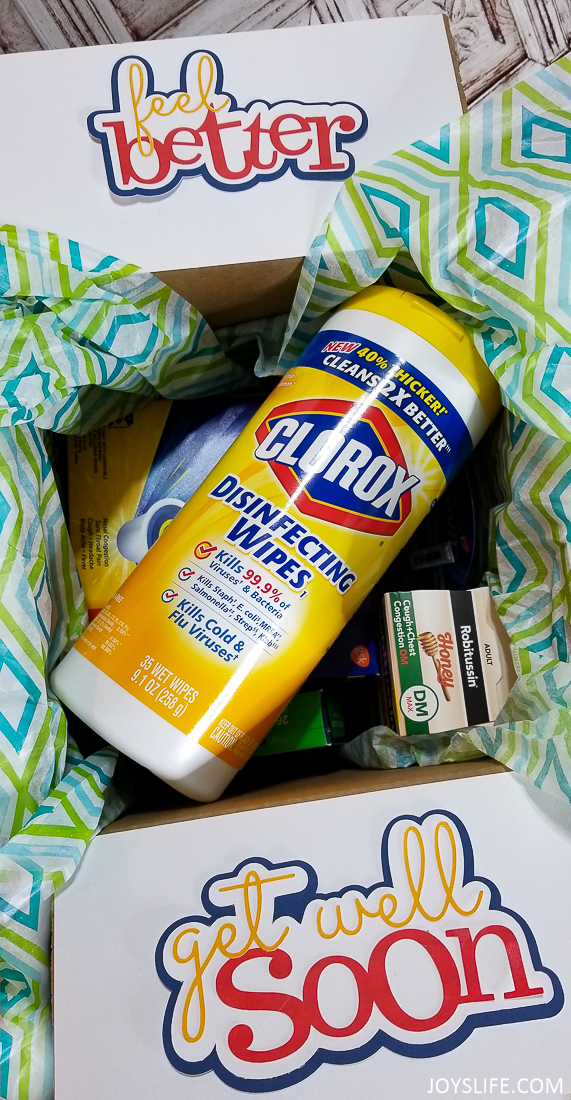 What things do you add to your care packages?
*Use Clorox products as directed for removal of non-living allergens like pet dander, dust mite matter and pest matter on hard nonporous surfaces in your home. Keep out of reach of children.
**Among OTC cold sore treatments, when used at the first sign
Theraflu-(c) 2018 the GSK group of companies or its licensor. Theraflu is for use in adults 12 years and older. Use all products only as directed. Read label and follow directions.
Abreva, Breathe Right, Robitussin – Use only as directed. Read label and follow directions.