American Flag Quilted Table Runner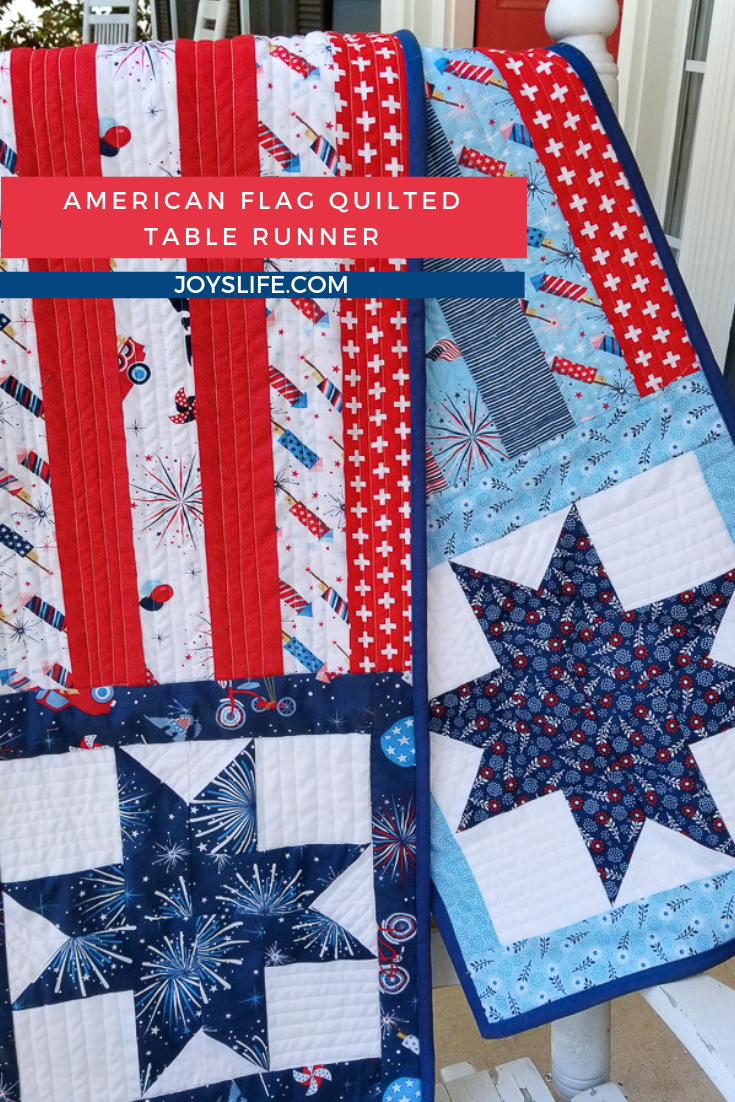 This year I needed some fresh decorations for the 4th of July, well, really for every patriotic holiday. I'm tired of items that don't last. You know what I mean? I don't want to buy something that I can't use over and over. I want something that I can keep, or possibly even pass down. That's one of the things that really draws me to quilting! I had a bunch of patriotic fabric strips (think jellyroll) that I bought years ago with some kind of plan in mind, a plan that never happened. So, this year I made this American Flag Quilted Table Runner and started by simply sewing strips together. It actually came together really quickly, so much so that I duplicated it on the back!
How to Make an American Flag Quilted Table Runner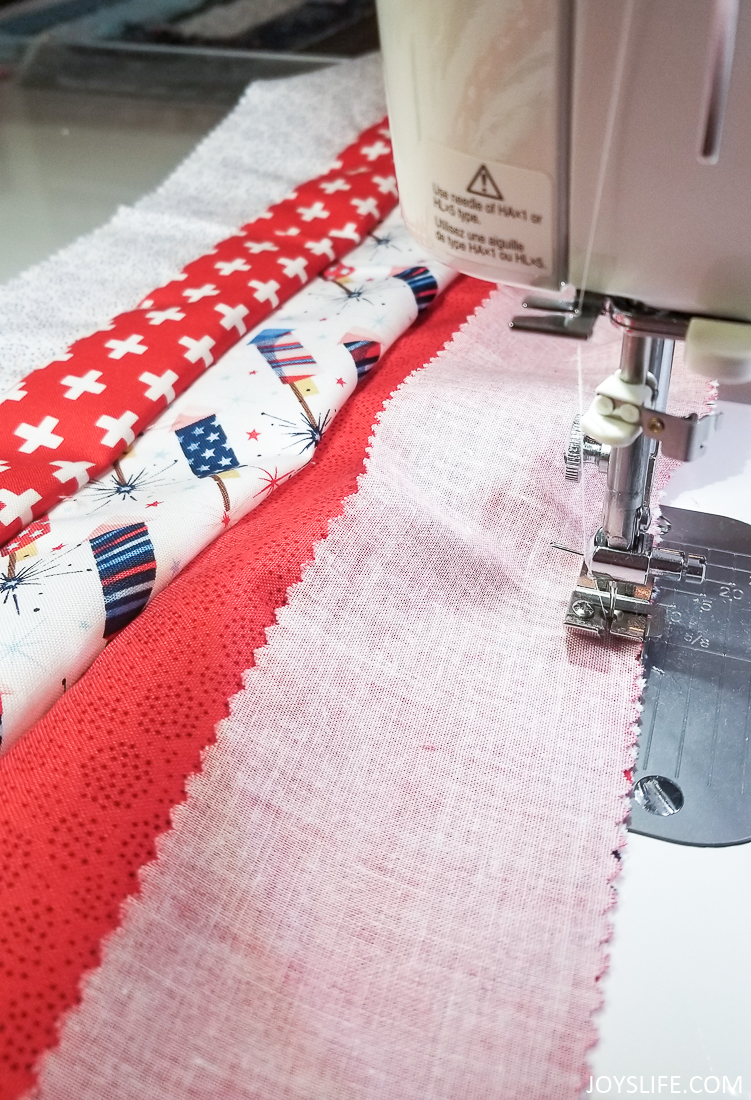 I started by sewing red and white strips of fabric together, then later when I made the back, I used red and blues. I sewed 7 strips together and used a 2.5″ stitch length and a straight stitch. TIP: Alternate sewing your strips from top to bottom, bottom to top. That will help keep your finished sewn strips straight and not wonky.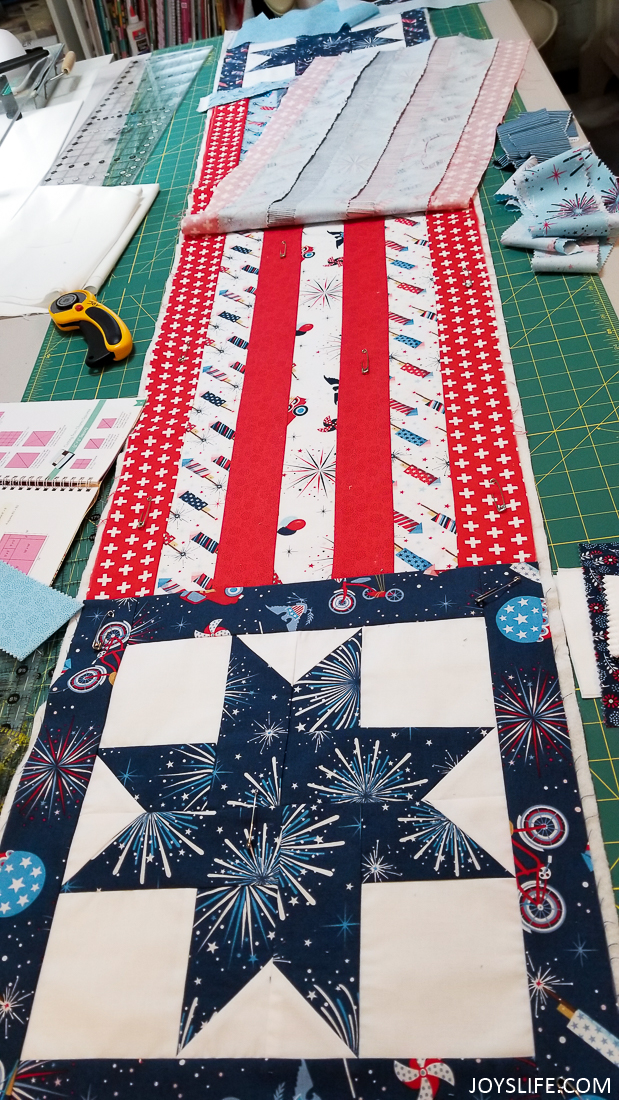 After I sewed my rows together, I thought that a star would look good at either end, but I had no idea how to make one. Jenny Doan to the rescue! I went to Missouri Star and found Jenny's video on how to make these stars. It's brilliant! I followed it and was easily able to make stars! The funniest thing about Jenny's video is that while I was learning to make stars, she mentioned that you could make the quilt she was making into a table runner, which was exactly what I was doing, thinking that I'd come up with something genius. LOL! SIDETRACK: Want to see what it's like to visit Missouri Star? I went! It was awesome. Read about it here!
The Star
The star is a great beginner thing to try. It uses the "snowball" technique, like in this quilt that I made, where you give a more rounded look to a rectangle or square.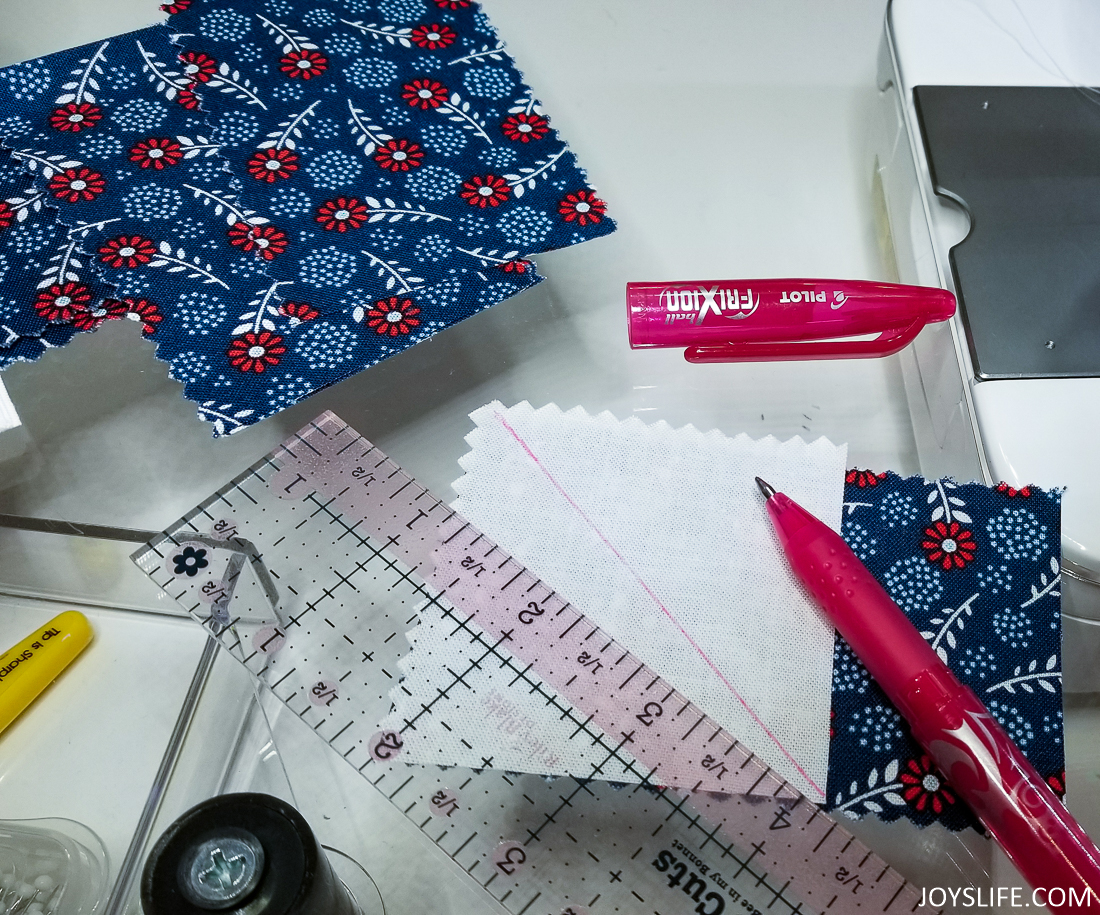 When you're first creating snowballs, or when you want to be very precise, measure your square fabric from corner to corner using a ruler and mark it. Use a Frixon pen for that. They disappear with heat from an iron. FACT: Frixon pens do not disappear forever, so don't write a bunch of stuff across your quilt thinking, "Haha, no one will ever see that! I'll make my iron erase it!" True. That works, unless it gets really cold. Then TA DA! all your words show back up. So, Frixon pens are to be used where they can't be seen. This cut line is the perfect place.
Chain Piecing
If you feel brave, you can skip the Frixon pen and simply fold the fabric diagonally and fingerpress it. Sew down the pressed line. Sew one piece after another (chain piecing) to save time and thread.
After sewing, press your piece flat and open. Trim it to 1/4″ and cut using a rotary cutter. I LOVE Creative Grids rulers. They are awesome! It's easy to see the 1/4″ mark and they have little no slip places on the bottom of their rulers. Two thumbs up to them!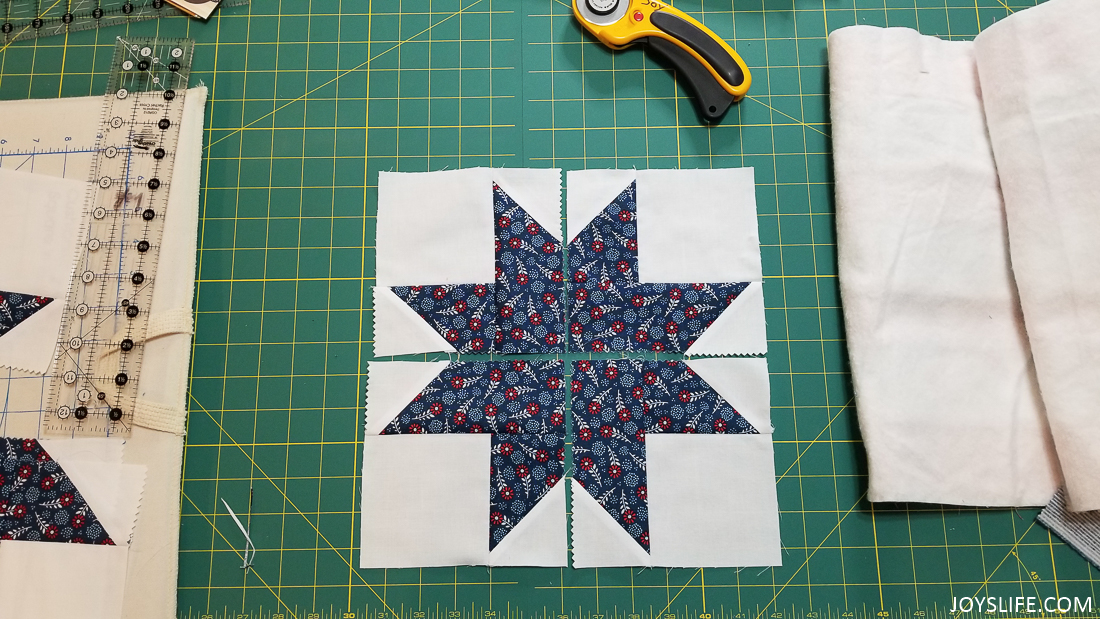 Following Jenny's star instructions, I was thrilled to see a star appear!
Next, I added borders to the top and bottom. After they were attached I measured the length, including the new borders, and added the final borders. Also, I got a new sewing machine!! I love this thing! It's the Juki TL 2010Q and it's fantastic! It's only a straight stitch machine, but it's really strong, fast and dependable. It has a light, but I added a strip of LED lights to mine for extra brightness. The sewing machine and the lights were a great purchase!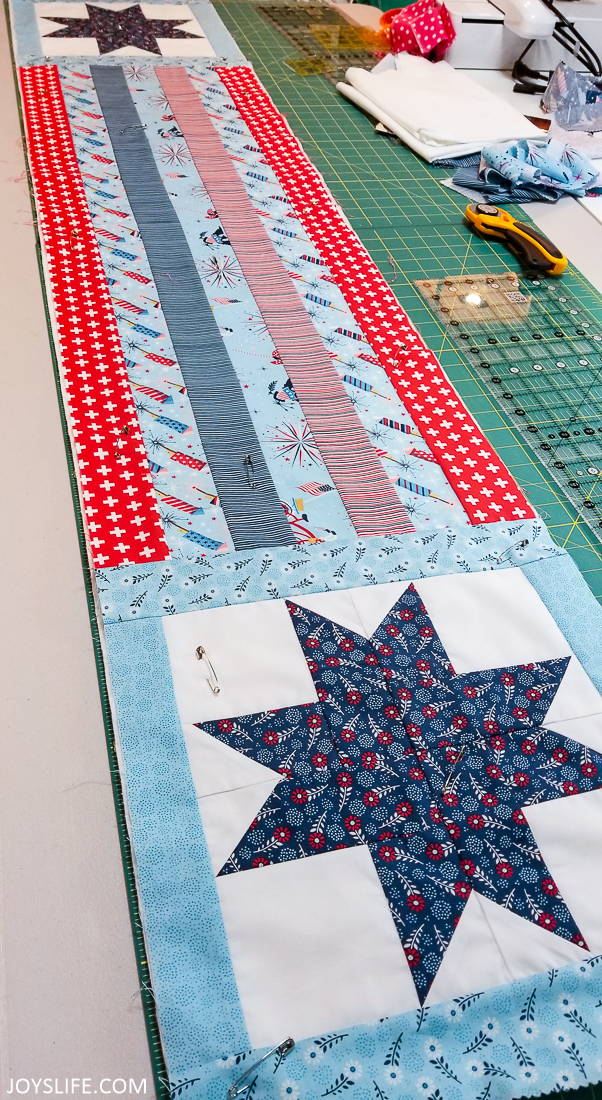 I sewed the stars to either end of the sewn stripes and trimmed the blocks to the width of the stripes. Next, I added batting and attached the back, which is a duplicate of the front, but in different colors. I used the walking foot on my Juki and quilted the table runner using straight lines. Straight lines are my favorite kind of quilting, which is good because I'm not good at anything else yet!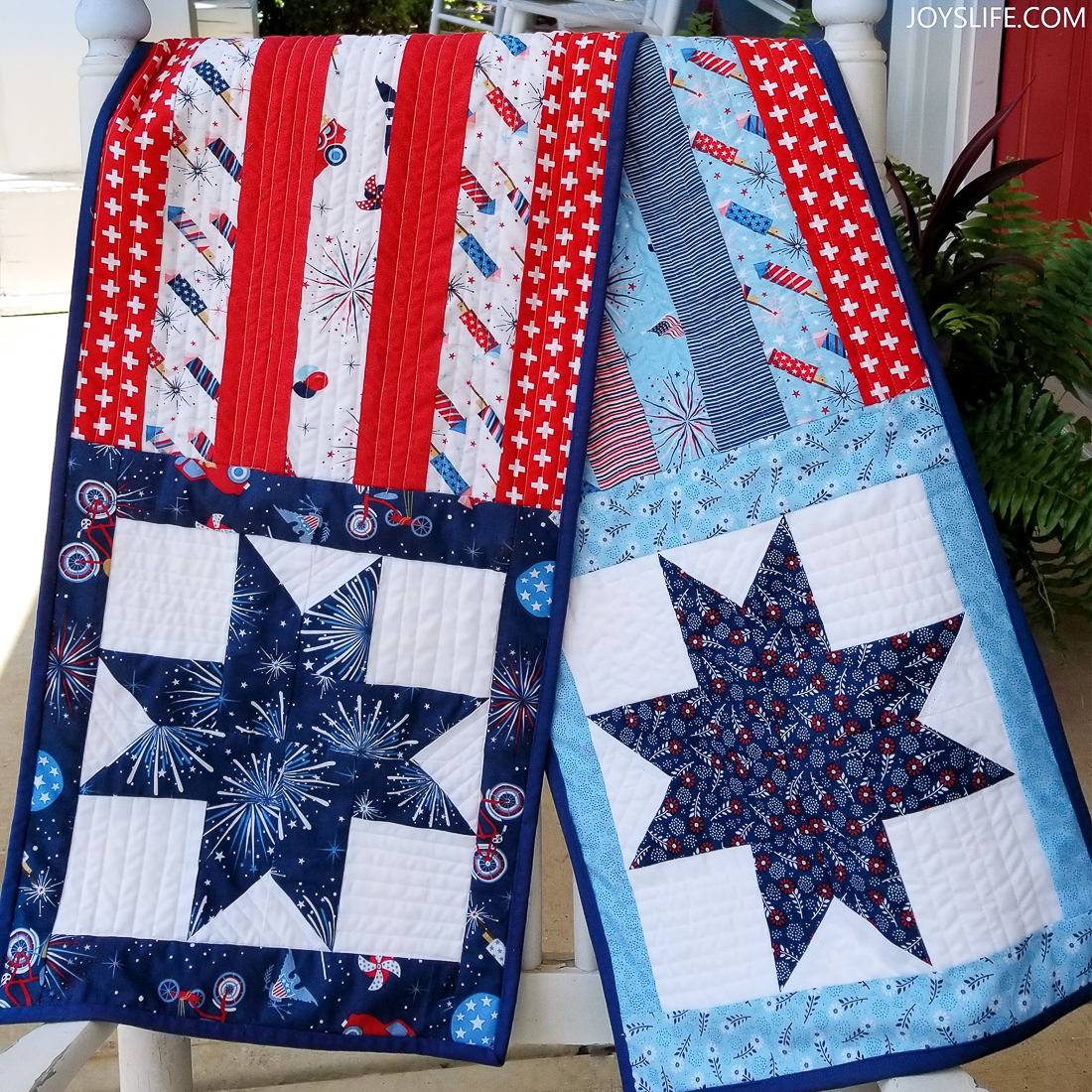 I hope you enjoyed this little tutorial and look at my American Flag Quilted Table Runner.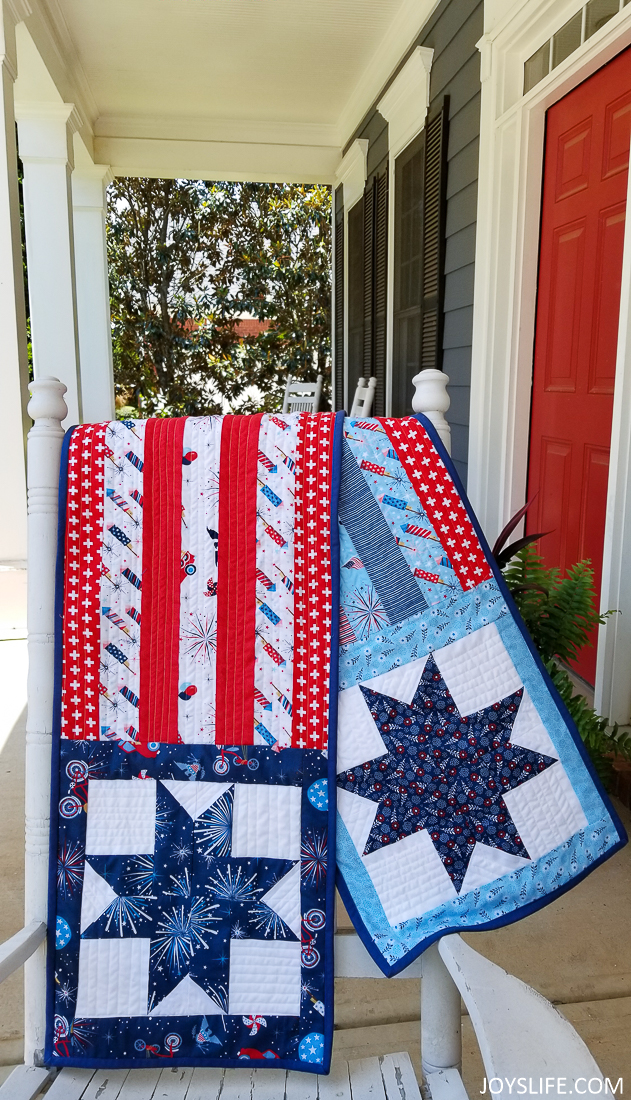 You can make one and be ready for your next patriotic occasion…and the next one…and the next one…
Happy Creating!