Visiting the Missouri Star Quilt Company
Visiting the Missouri Star Quilt Company from a quilter who has been there!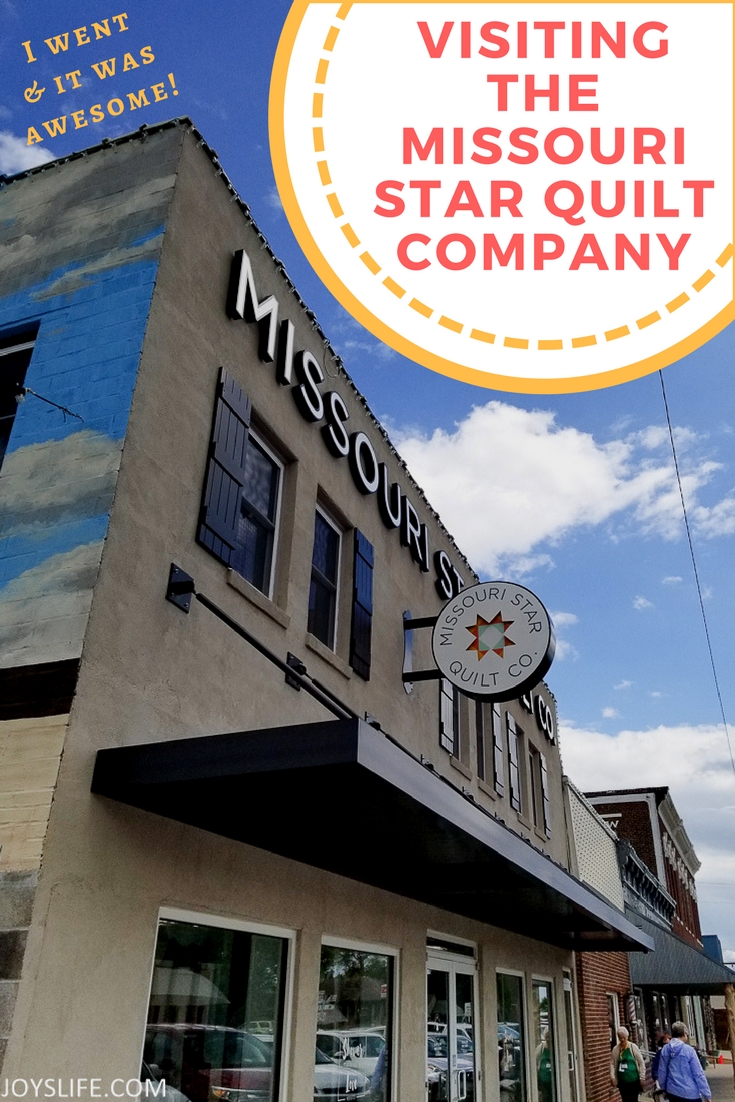 Last spring, the Missouri Star Quilt Company held their first ever Academy. I hadn't been quilting very long, but I knew the amazing story of how Jenny Doan revitalized the midwestern town of Hamilton, Missouri by purchasing it's old buildings and turning the town into a quilting destination. I HAD to see it for myself! So, I bought tickets to the Missouri Star Academy, packed my bags and hit the road. I'm going to tell you right now, I had a blast.
Missouri Star Academy This Way
The Missouri Star Academy lasted for two days and included make and takes, lectures, trunk shows and workshops. Plus, you got the chance meet (and get great insight and tips from) Jenny Doan, Tula Pink, The Tattooed Quilter (one of my favorite speakers), and more. If you've never seen/heard one of Tula's trunk shows, you should. She's hilarious. (Tula's line includes fabric, tools and books!)
Jenny blew our minds with different ways to turn half square triangles (and more) to create a ton of different blocks, and of course, her story is definitely worth hearing. The Second Missouri Star Academy is this summer! I won't be able to make it though, because I've got to take my youngest to his college orientation. I'm excited to be doing that, but wish I could fit Missouri Star into my schedule too!
This is me parked at Penney High School in Hamilton, Missouri. Clearly, I was pretty happy to be there. This was after a day of Missouri Star shopping. The high school had some dedicated parking for the Missouri Star Academy. MSQC sent a shuttle bus to pick us up.
If you're wondering if a trip to the Missouri Star Quilt Company would be something you would enjoy, I hope these photos help you decide to go!
If you're a new quilter, you might enjoy this "How to Get Started Quilting" post!
Visiting the Missouri Star Quilt Company
I live in North Georgia and drove to get to Hamilton, Missouri to visit the Missouri Star Quilt Co. It was a great trip for me. I drove part of the way, spent the night at Harrah's in Metropolis, Illinois (saw superman) and then drove the rest of the way the next day. I reversed my trip on the way home, staying at Harrah's again. That morning, I got up and drove to the National Quilt Museum for a tour. That was really worth doing. I truly enjoyed it. I also stopped by Hancock's of Paducah, KY. Both places are a short drive from Metropolis.
The main street is full of all of the stores and this helpful map.
There are places to eat, buy groceries, do banking and there's a post office if you need to mail your packages home.
The Main Shop – Missouri Star Quilt Company
The main shop is easy to spot because it has the Missouri Star logo that you've seen online.
Here's the main shop from the side. I really wanted to show you this mural, it's one of several fantastic murals in Hamilton. I'll show you a few more further down in the post.
If you start here at the Main Store, you can get a map and sign up for your shopping pass.
There's no right or wrong place to get started though, but my one big tip is…LOOK UPSTAIRS if there is one. Some of the shops (not all, some) have an upstairs…don't miss them like I almost did! Seriously, I was about to leave one day and someone asked me what I thought of the upstairs of one of the shops. I was like…"whuuuutttt?"
Unpredictable Weather…But…
Hamilton's weather can be unpredictable, so you'll find umbrellas for you to borrow as you go from shop to shop. That's so nice!
Wherever you're coming from, while you're shopping at Missouri Star, you can get a shopping pass that helps keep up with your purchases. See that little Ipad looking thing just below the giant Block Magazine picture? Sign in there.
What I loved was that it showed me how far I'd come to get there. You know you're passionate about something when you drive for days to get there. 674 miles = worth it!
They Have IN STORE Daily Deals!!!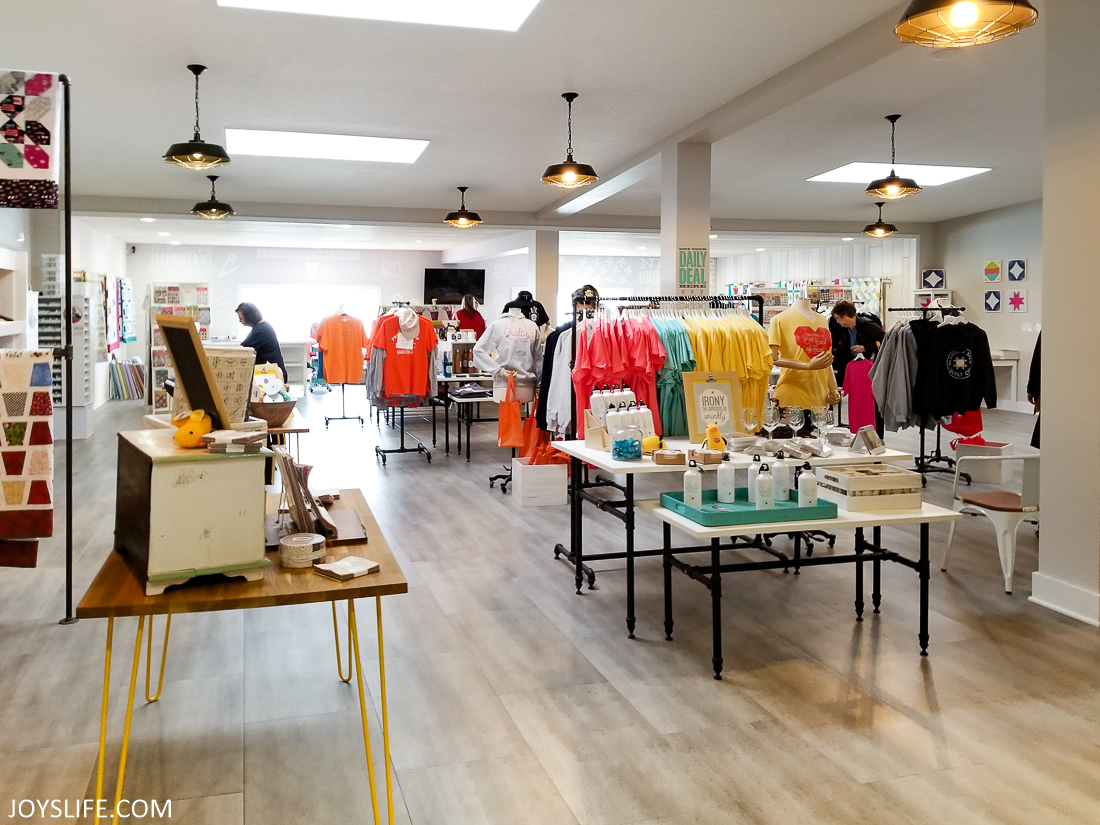 One of my favorite things about shopping in person at Missouri Star is that you can still get the DAILY DEALS!! Great deals like you're used to online, but in person. New deals each day, just like online. SO (SEW) AWESOME.
This is where I picked up my Missouri Star coffee cup and MSQC Tervis Tumbler…plus more fabric.
I was looking at these photos and thinking, um…that says Penney's Quilt Shop … how is this the main shop? It is. There are several signs in the Main Shop.
My running shoes are so blue, but comfy. You should only wear comfy shoes while touring here. There is a lot of walking…I mean, if you're doing it right. LOL!
Barn Quilt Love
I took this photo in the Main Store to remind me of the barn quilts that I saw on my drive. I'd heard that people painted quilt blocks on their barns, but had never seen them until my drive, when I saw three!! I really wanted to take photos, but when I saw them I couldn't find a good place to stop. The memory lives in my heart, because they were fantastic. Here are some books about it if you're interested: Following the Barn Quilt Trail and Barn Quilts and the American Quilt Trail Movement. There's also a cute barn quilt coloring book!
By the way, all of the purchases that you make in the store will show up in your online history. I LOVE THAT because it keeps me from buying duplicates … and reminds me what I have when I look at it.
Penney's Quilt Shop
(Penny's Quilt Shop is down there on the far right.) Sidewalks make it easy to get from shop to shop.
Hamilton is the boyhood home of J.C. Penney and this shop is named after the store that used to be here. How cool is that?! Remember, Jenny and her family have restored these old buildings, so you'll definitely see remnants of that local history, which I think is wonderful.
The Penny's store focuses on solid colors.
I had to take a picture of this because that quilt was using Robert Kaufman's pink flamingo color of the year for 2017. I made a little quilt using it!
Sorry for the photo overload, but I couldn't get enough of the amazing design displays.
Don't you just want to get one of everything? This store is packed with creative possibility.
Ok, let's leave Penney's and go back outside.
Hamilton Missouri Murals
When I was in Hamilton, MO on May 23 and 24, 2017 this colorful mural was in progress. When you go, you'll see that it has been completed. This guy is an artist!
I apologize to him that I got his rear end in this shot. Still…amazing mural in progress! Again, sorry. I didn't realize it until later.
You'll see Penney's Quilt Shop again on the far left in the distance. This quilt mural is one of the cherries topping the cake of this charming quilt town.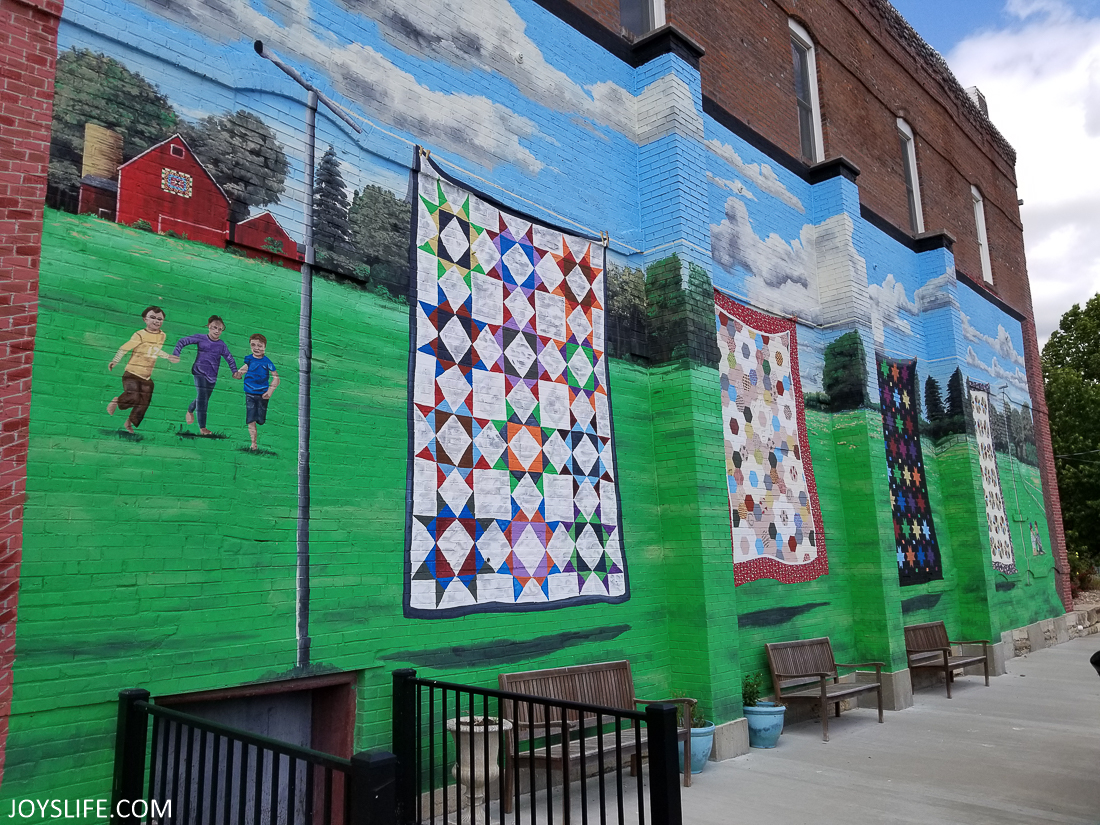 It warms your heart, doesn't it? The past, the present, all tied together through the threads of a item made to be passed to future generations. Beautiful.
Now, scroll back up and take another look at the mural outside of the Main Shop. Don't these murals bring so much life to the walls? They tell such rich stories!
Back to Shopping….
Missouri Star Florals Shop
Guess what you find in the Florals shop? You got it! Floral fabrics!
Do you love the themed shops as much as I do?
Themed shops really make it easy to find what you're looking for, and if you don't know what you're looking for … even better. It's a great place to dream, plan and wander.
Missouri Star Mercantile
The Missouri Star Mercantile sells reproduction fabrics, like fabrics from the Civil War, the 1930's and more.
I fell in love with the Mercantile store window. I don't know who designs these windows, but they have my awe and admiration. There's some reproduction fabric in the hoops. LOVE!
Missouri Star Quilt Company Man's Land
Are you traveling with someone who's not that interested in quilting and shopping for fabric? Perfect. Drop them off in Man's Land. I'm pretty sure that women are welcome too.
Frankly, this place looks awesome.
I didn't step in for photos as far as I could have, because I didn't want to disturb the natural habitat. LOL!
Missouri Star Quilt Company Machine Shed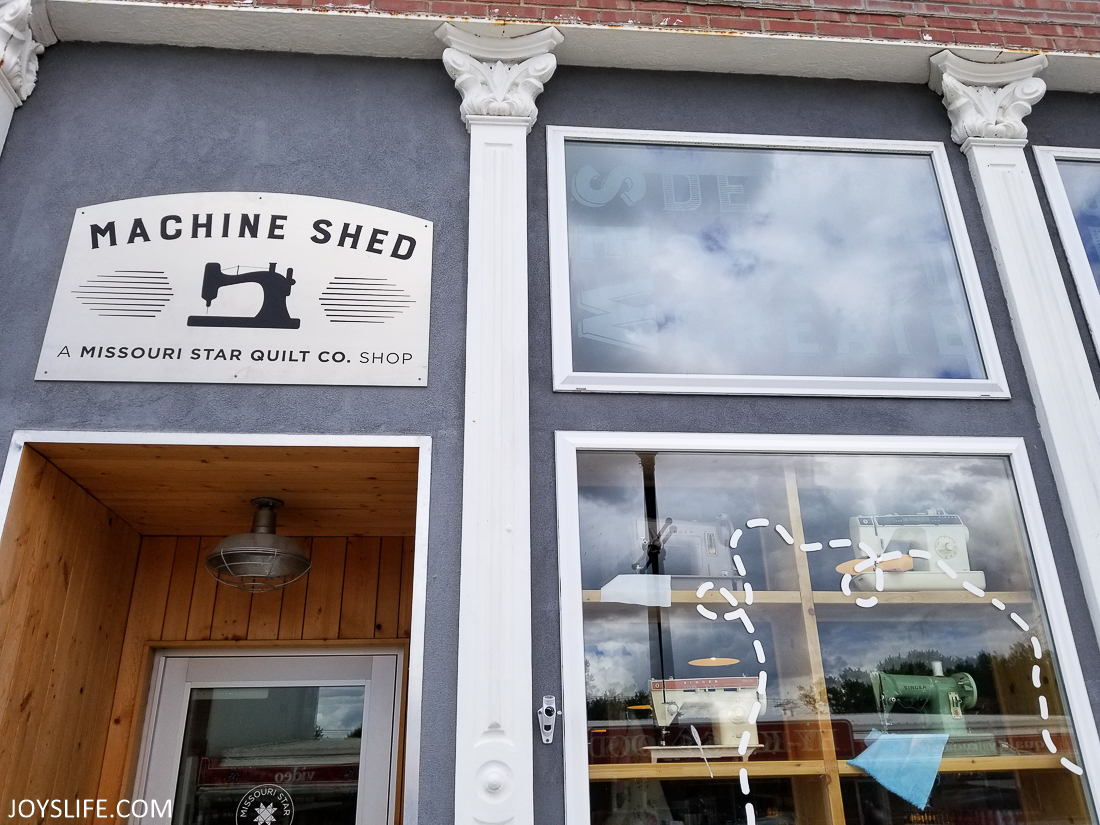 I fell in love with the different stores, repeatedly. This, Machine Shed, love of mine has a window of vintage sewing machines.
How I love thee, let me count the ways. Um…16 ways. LOL!
The Machine Shed has new machines and notions. Be sure to read the wall art too. "A clean house is a sign of a broken sewing machine." Fact.
Oh, this place is great. I mean all of these places are great. All the hearts.
Go Upstairs
First, admire the stairs. There's so much detail at the Missouri Star Quilt Company that you really want to keep your eyes peeled. Take it from someone who almost missed the upstairs entirely…keep your eyes open, and locate the stairs…these have their own door from the street, but you can also take the stairs from some of the shops.
Stores that are upstairs: Kids & Baby, Sew Seasonal, Backing & Trims, Modern
Missouri Star Quilt Company Kids & Baby
There is a whole shop (upstairs) that is full of kids and baby fabrics.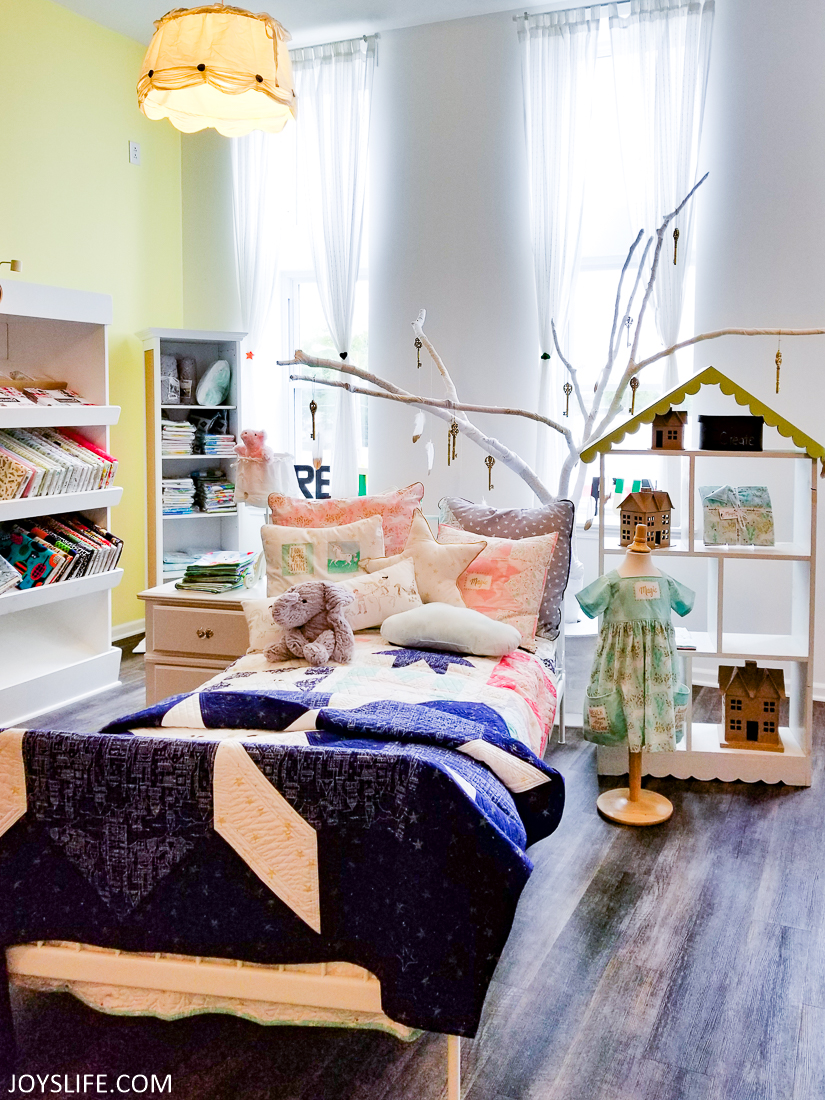 Take your time. These sweet displays are worth examining.
Missouri Star Quilt Company Sew Seasonal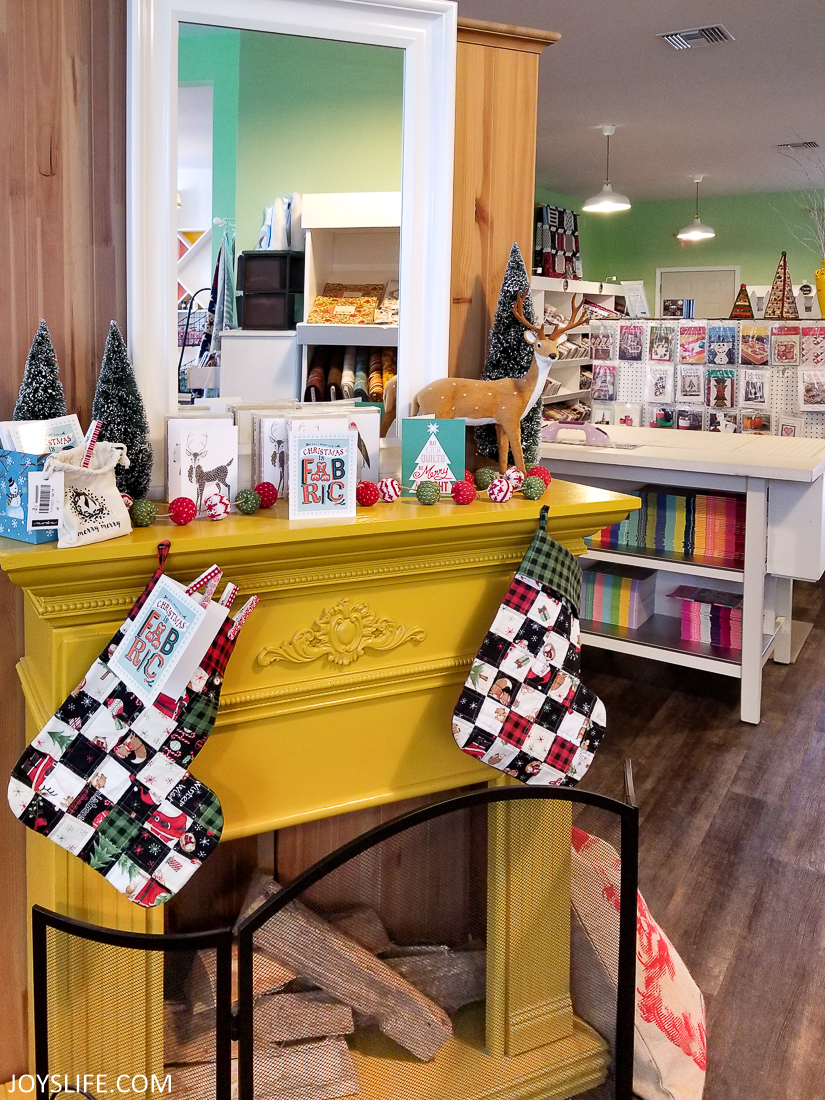 When I walked up the stairs into the Sew Seasonal store, I felt like I was in a holiday.
You will love it here. No holiday seems too far away.
You'll find tons of seasonal fabric and some great patterns too. I loaded up on patterns. Take the wall advice.
Be sure to check out the quilts. There's usually some corresponding information leading you to a tutorial or a pattern.
If you don't already follow her, you can find Jenny's videos on YouTube. They're a ton of fun and super informative.
More good wall advice..and the bathroom.
There's a whole Modern shop too, which the above pattern is from. Although my job documenting the store with photos was poor, I did a great job buying from it! The shopping at MSQC is phenomenal.
I hope you enjoyed seeing what it's like visiting the Missouri Star Quilt Company. I highly recommend going there if you're nearby or planning a trip with it as your destination. I'm truly looking forward to going again!
Here's some of the Missouri scenery that you'll see a lot of if you drive. On your way through Missouri, keep your eye out for quilt blocks on barns!
Before you go, here are some sewing posts you might enjoy!
Happy Travels!