It's amazing what you can make with just a little fabric, thread and a piece of ribbon!  This easy drawstring bag is created from those simple things.  It's a great way to give a gift or to carry pretty much anything.  If you're a sewing beginner, this is a great project for you.  I've just started making a variety of drawstring bags, with different sizes and fabric prints to hold some holiday gifts.  One of the drawstring bags that I'm making has a cool circuit board print.  It's perfect for my tech loving son.  He's fascinated with cool technology, which is why I'm giving him a Philips Sonicare FlexCare Platinum Connected Sonic Electric Toothbrush.  See, he just got his braces off and it's like a whole new brushing world all of sudden.  He's really concerned about keeping his newly revealed smile in tip top shape, so this awesome toothbrush, with it's real-time feedback through the free Philips Sonicare app, is right up his alley.  Technology + app feedback + a tech themed bag for travel = always being ready to flash a great grin, even on the go.  Plus, making a bag is a great way to gift it!  Now, my circuit board themed fabric hasn't been delivered yet, so for this tutorial, I'm going to show you how to make an easy drawstring bag using a floral print.
How to Make an Easy Drawstring Bag
What I love about this bag is that it is super useful and easy to make. Plus, you can personalize it for thoughtful gift giving by varying the fabric, the drawstring, adding embroidery, tags and even charms. Today, we'll just keep it simple. You'll need a needle and thread, or a sewing machine, thread, fabric and a drawstring of your choice. I used a piece of ribbon.
Cut your fabric to 11 – 1/2″ long by 9 – 1/2″ wide. You can adjust the length and width to fit whatever you want to carry. Keep in mind that you'll probably want to adjust the other measurements if you do that.
Fold down the top edge 4″. Press with an iron.
Sew a straight stitch 1/4″ from the bottom edge of the fold, all the way across the fabric. This is going to be the bottom of the drawstring channel. (Where you place and pull your drawstring.) Backstitch at the beginning and end.
Sew another straight stitch 1″ (or more) above the previous stitched line. Remember to backstitch when you start and stop. Those overlapping stitches keep your work from coming undone.
If you want to use a wider piece of ribbon, rope or fabric, you can adjust the distance from the first stitched line to this one.
Fold your bag with right sides (pretty sides) together. Pin in place.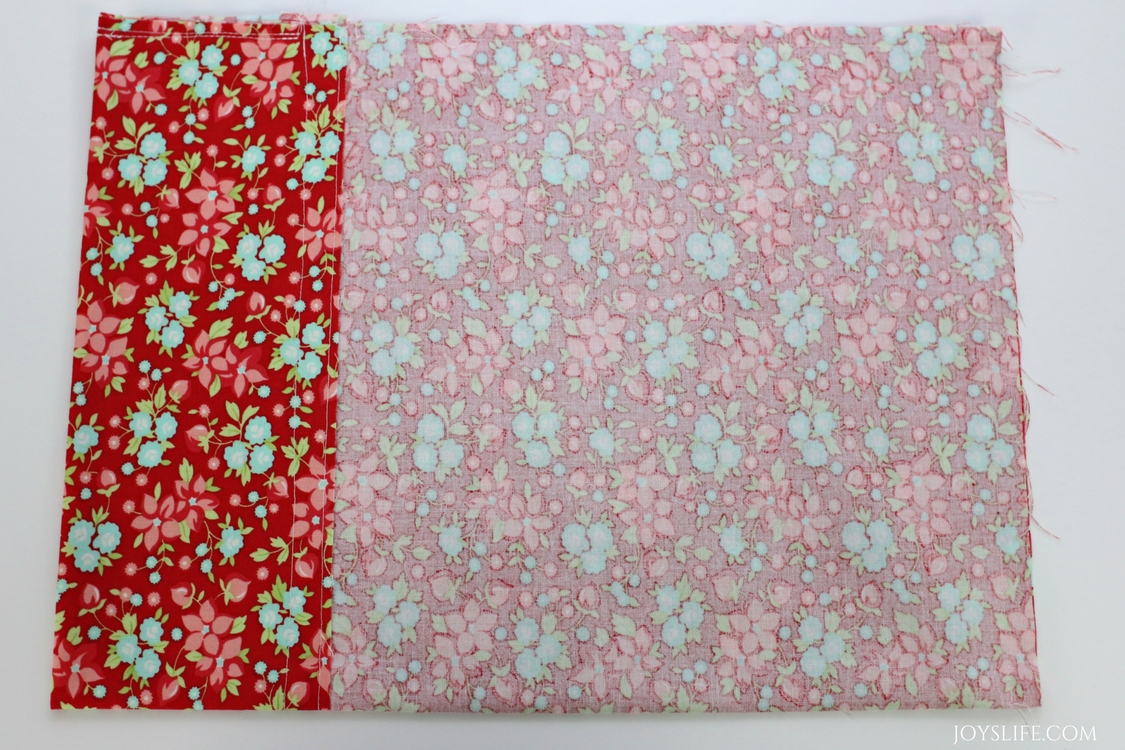 Sew from the top of the bag to the top of the first drawstring channel. (Don't forget to backstitch.) Stop. Remove from the machine. Sew starting at the bottom of the of the drawstring channel and continue sewing around the side and bottom of the bag. Make sure you don't sew the drawstring channel closed!
Just add the drawstring and you're finished!
Or…you can give it boxed corners first.
Sewing Boxed Corners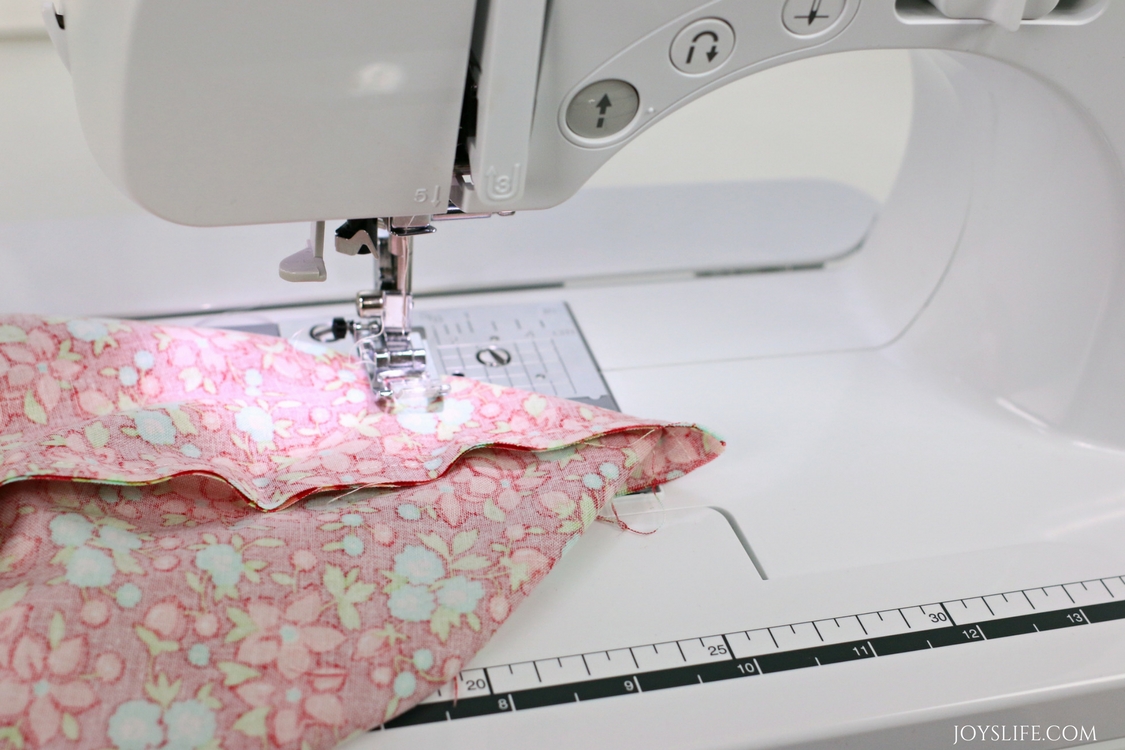 To sew boxed corners you pinch and pull the corner until the fabric makes a point. You want to match the seams on top to the ones in the back. Pinning will give you the best result, but I just went for it. Sew a line about to 2″ to 2-1/2″ from the point. Repeat to the other side of the bag, making sure to keep your measurements even on both sides. For the best reinforcement, stitch over your initial line several times. Backstitch at the beginning and end!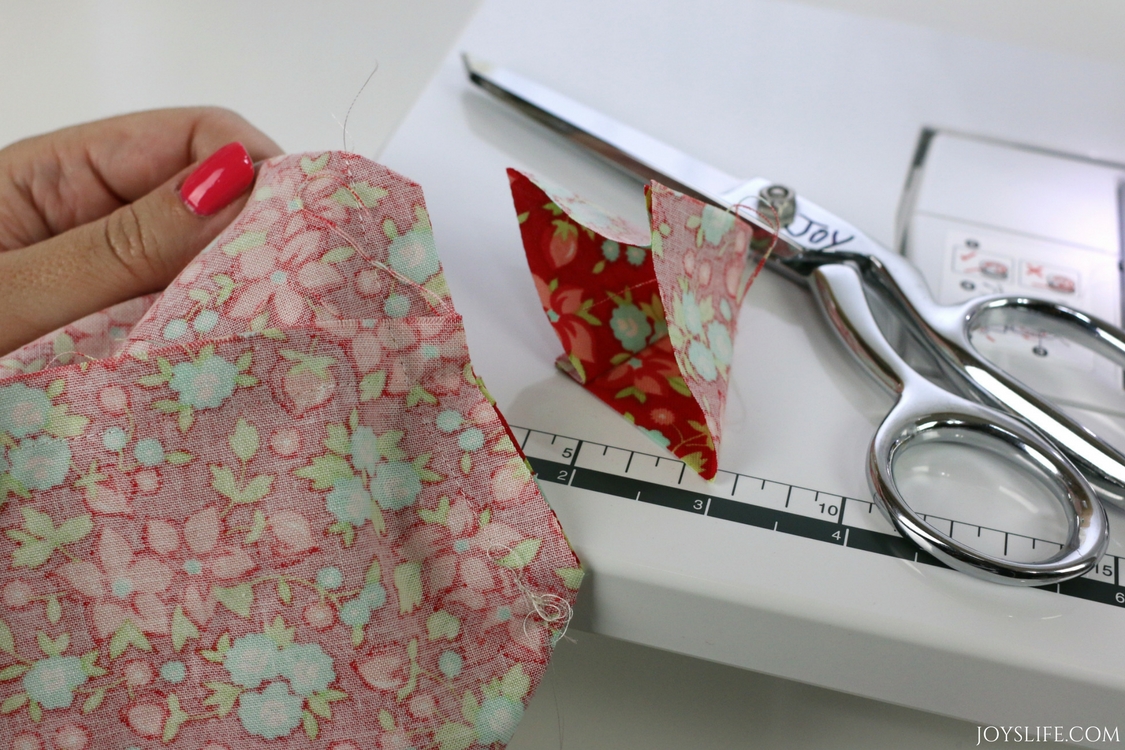 Clip off the corners, but don't get too close to the stitches!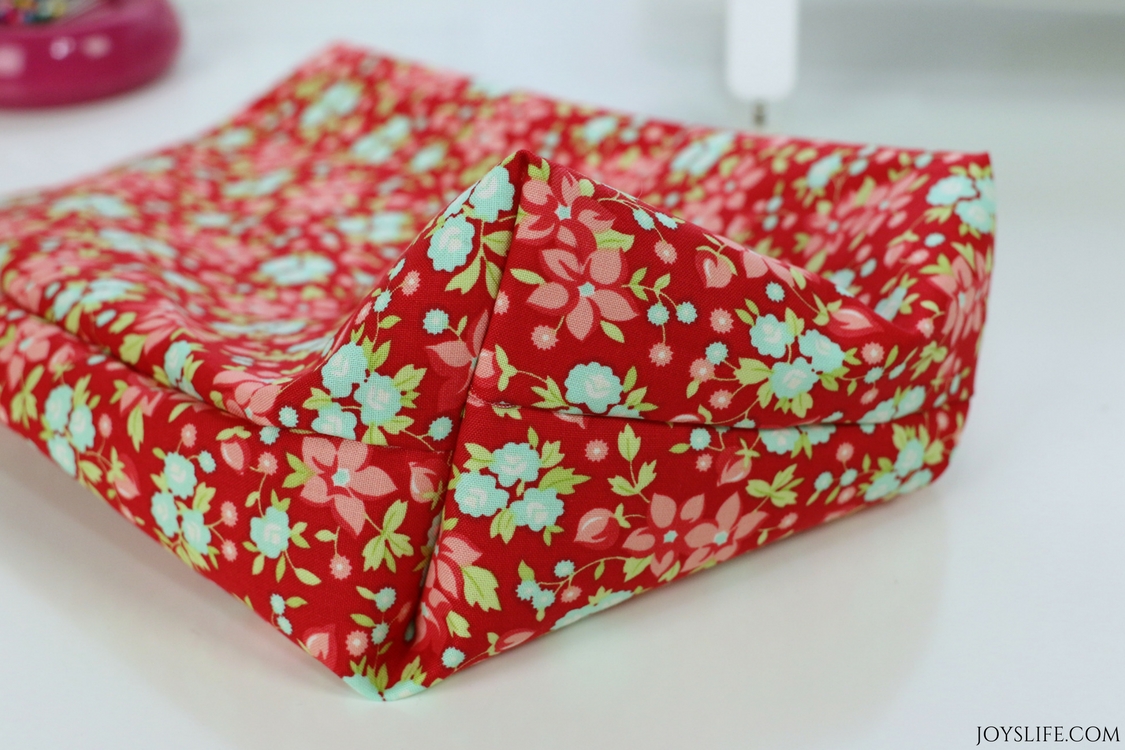 You've got a boxed corner! Ok, this one looks a little off, but still… That's why you should pin and measure.
Sewn Ribbon Drawstring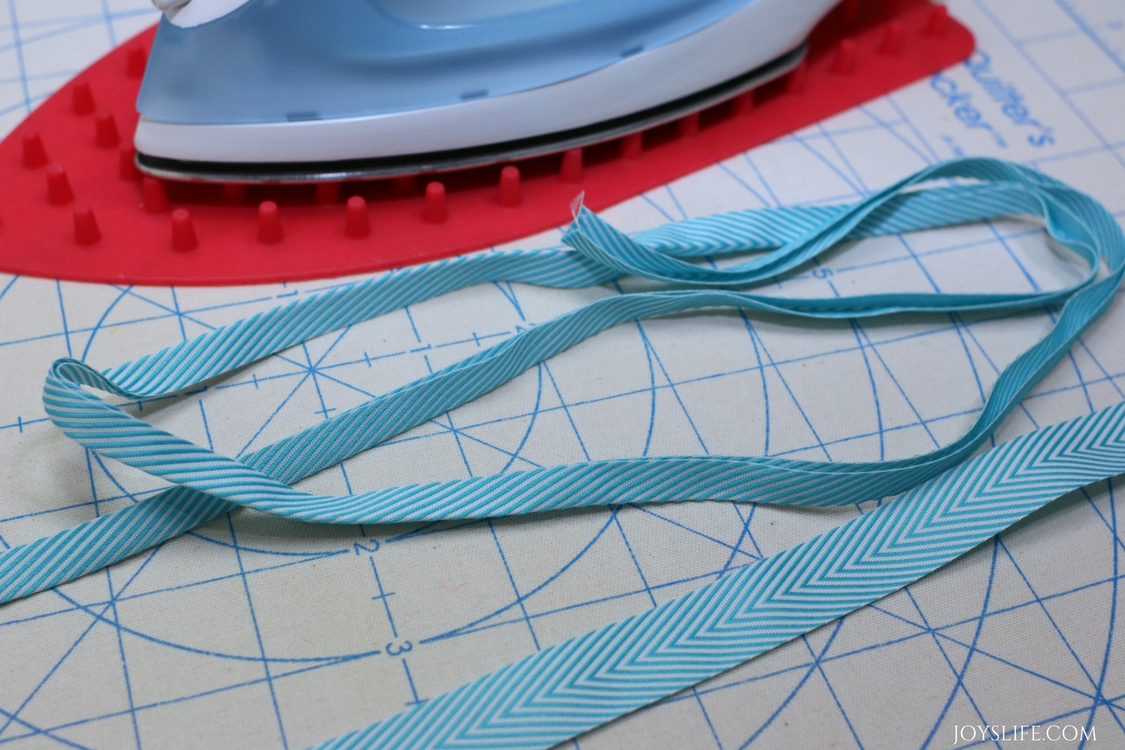 I thought I had some cotton cording left from this project, which would have been perfect for my drawstring needs, but I couldn't find it anywhere. Sad. All I had was a too wide piece of ribbon, so I folded it in half. Pressed it and stitched it! It was perfect!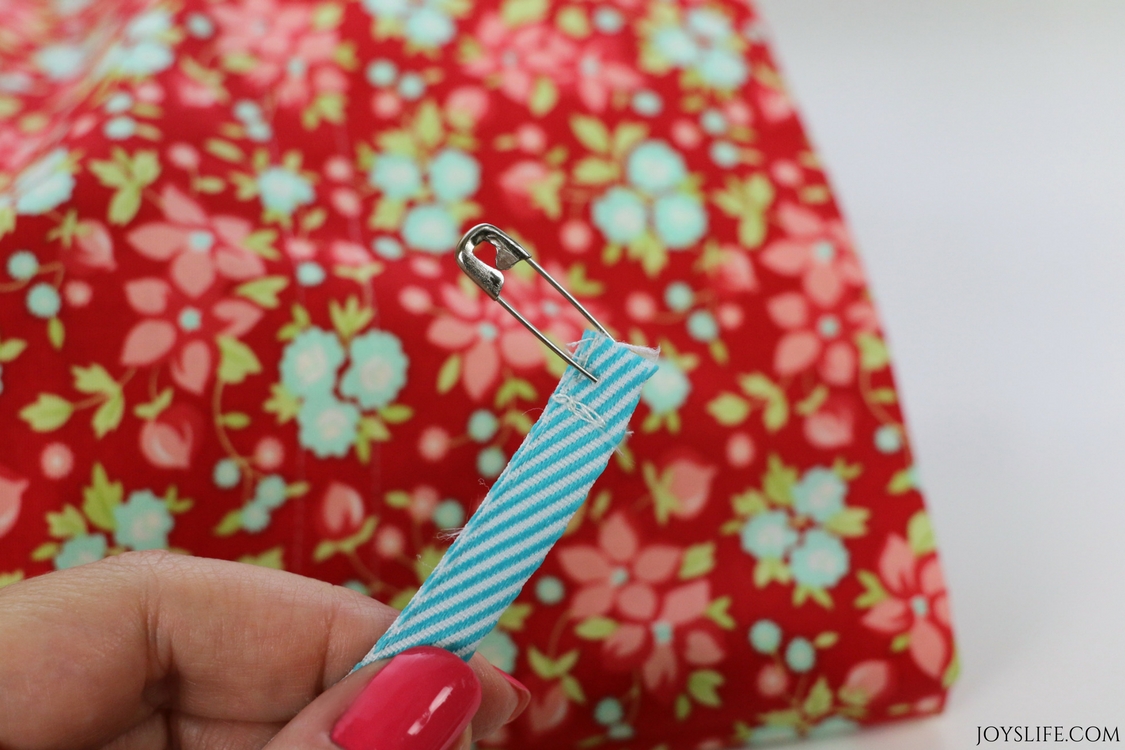 To thread your drawstring, stick a safety pin through one end of the drawstring and thread it through the drawstring channel.
Here it is empty and open.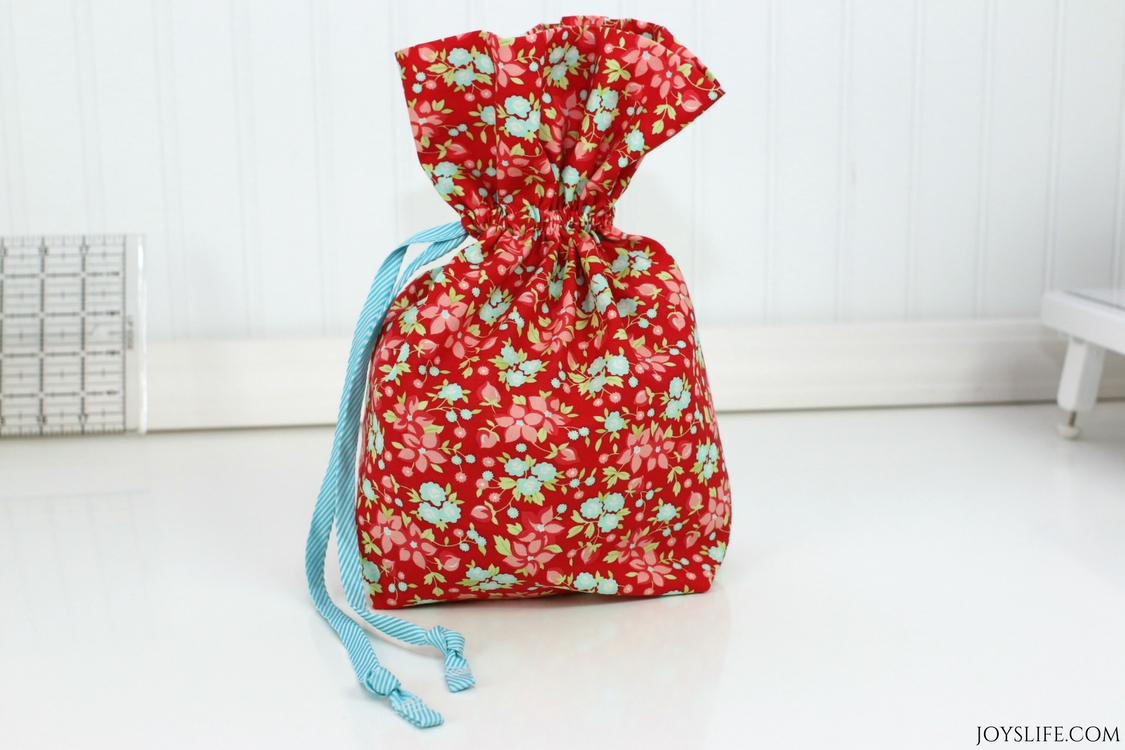 Full and cinched closed!
A super simple drawstring bag from the top! Literally.
This bag is perfect for gift giving or for putting a few things in and hitting the road! I'm making my son the circuit board themed bag so he can keep his toothbrush and other toiletries away from shoes and other yucky things he might pack in the same suitcase. You know, boy dirt.
So about this cool toothbrush you've heard me mention. Check out how awesome it is.
The NEW Philips Sonicare FlexCare Connected toothbrush is innovative and revolutionary, because you can get personalized real-time feedback through the free Philips Sonicare app.  That means you're able to find out just how good of a brusher you are, if you've missed any spots while brushing or if you're applying too much pressure or using an excessive scrubbing motion.  I know that I suffer from applying too much pressure, because my dentist told me.  Wouldn't it be nice to find that out before you go to the dentist.  I mean…you're learning things (or, in my case, your kid who just got his braces off is learning things …) that can help you improve your brushing technique, get a super clean mouth and achieve a healthy smile!
You can set and track your own daily goals (i.e. whiter teeth, fresher breath, healthier gums) with personalized coaching, tips and alerts to help you meet them. That beats a goals chart any day! With the information you get back you can change up your brushing routine to focus on trouble areas, as well as keep an eye on those problems your dentist told you about, like plaque buildup or gum recession. I suffer from gum recession. It's the pits.
I think this can be an invaluable tool, especially as a parent who just spent a fortune on orthodontics. I want to protect that smile investment! With the Philips Sonicare FlexCare Connected toothbrush you can get up to 10x more plaque removal and healthier gums in just 2 weeks!
I LOVE shopping at Bed Bath & Beyond, don't you?  It's always a pleasure.  It's also where you can buy the Philips Sonicare FlexCare Connected toothbrush!
Let me know how your drawstring bag making goes!
This shop has been compensated by Collective Bias, Inc. and its advertiser. All opinions are mine alone. #BrushingEvolvedBBB #CollectiveBias