How to Get Started Quilting
Start quilting with these tips, tools and videos!
I'd been wanting to learn to quilt for years, but during those years I just wanted to know, though I never actually tried. It's kind of like I hoped one day I would just wake up and know how. Do you get like that too? Well, last year I joined the Quilt Ministry at our church. They make quilts for people who are sick. Our family had just joined the church, but I felt compelled to join the quilt ministry, even though I had no experience, (thankfully, they didn't require any) because I understood how meaningful what they did could be. My teenage son had recently had to undergo emergency lung surgery, and I knew firsthand how much it meant to both the patient and the family, to receive a thoughtful gift. It lets people know that they aren't forgotten during difficult times, and it brings joy during happy times. To me one of the very best things about quilts are that they last. What you make can live on for years and years, and the story of it can travel along, warming the receiver of the quilt with both intent and creation. I love that.
How to Get Started Quilting
Like I said, I put off learning to quilt for a long time, so when the time came that I really wanted to apply myself so I could be more of a help in the Quilting Ministry, I had a lot to learn. No one was rushing me, but I felt a need and a desire to complete a quilt. My mother in law quilts, so I asked her to help me learn. She insisted that I practice one thing first, and I think that it's one of, if not the most important thing you can learn: How to make a 1/4″ seam. It's imperative that you learn to quilt an accurate 1/4″ seam, because so much of quilting uses that measurement. You should be able to visualize a 1/4″, measure 1/4″ and sew 1/4″. If you'll work hard to make sure you are sewing accurate 1/4″ seams, you will be off to a great start! If you're looking for an inexpensive sewing machine consider this Brother CS6000i. It's lightweight, perfect to take to classes, (I bought mine to carry to the church Quilt Ministry), and its 1/4″ marking helps you easily see where you're sewing. No matter what machine you have, you can measure 1/4″ from the needle and lay down washi tape or painters tape to ensure you don't miss the mark, literally.
Make a Mini Quilt
After I got some basics down, I still didn't feel like I was ready to tackle a big quilting project. I needed to take it slow, but I still wanted to learn what it took to make a complete quilt. The perfect answer was to try making a mini quilt! I ordered this one from Shabby Fabrics. I thought that it would be super easy and that pretty much everything would be done for me. Ummmm, that's not true. You're going to be cutting and quilting for real. The one I bought had the applique fabrics laser cut and already backed with fusible webbing, so when I received it, I just had to separate those pieces. That part was easy, but you should have seen me when I realized that I had to actually follow directions, cut fabric and do everything else myself. A kit just means that most of the pieces are included…you still do the work.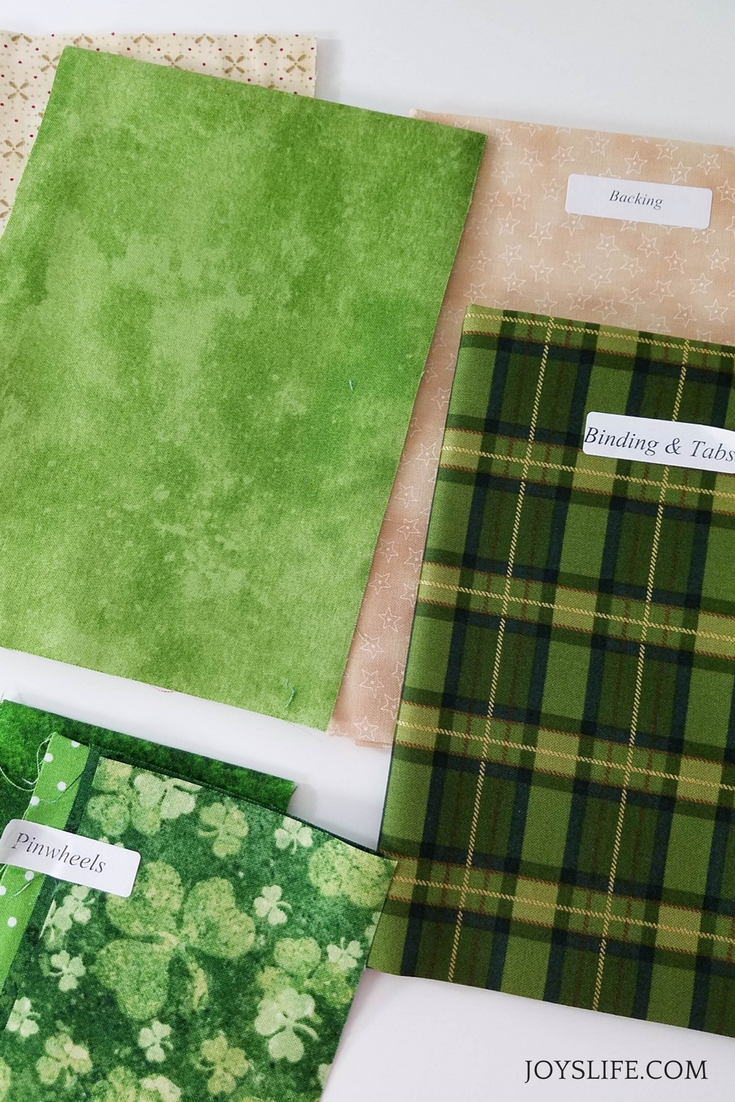 A kit is a nice way to go though, because the fabrics are already included. That's perfect, unless you mess up, which I did. So, that meant a trip out to buy more fabric. That is why my background material doesn't look like the photo. Live and learn!
Learn to Make Pinwheels
Pinwheels, that's what you see in the photo above, are basic quilting blocks that you'll see quite often. This project required three of them. The kit instructions explained how to do them, and I made them a decade ago in a quilt block class I took (which barely stuck in my head), but this video is also super helpful. Making these will show you the importance of accurate seams, measurements and pressing.
How to Sew Pinwheels
Here's what the backs of three pinwheels sewn together look like:
It's really pretty awesome once you've mastered making a pinwheel. You can make a bunch and sew them together to form a whole quilt, or just as a border.
A Few Tools You'll Need:
Besides fabric and a sewing machine, a few things you'll consistently need when quilting are:
Rotary cutter, Seam Ripper (this one by Clover is my favorite), Cutting Mat, Ruler, Pins, Curved Basting Pins
One thing I had never tried was machine applique. That's where you use the machine to sew your pieces to the background instead of hand sewing them down. It was easy! I used this video for help.
How to Machine Applique
I chose to use a few different stitches while appliqueing the hat, and the clovers. It's not perfect, but I'll be so much better next time!
How to Add Binding to Your Quilt
My biggest worry was binding. I had never bound anything and I was FREAKING OUT. I found several great videos, but this one is the one I followed for this mini quilt.
I pinned just like Kimberly said to and I got a great result.
This is the quilt with the front bound. Next, I bound the back! It turned out so well!
I later added binding to a block that I made in a Sewing Expo class that I took last year. I didn't follow the directions that I learned here…and it ended up all wonky, which I don't mention in my Instagram post. So, do it right!
The Walking Foot – How to Attach It
I now own and recommend the Juki 2010q sewing machine. It's awesome!
My Mother in Law was so kind to give me her old sewing machine recently. It's a 16 year old Viking Rose 605. I LOVE AND ADORE IT! I love using the machine that she used to teach my children to sew, and created so many thoughtful gifts for people on. It was and still is quite moving to think of all that it means.
That being said, it showcased how little I knew, which was awesome because it made me want to learn even more! A walking foot came with the machine, but I kept trying not to use it because it looked complicated. It's really not. A few times of taking it on and off and I was using it all the time. A walking foot is just what you want to use for quilting. It provides an extra set of feed dogs, making quilting several layers of fabric, much easier.
Use this video to help you attach your walking foot.
Pressing Vs. Ironing
One last important idea to leave you with is about pressing vs. ironing. Often a project mentions pressing, it's not the same as ironing. With ironing, the process of moving the iron back and forth over pieces of material can stretch that material out of shape. You want to press, which means putting the iron down on the material and lifting it back up. That simple change will keep your fabric from becoming distorted. So, make sure you are pressing and not ironing.
Need a great iron? Try the Rowenta! I also love the Oliso.
Happy Quilting!