Shrimp with Lemon Wine Caper Sauce Recipe – 15 Minute Meal
 This shop has been compensated by Collective Bias, Inc. and its advertiser. All opinions are mine alone. #40PerfectPairings #CollectiveBias The following content is intended for readers who are 21 or older.
Don't you love it when a flavorful and fancy looking dinner can be made fast?  I do!  We've been pretty busy around here lately, so having a nice meal is most appreciated if it can be quick.  This Shrimp with Lemon Wine Caper Sauce recipe is ready in 15 minutes, leaving you some time to relax.  YAY!
First, the shrimp!  SeaPak® has a lot of responsibly sourced and convenient seafood options, so today we've chosen SeaPak® Jumbo Coconut Shrimp and SeaPak® Butterfly Shrimp.  The ingredients for this recipe are simple.  SeaPak® shrimp along with capers, lemon juice, butter and Black Box Pinot Grigio and you're only 15 minutes away from eating.
Speaking of keeping things quick, have you tried Walmart Grocery Pickup?  I love it!  You order online and Walmart gathers your items and brings them out to your car when you arrive.  Our family has been using it for several months now.  It's such a time saver!  You're in luck if you are a first time online grocery shopper, because orders between March 1st and the first half of April get a grab bag with Seapak's® new recipe booklet.  It features 40 meal solutions and pairings to help make decisions easy and weekly shopping a breeze.  The authentic recipes have been tested, perfected and loved for over 60 years.  Two thumbs up for more quick meal ideas, right?  You can also get that booklet online.
Make Lemon Wine Caper Sauce
Sauces amaze me because they seemingly appear out of nothing, or at least nothing much.  With a few ingredients, in this case, butter, olive oil, lemon juice and wine, you just add heat and stir.  How can things be that simple?  Sometimes they just are.  Just relax and appreciate it.  You're adding the ingredients, according to the recipe below, and stirring for 3-5 minutes until the sauce thickens.
Shrimp with Lemon Wine Caper Sauce – 15 Minute Meal
A simple and delicious dinner, ready in 15 minutes!
Print Recipe
Share by Email
Share on Facebook
Share on Twitter
Pin Recipe
Ingredients
1/4

cup

lemon juice

4

Tbsp

capers

drained

4

Tbsp

butter

1/4

cup

wine

1

Tbsp

olive oil

12

oz

egg noodles

SeaPak® Jumbo Coconut Shrimp

SeaPak® Butterfly Shrimp
Instructions
While making sauce, cook shrimp according to package instructions and boil egg noodles.

Melt butter in 1 Tbsp of olive oil.

Add lemon juice and wine.

Stir over medium heat, for 3-5 minutes, until sauce thickens.

Remove from heat.

Stir in drained capers.

Add cooked shrimp.

Serve over cooked egg noodles.
Speaking of relaxing, while my husband made the sauce, I wrote down his recipe and enjoyed a glass of Black Box Pinot Grigio.  Don't worry, I shared with him!  Always be nice to the chef.
Black Box is the winner of 50 Gold Medals and 29 Wine Enthusiast Best Buys.  What I love is that it stays fresh for up to six weeks.  My husband loves that too, mainly because I never can tell if a bottle has gone bad, so I make him taste it, and he does.  Yeah, that's love.  Also, he would really love it if I would quit doing that to him.
Each 3-liter box of Black Box contains the equivalent of four 750ml bottles of award-winning premium wine.
You know what I didn't know?  Black Box wines are eco-friendly!  Both the bag and box are recyclable.  That's cool.
This recipe is kept simple and fast because the shrimp cooks in the oven and the egg noodles boil while the sauce is being prepared.  You're going to love how quickly this meal comes together.
Stir the drained capers into the sauce and then spoon the sauce over your yummy cooked shrimp and egg noodles.  Delicious!
How pretty is that finished meal?  So pretty!  It was super good too.
When you're at Walmart, use this coupon to save on SeaPak®.  I've been using Walmart's Grocery Pickup so much lately, but I still like to go in to see what they have going on.  I was in there the other day and saw a great pair of pajamas.  I need to go back and pick up a St. Patrick's day shirt.  I saw a really cute baseball style one.  Adorable.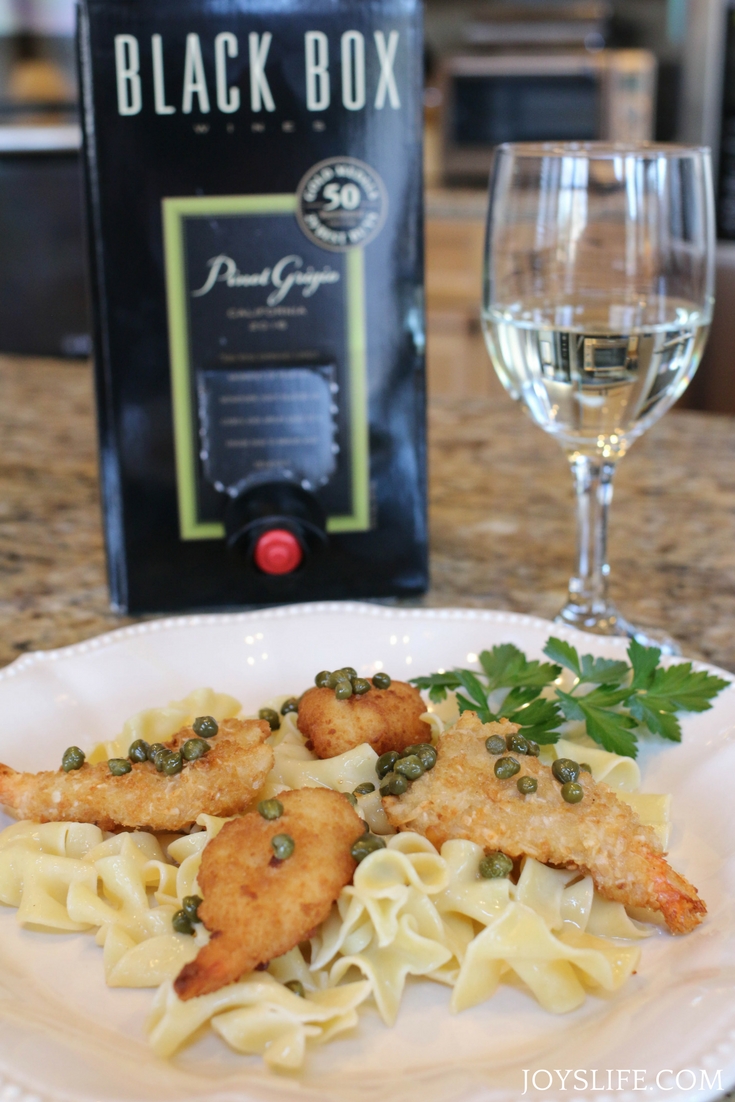 Happy quick meals and relaxing times!