Dress Up the Sink & Give an Affordable Gift
This shop has been compensated by Collective Bias, Inc. and its advertiser. All opinions are mine alone.
#FoamSensations #CollectiveBias
One of the things I do for myself, simply because I enjoy it, is buy pretty, foaming hand soap for all of our sinks.  It's such a small thing to do but I like the way it looks.  It makes me feel fancy and pampered, which is a nice feeling.  Not only is it nice for me, it makes a great gift for teachers, a housewarming or college care packages.  Simply add a hand towel and you've got a gift!
This week I decided to take the Brother SE400 embroidery machine that I bought two years ago, out of the box.  You know what happened?  I had fun!  I shouldn't have waited so long to use it!  I didn't know what I was doing when I started but I watched a few You Tube videos, scoured my manual and I embroidered my first towel!  Woo hoo!!  That's it in the package above.
It was so rewarding to learn something new and be able to create a personalized gift.  Now I'm hooked!  I already bought more thread, bobbins, scissors, stabilizers and hoops.  LOL!  With my new hobby starting up, I'm so grateful that this Softsoap Liquid Foaming Hand Soap is priced so well because it helps me make a great gift!
You don't need an embroidery machine to make a great gift.  Simply add a matching towel to one of these great bottles of Softsoap, put it in a bag, add a tag and you've got a gift!
I used a stamp from the Joy's Life "It's All Fall Puns" stamp set to help me create this tag.  I created the saying for that set when my daughter was leaving for college her Freshman year.  I'm going to add this to the next package I send her.  There can never be enough pretty hand soap as far as we're both concerned.  She will LOVE the Jasmine & White Cotton Softsoap!  It's nice that she's near a Walmart too so she can pick up some of the other scents when she's there.
The Softsoap Whipped Cocoa Butter foaming soap smells so good!  I put it in my guest bathroom where it just so happens to match my walls.  YES!  I need to get more.  I want it at my sink in the master bath too.  Is it weird to keep smelling my hands?  Um…don't answer that.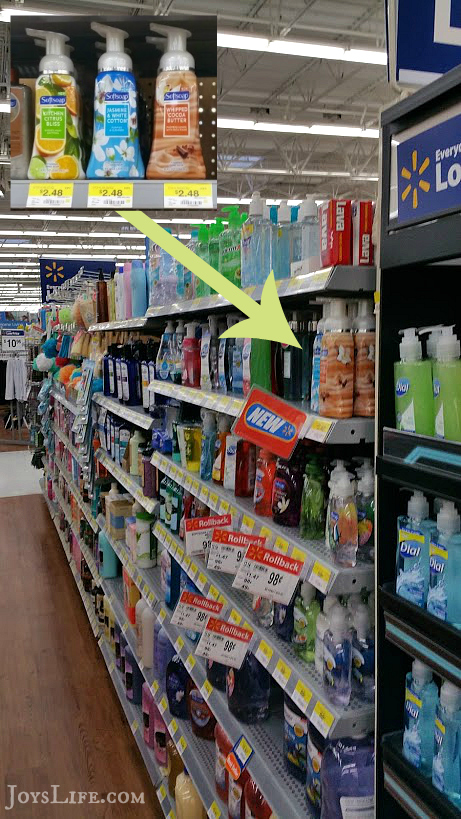 It was great to pick up everything I needed to make a thoughtful gift at one place.  I bought all three new scents of Softsoap Liquid Foaming Hand Wash and the towel that I embroidered from Walmart.  That saves me time and money!
I can't believe how much nicer my kitchen sink looks now that I cleaned it up and added that pretty Kitchen Citrus Bliss Foaming Softsoap.  It inspired me to dress up the windowsill behind my sink with some  pretty yellow accents, reminding me that Spring is just around the corner!
Which of the three new Softsoap Liquid Foaming Hand Soap scents are you most excited to buy?