Farmhouse Style Bathroom Refresh
This shop has been compensated by Collective Bias, Inc. and its advertiser. All opinions are mine alone. #MegaSummerRefresh #CollectiveBias
This Farmhouse Style Bathroom Refresh goes from super dull to farmhouse fabulous fast! See how quickly this refresh comes together!
The Guest Bath Before
My guest bath will make you yawn.  Not because it's a paradigm of comfort or a true restroom, but because it's so dull.
This is the most flattering picture of it that I can take.  While I don't deny that it's not that bad, with just a few touches it could be soooo much better.
I wish that I could tell you that there were more design elements in here that I removed for effect.  Pffffttt.  No.  This was the height of design in my downstairs guest bath.  I think that pile of magazines really ties it together.
My husband has hated the sink for years and a few months ago he announced that also he hates the mirror.  First, his declaration made me laugh, because he doesn't usually comment on things like that and is more likely to declare that he's grilling steaks. Secondly, I always thought they looked fine, until I bought a new camera lens. The new lens meant that I took to stalking around the house like I was on safari, shooting rooms in their natural habitat.  I took a photo of this room and suddenly saw what he saw…dullness and room for improvement.  It's not a nightmare scenario, but if you can do something about it on a small budget, why not, right?  I headed to Target.
The Guest Bath After
I can't believe how easy it was to give this bathroom a little facelift!  I added a new rug, garbage can, mirror, wooden wall art, a basket, tray and three faux cacti.  It was such a simple refresh!  All the items are exclusively from Target.  It amazes me that a trip to Target could do so much to turn this room into a nicer space.
Big Lebowski fans, that rug really pulls the room together, does it not?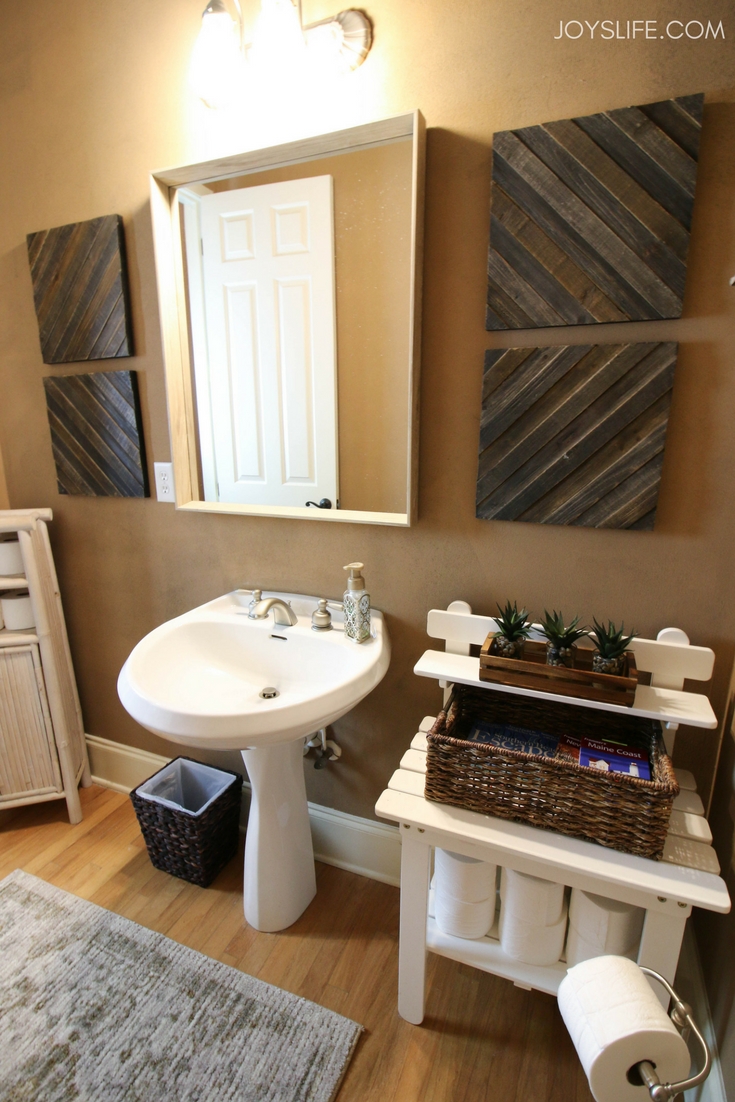 Can you believe how much better it looks?  One of my favorite purchases is the cutlery tray.  Can you spot it?  It's what is holding the plants!  I got it from the kitchen section and just added the three cacti to it.  So, when you're giving your bathroom a little refresh, think outside the box.
How did I not notice how boring this is?  It's soooo dull and messy looking with that tired magazine pile.
I replaced the disorganized mess of magazines with Quilted Northern® Mega Rolls.  They're 4 regular rolls in one, so they last longer.  That means we can change the roll less often and not worry about guests running out, not that I will anytime soon.  I bought 12 packs of both Quilted Northern Ultra Soft & Strong® Mega Rolls and Quilted Northern Ultra Plush® Mega Rolls, turning tired magazine land into a useful space!  Plus, the rolls look fuller and fill out that whole area under the table.  I think that looks a lot better.
That large basket holds magazines now!  I got rid of a lot of them, but I there will be more taking their place soon enough.  The basket will keep the mess under control.
When you're making over your bathroom, don't forget one of the most important things…toilet paper.  Right?!  How many times have you left Target without getting what you went in there for because you got so distracted by their awesomeness?  Well, this is a reminder.
Right now you can save 10% off Quilted Northern Mega Toilet Paper on Cartwheel 6/20-7/8 AND if you Buy 3 Packs of Quilted Northern Mega Toilet Paper you can get a $5 Target Gift Card (valid 6/18-6/24.)  So, get yourself to Target like I did!  I had a blast putting together this bathroom with their exclusive items!  Everyone keeps going in the bathroom and announcing how much they like it.  YAY!
Vote on your favorite Quilted Northern character-inspired bathroom [Daddy Gator, Little Miss Puffy Tail & Sir Froggy] for a chance to win a $1,000 Grand Prize or $250 Target GiftCard! Sweepstakes runs from 6/19-8/1.
#MegaSummerRefresh #Sweepstakes (6/19 to 7/31)
Do you have plans for a bathroom refresh?  What changes are you making?