HGTV PARTY Cricut Lite Handy Man & More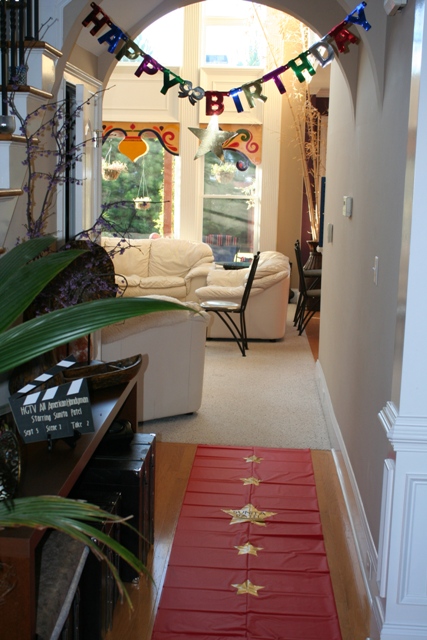 Looks like a Party to Me!
Well, you've seen how everything was created. Now my friends…it's time to PAR-TAY! 😉 Here we are at Sunita's house. Not only did she earn her way onto HGTV's All American Handyman, she has quite the flair for home decor, wouldn't you say? Let me cast your eye to the back window. Do you see that beautiful scroll work? Yeah. She MADE that! She painted it too. It's just GORGEOUS! Alright…alright…she's completely talented and this tiny beautiful woman too. Geeze. Let's talk about me now. LOL!
If you look to the left in that photo, you'll see the Director's Clapperboard I made. Here's how I made it: How I made the Director's Clapper
Now look down…yep…Sunita got to walk the red carpet.
Here's how I made the Red Carpet
Remember what I told you about the Director's Clapperboard? I thought it would be a great keepsake for Sunita if I had people sign the back of it. That's just how it worked out! Yay! I love it when a plan comes together. I bought that little easel for it at WalMart. I love those little easels…so much so that it was just a loaner for the party. Don't judge me. LOL!
This is propped up where everyone can see it. People really liked it. I think I might have sold a Cricut or two. LOL! If I had a nickle for every Cricut I'd sold…I'd be able to go to the movies AND buy popcorn. (Clearly, I'd be very rich.) LOL!
Um…well…I know you've seen this photo before, but there are 2 reasons for me showing it to you again. One…DH took all these pre-party photos for me and I didn't bring my camera back for during party shots. Two…I didn't want to invade Sunita's privacy … um, more than I already have.
Well, let's invade Sunita's privacy just a LITTLE bit more. What are friends for? Here's a photo of the 2 of us together at a previous party. Um…I'm the one with the cake. I rarely walk away from cake…and I never walk away from donuts. Just a little info for you there.
Friends Forever!
I hope you enjoyed these HGTV Party Decorations posts! Don't forget to go to the very first one and leave a comment to be entered for a GIVE AWAY!
HAVE A GREAT WEEKEND!