HGTV PARTY Cricut Lite Handy Man Cartridge Tools
These tools I made are on a wooden peg board.
Here are some more of the decorations I made for my friend Sunita's surprise birthday party and to celebrate her debut on the HGTV show All American Handyman. Here's a link to the 1st HGTV post I made (more decorations and info) AND A GIVE AWAY!! Have you seen that show? I think it's the hardest show of that type I've seen. She wasn't in the top 10 that got to move on, but it's an accomplishment to have earned a spot on the show in the first place. Girl Power!
I thought I'd never need the Cricut Lite HandyMan cartridge.  I was wrong.  I ran right out and bought it for Sunita's party.  That's what I used to make all of these tools.  Zip Dry Paper Glue, my ATG gun, stickles and Judikins Diamond Glaze also played important roles.  I made that glossy look on the pink drill, the tape and that weird saw on the right all using the Judikins Diamond Glaze.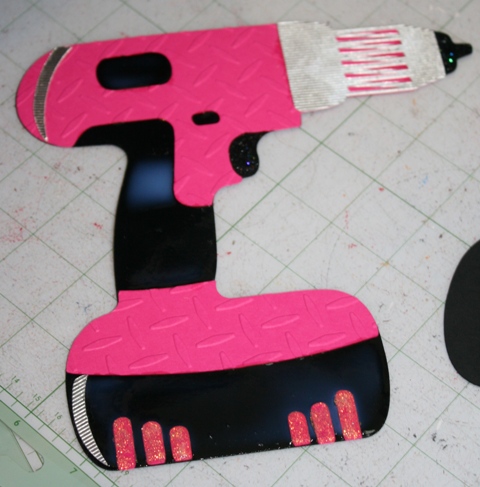 That milky substance is the Diamond Glaze.  It takes a while to dry, so don't use it at the last minute before giving your creation to someone.  Also, when you cover large areas with it (like I did) it causes the paper to curl.  Just be aware.  See the Stickles at the bottom?  I heart you Stickles.
Here's the paint can BEFORE I embossed it and put it together.  I label all of my Cuttlebug folders so I can tell you what I used.  This is the Distressed Stripes Cuttlebug folder.  I thought it would be a great match for drippy paint.  That foil paper is EXCELLENT!  I love the added metal looks it was able to help me create.  It embosses great too.  Here's a link to a post I wrote about How to Label Embossing Folders.
What a difference embossing makes!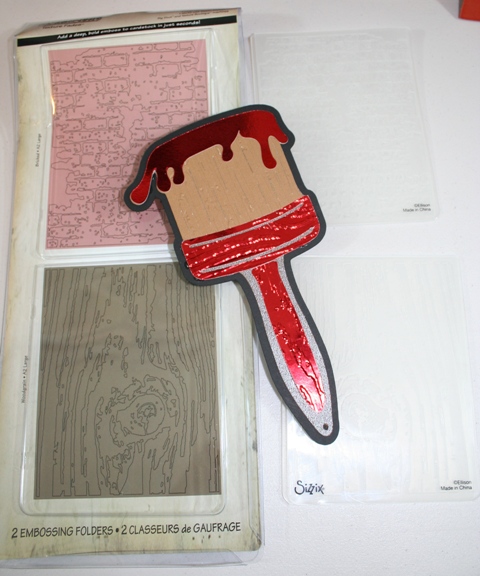 I used the woodgrain Tim Holtz Embossing Folder to give a realistic wood look to the paintbrush.  I'm so glad that these masculine embossing folders have been created.  He has many more out, but these 2 are my favorites.
I love how this paintbrush turned out. The embossing made the "wood parts" look almost real.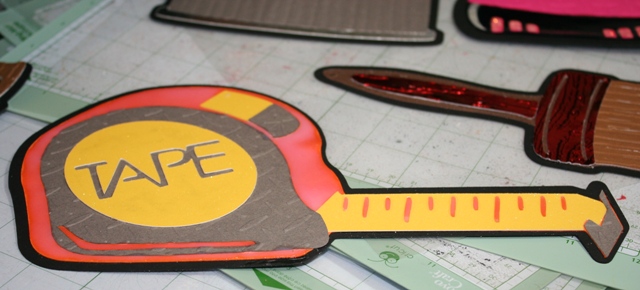 I also used the Diamond Plate Cuttlebug folder to give a metal look like you see on the tape and earlier on the drill.  I didn't have enough silver foil paper, so I made do with gray.  You can see more of the milkiness of the Judikins Diamond Glaze drying on the tape measure.
Most tools in this project were cut at 7″.  You'll need to do some test cuts with the saw because it comes out so small compared to the other tools.  This is due to its shape, but is annoying nonetheless.