HGTV PARTY & Birthday Confetti Using Gypsy & Cricut
And the 40's just keep on coming.
If you've been following my HGTV Premier and birthday party decoration posts you know that my friend Sunita earned a spot on HGTV's new show All American Handyman. Well, besides celebrating that on premier night we also celebrated Sunita's birthday. I'm not saying she turned 40, but I did make those confetti numbers for the party. Just sayin'. 😉
So, what's the big deal that I made some 40's? Well, because it's super COOL that you can make whatever kind of confetti you'd like to make just by using the Multi-cut function on the Cricut Expression (that's not what I did) or by using your Gypsy (that IS what I did). Check out this fine 40's Gypsy work:
I fit 110 40s on this page…and it was OVERKILL! It crashed my Gypsy. For real. My Gypsy took about 40 minutes just to weld everything and then I finally got it to cut. Whew. That was beautiful…until it FROZE. It was 30 minutes before the party. I was now beginning to sweat. I had to hit the reset button on the back of my Gypsy. That's the 1st time I ever had to do that. BTW, that button is on the very back of the Gypsy on the opposite side from the power button. You'll need to push something tiny in there to get it to reset.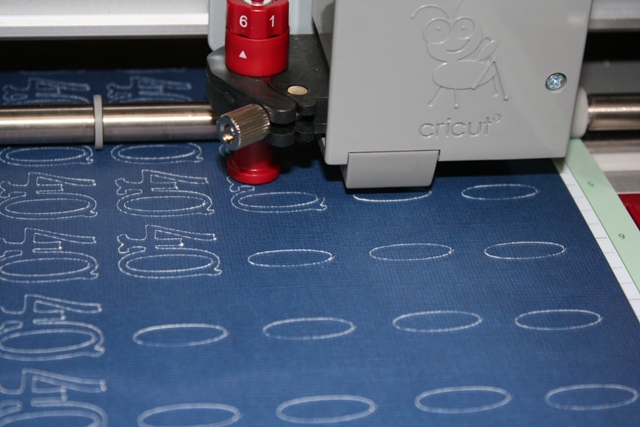 After it reset, I deleted 1/2 of the rows. It still took almost 20 minutes to weld and cut. Thank goodness Sunita just lives a few doors down. I had DH run the 40's over there FAST.
Here's how they looked on the table mixed in with store bought confetti (which you could also make):
They do look pretty awesome. 😀  I used the Storybook Cricut cartridge to create those 40s by welding the "4" and the "0" together.  After you make a row of things like you want them, just copy row after row until you have a bunch.  That's the trick. 😉  BTW, I LOVE that cartridge.
To see yesterday's HGTV post click HERE AND for the first HGTV post and GIVE AWAY click HERE.
STAY TUNED FOR 2 More HGTV party posts!