I decided that I liked the balloon strings to not be glued down, so they sort of fly off the box. That's the white thing you see sticking off the box above.
Ahh! Turned out soooo cute for my friend!
I was going to use a tub of that "you pop it at home and pretend you're at a movie" popcorn, but I was actually able to find all of this stuff at my grocery store, so that cut out a trip to Blockbuster…who had that big popcorn tub.  Instead, I got a box that I keep just for such occasions, well, really for eBay, but whatever.  I covered it with black paper that I had from a Cricut 12×24 pack.  I scored it so it would have a crisp look at the corners and folded it with my trusty bone folder.  I actually used an air-filled packing bag to take up some space in the lower part of the box and then covered that area with the cardboard closures I'd already cut from the top of the box.  Then I taped those in place and covered them with black paper too.  This is where my packing tape and trusty ATG gun (LOVE THAT) worked in unison.
I used the Cricut Celebrations cartridge for all of my cuts.
One thing about that…the baloons all cut at different sizes, no matter what I did.  It was a PITA!!  You know what PITA stands for, right?  Pain in the …
First I cut the balloon boarder in white, which is on 3 sides of the box.  Then I cut out the various different balloons and glued them on using a Zig 2 way glue pen.
Yes, I feel the need to harshly judge that table surface too.  Yes, I painted it myself last year. I had been thinking that I would do a crackle finish to it and never intended to leave it like that.  It wasn't scratched up until recently.  Mental note, do not drag metal things across painted surfaces.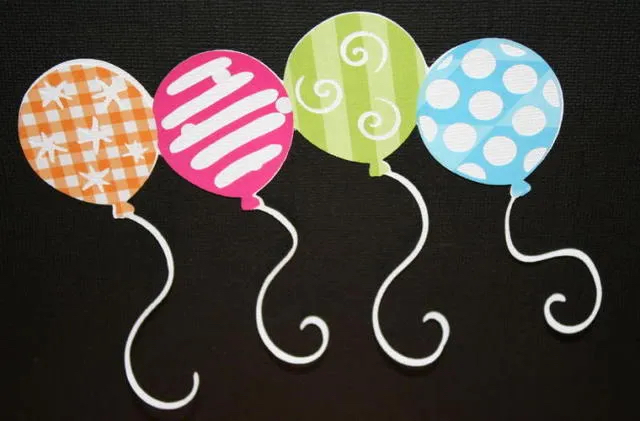 Time to Party!