Cricut Christmas Tree Box & Sizzix Bow 12 Days of Christmas DAY ELEVEN GIVE AWAY
Oh Christmas Tree Box, Oh Christmas Tree Box … how giant is your homemade Sizzix bow?
This little tree box is so cute…even with it's ginormous bow. 😀
You'll find this tree box in the Tags, Bags, Boxes &  More Cricut cartridge.  I'm going to use it in my Cricut Imagine, so that's what the 12×12 white cardstock is for.  I bought that cardstock at Hobby Lobby.  It works well with the Imagine.  You don't need the Imagine to make this box, just use any cardstock that you like. 🙂
Here's the Tags, Bags & Boxes overlay on the Cricut Imagine.
I chose the Christmas tree box using the Shift button so I could get the tree box with holes in the sides instead of slits. I was going to put a handle in it, but decided not to later.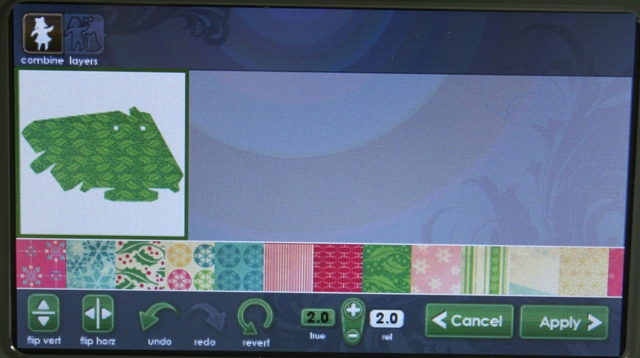 I'm using the Mr. Frosty Imagine cartridge for the patterns you see. I finally settled on the green holly"ish" pattern. Next I'll click "apply" and we'll be on our way!
Now we're almost done.  I clicked "fit to page" so the box would be as big as possible while still retaining its shape.  "Fit to Page" is the button where it says "ABC".   I'll click "next" and we'll get to cuttin'.  Yee Haw!
Yep. It's finished printing so it's now cutting. If you're planning on getting an Imagine for Christmas, it's best to give it a permanent space. It's heavy. It also needs room in back and in front of it for the mat to extend almost completely. That's just something to keep in mind. 😉
And now for a brief intermission while We Make a Bow…
I bought this bow maker Sizzix die months ago and couldn't wait for it to arrive. It got here and I was like, "Say what? That looks time consuming." You know what? It is. However, it's also cool to make your own bows out of any color and pattern that YOU like. You're not subject to what you can find at your local store. It does take longer than buying a bag of bows, so don't fool yourself like I did and think this is a time or money saver. It's just cool. 😀
Yes, these do turn into a bow…eventually.
This is after 2 cuts with the die.  I didn't read the directions and figured I now had enough for the bow and put my Big Shot away.  Um…wait a sec…the directions say FIVE cuts from the die.  Oh for Heaven's sakes!  FIVE CUTS?  I got the Big Shot back out and cut 3 more.  Geeze.  Now I know why I heart the Cricut.  I have no patience.  LOL!
How embarrassing…It just occurred to me that I could have cut more than one sheet of paper at a time. Well, no use in hiding that I overlooked that idea. Now we can just have a good laugh! 😀
Oh, OK! If you follow the simple instructions you TOO can make a bow. Got it. 😉
I later decided to switch out that dull brad for a heart shaped one I had in my crafty stash.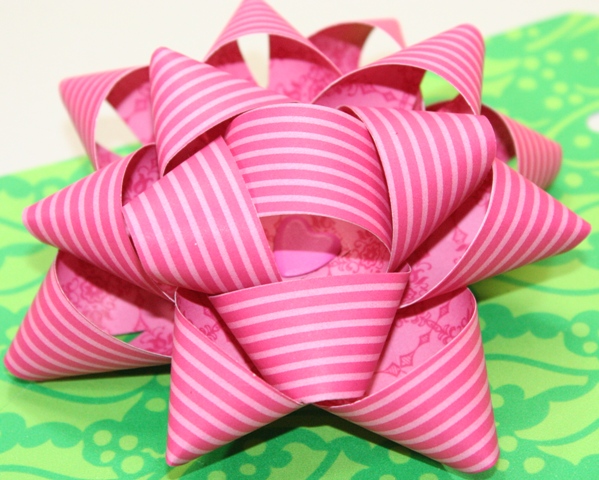 Drum roll…where's the drum roll?
I did it!!  I made a bow!  Woo hoo!  Crazy dance.  You can see the little heart brad in there too.  SWEET!
You might be interested in this video:  Cuttlebug & Big Shot Compared
And Now…back to our Previously Scheduled Craft…
I scored the box by following the tiny cuts the Imagine put there for me. If you're using a Cricut, the Cricut does the same thing. 😉 Next, I glued it in many of the folds leaving a few of them open for adding and retrieving a gift.
Cute as this is, I think we can better it with some BLING!  I'm using the Glam-It-Up crystal and stud cordless heat setting tool and crystals by Tulip.
On the 11th Day of Christmas Tulip – ILovetoCreate.com Gave To One Winner….
It's an awesome heat setting tool and crystals!! These are just like the ones I used in my post. 😀
Go visit ILovetoCreate.com and see all the cool things they have!
To be eligible to win please leave a comment on this post. The winner will be chosen by Random.org on December 13. Join me on Facebook and Twitter! Look on the left for those links. 😀
SEE YOU TOMORROW FOR THE 12th Day of Christmas and a BLOG HOP with many awesome crafty friends!