Cricut Cartridge Checklist Updated – New Cricut Cartridges
Cricut Cartridge Checklist & App – No Longer Available
Thanks so much for your support of the Checklist and App over the years! In 2019, we decided to stop updating the app and checklist due to time constraints and technology changes. Plus, Cricut has a very good online presence (which they did not have in the past), and with so many digital purchases happening via their site, you can find them in your Cricut account. Thank you again sweet Cricut friends! Happy Crafting!!
Don't forget my Cricut Cartridge Checklist will allow you to print your list and will also remember your checked carts.   Woo hoo!  Do you like my list?  Share it with others!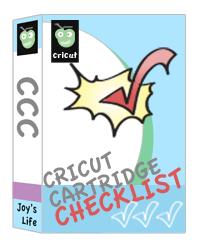 JUST ADDED
Hey Cricut friends! I updated the Cricut Cartridge checklist with the newest releases. I also had a few that I'd missed during the holidays so I added those in too. Below you'll find a list of the newest cartridges and the others I've added that are a few months old. I also added a new category for the Cricut Expression 2 (non Anniversary edition). The CE2 Anniversary edition came with different pre-loaded cartridges than the regular CE2. Other differences? It has green sides. I think that's about it. 😉 Here's a link to my CE2 Anniversary edition if you want to see it.
All links below open to the corresponding cartridges on the Cricut.com website. I thought that might be most helpful to you because some of the cartridges have links to digital handbooks so you can see what is on that particular cartridge. Check around before buying from Cricut.com (in my opinion) their prices are high. 😉
JANUARY CARTRIDGE RELEASES
Ole (Jan)
Sesame Street Elmo & Friends Holiday (Jan)
Fun in the Sun Cricut Lite (Jan)
Letter Envy (Cricut Circle) (Jan)
Giant Flowers (Projects) (Jan)
My Quiet Book (Projects) (Jan)
Baby Shower (Events) (Jan)
Bridal Shower (Events) (Jan)
Type Candy Font (Jan)
Greeting Cards Inside & Out (Jan)
DECEMBER CARTRIDGE RELEASES
This & That (Creative Memories) (Dec)
Victorian Romance Seasonal (Dec)
The Good Old Days (Cricut Imagine Art) (Dec)
Notebook Doodles (Cricut Imagine Pattern) (Dec)
NOVEMBER CARTRIDGE RELEASES
Snow Day (Nov)