Quick & Easy Birthday Boy Card Echo Park Happy Days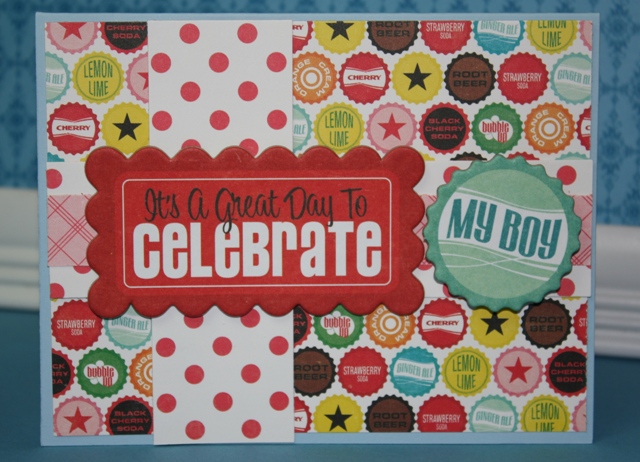 I finally finished cleaning up my craft room!  YAY!  When I finished, I decided to celebrate by making a quick card (which was much easier since I can now locate things, LOL!).  My oldest son will be having a birthday in April, so I made him a quick and easy card using Echo Park – Happy Days paper and embellishments.
I really like this bright and fun paper.  It's designed by Lori Whitlock.
I made a base for the card by cutting a piece of 8-1/2″ x 11″ in half.  Next, I scored the card down the middle so it would fold nicely.  This is a trimmer I really like.  It's the Fiskars 12-Inch Surecut Deluxe Paper Trimmer
.  It can both cut and score paper.  I use it all the time.
I'm using 2 sheets of 6×6 double sided paper to create this card.  I'm only using a few strips of one of the sheets.  I decided to just eyeball the paper to make cuts that best fit my idea for the card.
Now that I've got that fun bottle cap paper adhered to the card, I'll add the other pieces.
One of the best creations EVER was double sided paper…and donuts.  Double donuts would be even greater.  Paper donuts are not as great. 😉
These embellishments are so easy to use.  All you do is peel off the backing and stick them down.  To give the "My Boy" embellishment some added height, I added a few pop dots.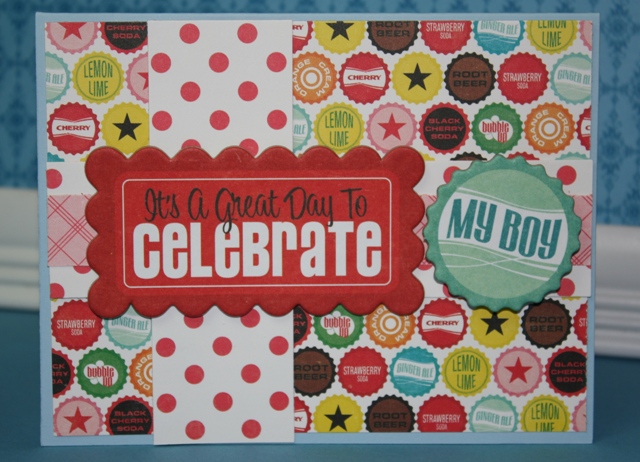 Try making a few quick cards to keep on hand for last minute needs.  You'll be glad you have them! 😉
Have a happy day!